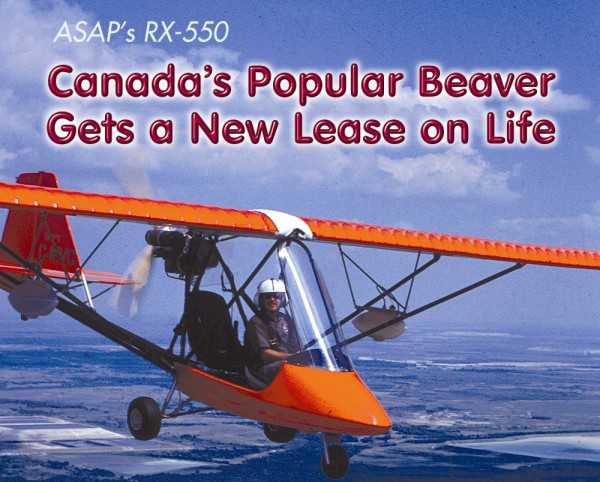 Perhaps the most famous ultralight to come out of Canada is the Beaver. With a reported 2,200 units flying since the early 1980s, this is one of the most successful light aircraft ever. However, due to missteps by companies that previously manufactured the brand, this popular ultralight was nearly lost from the ultralight aviation landscape. Were it not for the Aircraft Sales and Parts (ASAP) company and the Holomis family, you might not have this choice today.
Originally the Beaver RX-550 came from a company called Spectrum Aircraft. A company reorganization left the ultralight in the hands of a company named Beaver RX Enterprises. Both these business names disappeared and today the ASAP brand carries the Beaver into the sky.
In 1993, a couple years after our last report on the Beaver1, the old company closed its doors and effectively stranded thousands of Beaver ultralight owners and all the dealerships that sold them.
"Because the Chinook Plus 2, another aircraft we manufacture, is similar in construction to the Beaver, we were approached by some Beaver dealers and customers to see if we could somehow provide them with parts for their existing ultralights," explains ASAP boss Brent Holomis. As the company had done with the Chinook earlier, ASAP came to the rescue of the venerable Beaver, to the great delight of previous owners and to those who might one day purchase this successful design.
ASAP started business in 1988 with their involvement in the Chinook ultralight. The company did more than just take over these disappearing ultralights. Thanks to commendable intent and significant machine shop capabilities, ASAP made improvements on the planes. Today both the Chinook and Beaver models have the suffix Plus added to them, to denote the additional work done by ASAP.
Indeed, the company's array of computer-controlled machining equipment allows them to build parts in house when many other manufacturers must go outside their manufacturing facilities to obtain the same quality hardware.
"The RX-550 also used many different size tubes, sizes that were not commonly used for our Chinook Plus 2, so a lot of new inventory had to be purchased. It took many months of hard work and money, but we were finally able to manufacture parts for this ultralight," says Holomis. As time passed, ASAP realized there was still great demand for the RX-550. As they had done with the Chinook earlier, ASAP created new wings and tail, and the Beaver RX-550 Plus was born. For those with older Beavers, the company also makes conversion kits to upgrade the older models to the present state of refinement. The computer industry calls this "backward compatibility" but whatever the fancy title, former customers appreciate the support.
Today's ASAP operates out of two locations. Their base location – St. Paul in Alberta, Canada – is where ASAP manufactures all the parts and components for both old and new Chinooks and Beavers. Their location in Vernon, British Columbia is where the company handles all inquiries about their ultralights and where they process parts orders. Technical support and the in-house testing of new products are also handled at the Vernon location.
The company says, "At all times, we keep a huge supply of parts in inventory so it's seldom we have to back order or ship incomplete kits." ASAP says that if they do run out of parts, they will ship all such items freight prepaid to your door. While consumers are used to such handling by large companies, it isn't always the case in ultralight aviation.
Basic Description
Unlike the RX-650 model once produced by the now-defunct Beaver RX Enterprises, the RX-550 sticks with an all-aluminum airframe. And while the RX-650 used a straight leading edge, the RX-550 maintained a slight sweep to leading edges. The major change created by ASAP was to finish the wing in Ceconite® – conventional dope and fabric. However, as ASAP had done with the Chinook earlier, the company has also made many small improvements on the RX-550.
In an interesting twist, Holomis says the swept wings of the older 550 design don't easily allow for flap systems. However, the RX-650's straight leading edges could accommodate them. He indicated they may revisit flaps for the RX-550 Plus, but they are not currently on the options list.
Compared to all tandem ultralights on the market today, the RX-550 is a fairly conventional shape. While some buyers yearn for the latest and greatest models, convention has a way of appealing to many other buyers and the RX-550 may fit the bill. More than 2,000 previous buyers prove the design has plenty of admirers.
Since the company estimates 150-180 hours are necessary to build the RX-550, it may be somewhat more work than a few other kits, but this effort still qualifies as an assembly kit rather than a construction kit which may require in excess of 300-500 hours. You don't need to do any fabrication, and parts accuracy is good, thanks to the computer-controlled machining ASAP can deliver.
One area where ASAP differs from many other all-ultralight airframe builders is, they offer a wide selection of engines. Not only can you choose from 65-hp Rotax 582 2-cycle or 80-hp Rotax 912 4-cycle engines, ASAP has worked closely with HPower in fitting the HKS 700E 4-stroke engine. For those who want something entirely different, ASAP also offers the Zanzottera engine from Italy (more on this engine later). Since the task of fitting an engine properly to an airframe can be significant, it's no surprise other airframe builders stick with one or two engine choices. Not so with ASAP.
In our previous report on the Chinook2, the company showed great capability with one of the finest installations of the 4-stroke HKS engine that I've had the opportunity to inspect and experience. Given the success of that effort, it seems reasonable to conclude they know what they're doing and pilots (whose deep interest in powerplants always amazes me), may appreciate the alternative engine choices.
Due to weight and balance of the Beaver, heavier engines – like the increasing use of the Rotax 912 – are viable choices, considering ASAP's experience, indicates Holomis. Some fittings have been done with the Geo Metro Subaru engine, he says, but he cannot verify that these Beavers stay within center of gravity (CG) requirements. Manufacturers often express anxiety over changes made by consumers that do not have input from, much less the blessing of, factory engineers.
The control system of the RX-550 is also quite conventional, using pushrods to control ailerons, and cables to effect rudder movements. The RX-550 Plus uses full-span ailerons, which Holomis says improves the handling significantly over the original version.
The Beaver RX-550 Plus does not have flaps, flaperons, or other glide path control devices. However, in a conversation last February the factory indicated they may add these devices in the future. Neither does the RX-550 have trim, and no plans were mentioned with regard to this mechanism.
Regular demands for a full enclosure for the Beaver RX-550 Plus, such as is available on the Chinook Plus, has prompted ASAP to announce they would build a Lexan enclosure modeled after the Chinook's enclosure. It is a virtual greenhouse surrounding you with many square feet of clear plastic. According to Holomis, "We really haven't pushed the RX-550 as we don't have a full enclosure, and one is needed for flying in Canada." He added that his customers had been favoring the Chinook for precisely this reason.
After ASAP took over the RX-550 production, they went through some significant redesign work. Holomis reported that seven or eight years ago, before his company owned the design, at least one Beaver experienced a wing failure due to a slipped nicopress on some cable bracing inside the wing. When ASAP took over the design, they increased sleeving in the leading edge and replaced cable bracing with tubing. Subsequent to these changes, they subjected the design to full static loading plus independent analysis offered by a local university. However, in defense of the original design, Holomis is also quick to report that one particular Beaver has accumulated more than 2,000 hours in South Africa without the more recent wing modifications.
The other significant change that ASAP gave to the RX-550 wings was to substitute Ceconite for sewn Dacron wing coverings. With this came a change in rib spacing from 18 or 20 inches to 6 inches apart. Clearly such a construction is longer lasting, holds an airfoil shape better, and may add a small amount of performance potential. Contrarily, such a wing covering choice takes more effort and adds weight.
Aerial Beaver
As with many of ultralight aviation's top designs, the RX-550 Plus proves to be a well-rounded design that does many things very well but does not have singular outstanding qualities. According to Holomis, "The RX-550 is often used as a trainer because it's so easy to fly." Another factor in this application no doubt relates to the Beaver's tri-gear configuration. Although the Chinook Plus is currently selling well, it is a taildragger and some pilots are simply not comfortable with this setup.
Many pilots prefer fast-handling ultralights, and the RX-550 probably won"t fill that need. At approximately four seconds 45ø-to-45ø, the RX-550 almost sounds sluggish. Yet a 4-second roll rate proves to be sufficiently adequate for most crosswind conditions. And I was able to do Dutch rolls to about 30ø almost immediately. The RX-550 has plenty of control authority for virtually all normal-category uses.
Those looking for crisper response and even greater performance may be pleased to hear that a single-seat version of the Beaver is well underway. Holomis says he hopes to bring the new, still-unnamed model to Sun 'n Fun this year.
"The original Spectrum Aircraft company (predecessor of the publicly-owned Beaver RX Enterprises) called their single-place model the RX-28 or RX-35 because they used the Rotax 277 engine, or something comparable," says Holomis. Instead Holomis will use a European engine called the Zanzottera MZ-45. He says this 45-hp, 2-cylinder 2-cycle engine is as light as the Rotax 277, which certainly sounds like remarkable design efficiency.
Given that the Beaver uses an inverted engine – with dynofocal engine mass mount – the thrust line is lower than on the older Beaver 650 or many other high-wing pusher ultralights. In my evaluations of dynamic longitudinal stability, I found that the nose is pushed down with applications of power, as expected. However, the force is muted by the lower engine location, compared to many ultralights which use an upright-mounted engine at the top and rear of the wing. Since our test ultralight was fitted with a 3-blade prop and "C" gearbox, it ran quite smoothly, transmitting little vibration back into the airframe.
A series of stalls showed the Beaver breaks in all stalls except those with liberal power on, but the nose tended to fall straight through and all recoveries were fast and predictable.
Contrarily, in steep-turn accelerated stalls, the wing regularly would fall opposite the side of turn. However, given a steep turn, this outcome is desired by most pilots. Overall, I could find little to complain about in the stability department of the Beaver RX- 500 Plus, though I always prefer a parachute installation and our test ultralight had none.
Approaching to land reminded me how enjoyable this ultralight is in this important phase of flight. The Beaver can approach down to the mid-40s, but I tended to hold the ultralight standard of 50 mph ("Fifty is Nifty" is a familiar line in our favorite class of aircraft). Since the high-lift wings retain energy quite well in ground effect, the long flare window gave me smooth touchdowns on every landing for which I had notes. Any pilot on approach appreciates one attribute: visibility is massive from the front seat and better than average in the also-roomy rear seat.
Flying in Florida's steamy heat made me pleased to be flying an open-sided ultralight, though in my home state of Minnesota a pilot would get chilly during the colder months. The expected enclosure could extend the flying season, but will separate you from the elements. In the Sunshine State, I loved the movement of air through the open cabin, although the curved windscreen kept most of the breeze off my knees. The aft seat is considerably windier.
Leave Your Flying to Beaver?
ASAP is not simply a case of a company taking over a design from a troubled company. Rather, it's a situation where new, thorough examination of the design and subsequent refinement took place. Call ASAP and they can tell you more about some of the many changes they made to the Beaver. Despite these "fixes" – probably better called updates or upgrades – ASAP was smart enough to mostly leave well enough alone.
The Beaver has enjoyed an illustrious history that proudly owns an excellent reputation for safe operations and good longevity. Ask ultralight or microlight pilots around the world, and many will be familiar with the Canadian design. Except for the more recent popularity of Murphy Aircraft Manufacturing's Rebel, it seems inescapable that the Beaver (and secondarily the Chinook) are the most recognizable ultralights to come from America's neighbor to the north. Now they both come from ASAP.
Nearly a decade ago, when the old Beaver RX Enterprises was selling their then-new 650 model, the ultralight was priced at about $12,000 (U.S.) with the Rotax 503 engine. Today, a full nine years after our last pilot report on this model, the Beaver RX-500 Plus retails for $8,750 (U.S.) without engine. Since you can add a new 50-hp 503 with "C" drive and a prop for about $4,000, the price is only slightly higher than it was at the start of the 1990s. Given the normal change in the buying power of your money during that time, the price effectively fell, since $12,000 today was worth about $9,000 then (looking at it the other way around, $12,000 then would be about $15,000 today).
Perhaps the difference is, the old Beaver RX Enterprises was a publicly-held company with lots of staff, lots of inventory, general costs of being public, and a lack of focus (they were even diverting into home heating systems). Contrarily, ASAP is privately-owned, focused, and surely more sparing in their spending ways. For you, the benefit is a reasonably priced 2-seater.
That's what I call progress. Not only did the ASAP company rescue Canada's most popular ultralight design, but also they "lowered" the price. Maybe you should consider doing business with ASAP.
Notes:
1 See: UF! Flight Report – "Flying The New RX-650," December '91 Ultralight Flying! magazine.
2 See: UF! Flight Report – "ASAP's Chinook Plus 2," June '98 Ultralight Flying! magazine.
Published in Light Sport and Ultralight Flying
| | |
| --- | --- |
| Empty weight | 430 pounds |
| Gross weight | 1,050 pounds |
| Wingspan | 32 feet |
| Wing area | 154.5 square feet |
| Wing loading | 6.8 pounds per square foot |
| Length | 20.75 feet |
| Height | 6.75 feet |
| Kit type | Assembly |
| Build time | 150-180 hours |
| Standard engine | Rotax 503 dual carb |
| Power | 50 hp at 6,500 rpm |
| Power loading | 21 pounds per horsepower |
| Cruise speed | (75% power) 65 mph |
| Never exceed speed | 105 mph |
| Rate of climb at gross | 800 fpm |
| Takeoff distance at gross | 250 feet |
| Landing distance at gross | 250 feet |
| Standard Features | Full dual controls, roomy tandem 2-seat ultralight (that can easily qualify as a Part 103 exemption trainer), instrument panel, dual fuel tanks (on struts), battery box, 4-point seat belt restraints, seat covers, engine mounts for several engines, bolt-together kit with all parts precut and predrilled, Ceconite® with fabric cut. |
| Options | 66-hp, 2-cycle Rotax 582, 80-hp Rotax 912 (with factory accommodation to assure good weight and balance), Italian Zanzottera engine choices, 60-hp, 4-cycle HKS 700E engine, Hirth engines, standard or heavy-duty reduction drive, electric start, silence kit, brakes, floats, skis, instruments, 2- or 3-blade wood props, ballistic parachute, fully-assembled option. |
| Construction | Aluminum tubing, Ceconite® fabric covering. Made in Canada. |
Design
Cosmetic appearance, structural integrity, achievement of design goals, effectiveness of aerodynamics, ergonomics.
Pros – The Beaver RX-550 Plus is a well-proven ultralight with a reported 2,200 units in the field. Roomy cockpit for larger pilots, especially those with bulky, winter clothing on. Taken over by ASAP, the new RX-550 Plus now has a dope-and-fabric wing. Main structure is familiar aluminum tubing. Sleek pod and nicely-finished wings add to a smooth appearance.
Cons – Beaver RX-550 is an older design; won't appeal to all pilots. Build time estimated at 150-180 hours; about a medium effort. No full enclosure currently offered to further protect pilots in cold climates (though factory said one is being designed). Engine is mounted inverted, which some pilots dislike.
Systems
Subsystems available to pilot such as: Flaps; Fuel sources; Electric start; In-air restart; Brakes; Engine controls; Navigations; Radio; (items covered may be optional).
Pros – Brake handle conveniently located just forward of the throttle in an intuitive position. Primer control is conveniently located on instrument panel flange. Repair access is excellent; engine is within easy reach. Refueling at strut-mounted tanks eliminates all fuel odors from entering cabin.
Cons – No flaps to aid approach path control. Strut-mounted fuel tanks, though perhaps safer, are seen as odd by some pilots. For electric starting, battery will have to be placed forward to preserve weight and balance. No in-flight trim is provided.
Cockpit/Cabin
Instrumentation; Ergonomics of controls; Creature comforts; (items covered may be optional).
Pros – Seating in both positions is spacious. Easy entry to both front and rear seats; not common for rear seat of tandem design. Panel has adequate room for ultralight-style instrumentation. Throttle and joystick within a comfortable reach. Rudder pedals for rear seat occupants are surprisingly roomy. Nosewheel steering was quite responsive.
Cons – No overhead skylight is possible (as on the older RX-650). Rear seat occupant is located very close to engine noise. Panel space is limited for radios or GPS instruments. Building a full enclosure will be challenging. Kill switch on panel may be challenging to reach if belts are securely fastened. Aft seat occupant cannot see instrument panel.
Ground Handling
Taxi visibility; Steering; Turn radius; Shock absorption; Stance/Stability; Braking.
Pros – Aluminum gear legs prove to be stronger than the steel gear on the older Beaver RX-650. From front seat, upward visibility is good, allowing careful traffic checks. Fairly tight turn radius is possible with nosewheel steering.
Cons – Brakes are nondifferential. No easy seat adjustment or rudder pedal placement adjustment. Light loading on nosewheel reduces steering effectiveness and some conditions. Suspension appears limited to air in the tires.
Takeoff/Landing
Qualities; Efficiency; Ease; Comparative values.
Pros – Despite the lack of side vertical area, the Beaver RX-550 Plus sideslips well. Excellent visibility from front seat, and acceptable visibility from rear seat. Good rudder response yields generally good control harmony. Broad flare window is tolerant of newer pilots and appreciated by old-timers who want to look good when landing.
Cons – Deep side slips can run out of control range; could pose a problem in stronger crosswind conditions. Approach speeds aren't as low as you might expect. Takeoff roll longer than expected for a high-lift airfoil. No flaps or flaperons available to help control approach path (though factory indicates they may work on this at a later time).
Control
Quality and quantity for: Coordination; Authority; Pressures; Response; and Coupling.
Pros – Pushrod linkage on the Beaver RX-550 Plus is light and responsive. Dutch rolls went well to modest, angles showing good authority but not a fast roll rate. Adequate control authority for operation in most crosswind conditions. Pitch range in steep turns was adequate, even when no additional power was added. Despite smaller tail, control harmony was acceptable. Rudder remains effective to slow speeds.
Cons – Roll rate, at about four seconds 45°-45°, won't satisfy those looking for a snappy response. No flaps to help slow speed flight. Adverse yaw is fairly significant, common in a full-span aileron ultralight. Rudder power is lacking in deep slips or in the stiffest crosswinds. Pitch got heavier in steep turns. No trim offered.
Performance
Climb; Glide; Sink; Cruise/stall/max speeds; Endurance; Range; Maneuverability.
Pros – High-lift wing with frequent upper wing rib spacing delivers good slow speed performance. Descent rate measured at about 400 fpm, a good number for a 2-place ultralight. Several choices of engines allow differing performance parameters. Rate of climb even with 50-hp Rotax 503 is 900 fpm. Beaver can carry 1.5 times its own weight. Cruise speed with Rotax 503 is 50-75 mph.
Cons – Performance said to improve with 65-hp Rotax 582, though extra complexity comes with this choice. Required over 5,000 rpm to sustain altitude – a common ultralight number but some designs are measurably lower (reducing noise and vibration, and therefore, fatigue).
Stability
Stall recovery and characteristics; Dampening; Spiral stability; Adverse yaw qualities.
Pros – Stall speeds are down into high 30s. Stall characteristics are predictable; nose always fell straight in my experience. Four-point seatbelt restraint available for both occupants. Longitudinal stability proves adequate during pull- and push-and-release test. Lower thrust line than other designs in its class; improves pitch response. Despite its smaller size, the rudder was effective all the way down to stall.
Cons – Accelerated stalls tended to fall rather vigorously to the outside wing. Though engine is below top surface of wing at trailing edge point, still produces nose down on power-up. Tail surface area could be larger to yield better harmony. No trim to reduce pilot fatigue.
Overall
Addresses the questions: "Will a buyer get what he/she expects to buy, and did the designer/builder achieve the chosen goal?"
Pros – Able to qualify under training exemption to FAR Part 103. ASAP, a family-owned business, has been in existence since 1988. Very well-equipped shop with CNC machining hardware. ASAP made changes to the wings and tail of the older RX-550 Beaver. Company keeps a large number of replacement parts on hand at all times. Beaver has +4 -2 G design load rating; tested past 6 Gs without deformation. Overall, a very pleasant machine to fly.
Cons – Built in Canada, shipping to parts of U.S. may be costly. Less dealer support than some more established U.S. ultralight brands. Age of design will turn off some buyers. Interior of RX-550 Plus is not as polished as older RX-650. Wings detach but process is time-consuming; no folding wing option is available. Some buyers may prefer to wait for the new single-seater.