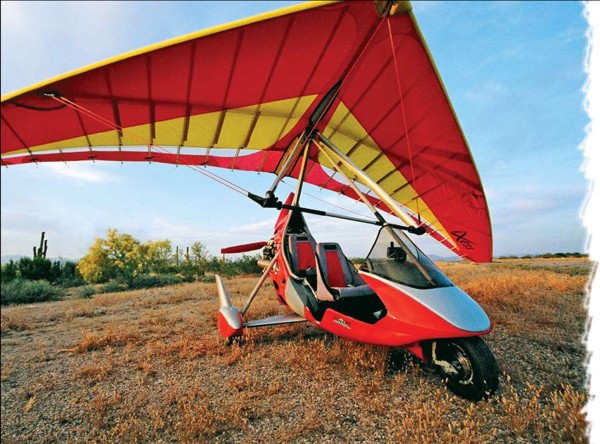 First weight-shift S-LSA sets the bar high
In street vernacular, the term
"crotch rocket" refers to a lean,
lightweight, high-performance
motorcycle. Sometimes called sport
bikes, these machines have become
radically snazzy in modern years by
the addition of rakish body panels.
Sport bikes accelerate like a rocket.
They corner tightly, and they turn
heads wherever they go.
The first weight-shift trike to earn
special light-sport aircraft (S-LSA) approval,
the Air Creation Tanarg might
be compared to just such a vehicle. In
fact, that's precisely how its French
manufacturer describes its newest
machine.
Yet, while sport bikes are touchy
and have less margin for error than
other motorcycles, Air Creation's flying
sport bike is highly stable with predictable
handling. Compare Tanarg's
performance to other trikes, and it
comes out as a top-of-the-line entry.
The name Tanarg comes from the
highest mountain range in the Ardeche
region of southern France, not
far from the Air Creation factory. It is
derived from the Celtic god of natural
forces, said United States importer and
Air Creation partner John Kemmeries.
Introducing a New Generation Trike
Air Creation introduced the Tanarg in
2005 to a warm response. U.S. importer
Kemmeries sold his entire first shipment
of six machines before it arrived
in this country. Most were bought
sight unseen. Those sales happened
despite a sky-high price for a weightshift
aircraft. Those Tanargs came in
at $53,000, at least $20,000 more than
the next closest high-end trike.
Now, as the U.S. dollar continues to
slide compared to the euro, a Tanarg
equipped with every option can hit
$85,000, an almost unbelievable figure
for a trike. You can still buy reasonably
priced trikes, including some
Air Creation models, for less than
$20,000 ready-to-fly, but the superdeluxe
Tanarg commands the highest
price in weight-shift aircraft.
Once the shock of the price tag
wears off, you should examine this
machine closely. You'll see that it is
built like no other trike. No effort was
spared in the design of the Tanarg,
which spanned a four-year period-a
major investment for the world's most
prolific trike builder, and one that
must be recouped in its retail price.
This aircraft received great attention
to detail while also gaining in
strength and ease of use. Air Creation
engineers built on their years of success
designing and producing more
than 3,000 trikes. The result: Chief
designer Gilles Bru has created a work
of aeronautical art. Nothing on the
market is quite like the Tanarg. What
grabs your attention right away is its
extensive body fairing, just like modern
sport bikes. It's a look that sells
and will redefine how trikes are built.
New From Nose to Prop
The Tanarg carriage, or chassis, is new
in every way. Every part of it is different
than any earlier Air Creation
trike. Those differences start with a
steel structure replacing the array of
aluminum tubing joined by gussets
on earlier Air Creation trikes. Steel
allows a precise control of structure
while optimizing strength and weight.
This material-though reliant on precise
welding-gave lead designer Bru
greater freedom to better position elements
of the structure.
Before the Tanarg, a welded steel
structure was widely seen as unnecessarily
complex for simple weight-shift
aircraft. But computer-aided design
technology and laser-cutting capabilities
allowed Bru and his design team
to overcome these problems and capitalize
on its benefits.
The structure of the Tanarg's chassis
is divided into three main elements
that bolt together, which enables replacement
of individual parts if damaged.
Its Rotax 912S engine is supported
in a steel cradle that attaches
to the airframe through widely spaced
isolation mounts. This produces a
sturdy yet sufficiently flexible attachment with excellent vibration isolation
properties. The engine's thrust line
has been optimized to dampen pitch
movements that accompany weightshift
aircraft power changes.
Even with the 100-hp Rotax 912S
engine, changes of power in flight in
the Tanarg don't tend to alter the carriage's
position relative to the wing as
much as in previous models because of
that improved thrust line. Some powerful
trikes require careful use of the
throttle to avoid causing the carriage to
swing under the wing|something like
the pendulum effect possible under a
powered parachute canopy.
The Tanarg's primary mast structure
is chromoly steel, which is painted to
reduce the chance of corrosion. But the
nose wheel and main shock-absorbing
landing gear is still made of aluminum,
as are the gear leg struts. While
steel is appropriate for areas needing
great strength, aluminum will always
be used on aircraft because of its light
weight and corrosion resistance.
You might think all this steel and
fancy bodywork adds considerable
weight, but Bru reports all the changes
to the Tanarg remarkably added only
5 kilograms (11 pounds) to the deluxe
(and still-in-production) Clipper chassis.
Such a small weight bump is quite
astonishing when you consider how
many changes were made to the Tanarg
and how robust the entire assembly is.
Lift With Care
To learn more about trikes, watch a
trike pilot set up his aircraft. A fairly
compact package transforms to a full
aircraft in a series of steps that take
one person less than half an hour. Yet
an awkward moment typically arrives
when the wing must be lifted into position
atop the carriage.
On most trikes, lifting the wing up
causes the trike to roll backward. To
stop that, most trike pilots chock the
wheels. That hassle is history on the
Tanarg. Underneath the forward support
of the rear seat is the fulcrum
point where the Tanarg's wing mast
now hinges. Bru says, "When you lift
the wing, the trike no longer rolls." He
assured me that one person can also
erect the wing easily, no small feat for a
100-pound wing raised 7 feet.
Two pins secure the location of the
mast when fully erected. These pins
must be in place securely or a panel
light will glow to show the incomplete
assembly.
New Safety Features
Air Creation went to some length to
separate electrical and fuel lines for
safety reasons. All electrical wiring is
routed down the left side of the chassis.
A kill switch is located just under
the left knee of the back-seat occupant;
in a training situation, that would be
the instructor. The main switch is on
the panel. Both are protected so they
can't be changed accidentally.
All fuel lines are routed down the
right side of the chassis to separate
them from electrical wires. The choke
is opposite the kill switch, under the
right knee of the back-seat occupant.
Fuel filters are located on that side,
too, as is the sight gauge for the fuel
tank, which holds 65 liters of fuel
(17.2 gallons); enough for about five
hours of flying.
The Tanarg's throttles changed
along with everything else. The hand
throttle is now push/pull just like a
conventional aircraft throttle, but the
right foot throttle remains part of the
beefy and comfortable foot pedal.
More Comfortable Cockpit
Most trikes have cockpit fairings, but
they're still open-cockpit aircraft.
Trike enthusiasts and many other
sport aviators wouldn't have it any
other way. In a speedy machine like
the Tanarg, you'll want to invest in
a comfortable and protective full-face
helmet.
But Air Creation also wants you
to be comfortable and well served.
Accordingly, cabin comfort received
attention in this new design. The
rear seat no longer requires passengers
to climb in. Instead, they can
turn around and sit down and push
the front seat forward to swing their
leg over. The seat back angle also is
adjustable, rather like an airline seat
moving back and forth a few inches.
You can also tension the seat side
panels, which can enhance your
feeling of security, much like adjustable
bolsters in some high-end
sports cars.
The Tanarg accommodates occupants
of various sizes in more
ways than seat adjustments. Using a
threaded, over-center lever, its foot pedals can be moved fore and aft to
accommodate taller or shorter pilots.
The rear foot pedals also adjust after
removing a collar pin, which unlocks
the pedals' fit into gears and permits
each pedal to be separately adjusted
via rotation.
Weight-shift aircraft have sometimes
been faulted for having little
or no baggage capacity. Air Creation
listened and added many such areas
in the Tanarg. Storage areas include
the back of each seat; a map pocket;
removable storage areas on either
side of the pilot's legs right at the
step-in point (good for 12 pounds
each); and an add-on bag that can
hold more than 20 pounds of gear
that can be installed in the back seat
when the trike is flown solo (a common
practice).
A not-accessible-in-flight space aft
and under the seat frame is available
unless you choose to fill this space
with an optional emergency parachute.
This large storage area can
hold slightly more than 30 pounds
of baggage. Access to this area is
gained by folding the rear seat-back
forward or through a removable side
panel in the rear fairing. In earlier Air
Creation trikes, the rear seat folded
to make better support for the front
seat-back when flown solo. Now the
new storage bag serves this purpose,
so you gain not only space but also
better support.
The Tanarg carriage sits a little
lower to the ground, which adds to
ground stability. The nose wheel is
somewhat extended compared to
earlier Air Creation trikes; that longer
wheelbase also aids taxi stability.
Multiple Personalities
Another aspect of trikes that differentiates
them from nearly all other
aircraft is they can have different
wings fitted to their carriages, and doing
so can significantly transform the
qualities of flight. Air Creation made
the Tanarg available to me with two
wings: an older but lighter-handling
Kiss wing and the newer, yet still remarkably
easy handling iXess wing.
I've enjoyed flying the Kiss wing on
earlier Air Creation trikes like the
Clipper and fell in love with its easy
touch. The iXess is yet another advancement
in improved handling and
performance; parameters that often
work in opposition on trike wings.
The 2005 iXess wing introduced a number of innovative features. A
series of textile ribs-vertical panels
sewn inside the complex double
surface wing-precisely control the
shape of the middle two-thirds of the
wing to optimize lift. An ABS-plastic
insert in the leading edge and close
batten spacing help avoid profile distortion,
which can cause loss of aerodynamic
efficiency in this semi-flexible
wing. Washout twist in the wing
enhances handling. The iXess also
has cloth reinforcement on the trailing
edge to relieve any stress from a
tautly stretched wing.
Air Creation uses tough Trilam fabric
on the entire upper surface of the
iXess wing. This modern sailboat sail
material has excellent anti-stretch
properties and is resistant to ultraviolet
degradation. As with the Tanarg chassis,
attention to detail is evident in the
highly professional wing sewing.
To help maintain the fine handling
seen in the Kiss wing, a portion of the
iXess undersurface uses spinnaker
cloth, a modestly lighter fabric with
more flexibility. This more malleable
cloth keeps the relationship between
upper and lower surface more elastic
to help with handling and low-speed
flight characteristics. The concentration
of spinnaker cloth is at mid-span
where it can do the most good.
During assembly or derigging,
you realize what it takes to make a
modern membrane wing like iXess.
The design uses nine lower ribs, with
somewhat wider spacing at the tip to
allow more shifting of the wing for
improved handling. The way the sail
and airframe move relative to one another
is what allows a delta wing to
respond so well to weight-shift control
inputs. The upper surface of iXess
has 13 ribs to maintain a precise airfoil
shape. In all, 44 ribs are inserted
in the iXess wing.
Despite their differences in wing
membrane construction, the Kiss and
iXess wings use the same structure
inside. That simplifies manufacturing
and makes it easier for dealers to have
parts on hand.
Let's Go Flying!
Once seated, and after I'd explored
the cockpit surroundings, I fired up
the powerful Rotax 912S and taxied
out for takeoff. The Tanarg offered a
well-suspended ride and almost no
engine vibration.
Nose-wheel steering is no longer
part of the front fork assembly. Now
the linkage is part of the main airframe,
and it is a reverse trailing link
such that when you hit the brake, the
trike doesn't nose down. And, brakes
aren't limited to the nose wheel as
in most trikes. Hydraulic brakes are fitted to all three wheels and, along
with larger tires, give the Tanarg impressive
slowing and stopping power.
Two hydraulic cylinders allow the
front and rear brake systems to be adjusted
separately.
One-handed flying was easy with
the Kiss wing attached to the Tanarg,
and that is not common on weightshift
two-seaters. But the iXess wing
offers adequately light handling
and boasts a higher top speed. If
you plan to go cross-country often
in your Tanarg-something it does
quite well-then the iXess wing
should be your choice. If you fly locally
most of the time, the Kiss may
be your sweetheart.
Both the Kiss and iXess wings have
a trim system. With the iXess wing,
hands off at an idle thrust power setting
with the trim wheel turned to
each limit changed trim speed from
65 to 85 km/h (41-53 mph), a notable
change for a system that lifts the
wing's trailing edge. The spread is even
wider at higher power settings. While
the new iXess wing comes in only one
size, the Air Creation trimmer system
extends its usable speed range.
Setting the trim to neutral also
may be useful to help contain that
big engine driving you into the air.
I flew the Tanarg solo, and after the
first launch I never used more than
about 60-percent power to get aloft.
High elevation or two-place flying
with large American occupants may
demand full power at takeoff.
I found the iXess wing to have an
indicated range of about 50 to 140 km/h
(31-88 mph) dual or solo. A maximum
dive with no power indicated 72-75
mph when the trimmer was left in the
neutral position. Compared to most
trikes, this is speedy, though it's no
match for many fixed-wing LSA.
The Tanarg offered a smooth ride
on the ground, and both models I flew
impressed me with the low amount
of vibration you feel in the seat. This
new trike chassis was clearly designed
for longer flights.
Air Creation has long offered recoil
three-position seat belts for both
seats, and a ballistic parachute as an
option. Air Creation worked with BRS
to create a bracket that comes standard
with all Tanarg trikes. When installed,
the BRS rocket motor will exit
on the left side of the Tanarg fuselage.
The parachute occupies the luggage
space below the rear seat.
Can You Handle a Weight-Shift Machine?
If you've thought about trying a
weight-shift aircraft, the Tanarg is
one you should experience. You may
not wish to spend the money on this
top-of-the-line model, but it will give
such a good ride that it might change
your mind about the potential of
weight-shift aircraft. The Tanarg is a
deluxe aircraft truly deserving of another
look by those who may have
cast a doubtful eye on weight-shift
flying machines.
I recommend contacting Kemmeries
Aviation and finding the nearest
place to get a test flight. You might
want to travel to one of Kemmeries'
facilities in the greater Phoenix, Arizona,
area. Not only can you test-fly
the entire line of Air Creation trikes,
but also you can take lessons seven
days a week. You may even want to
join one of the company's AeroTrekking
adventures (see sidebar).
The Tanarg is a worldwide sales
success, with more than 100 machines
produced and supplied in its
first year of full production. Even at
the highest price in the weight-shift
world, about 30 of those machines
were sold in the United States. Usually
when a product sells this well
despite a high price, several good
reasons exist. Thanks to the Tanarg,
trike flying is no longer what you
once thought. Take a closer look and you just may be surprised!
Published in EAA Sport Pilot & Light Sport Aircraft Magazine
Seating
2, tandem
Empty weight
520 pounds
Gross weight
992 pounds
Wingspan
32 feet, 6 inches
Wing area
161 square feet
Wing loading
6.2 pounds/square foot
Length
6 feet, 9 inches
Height
11 feet, 2 inches
Kit type
Fully assembled
Airworthiness
Certified SLSA
Notes:
First US delivery: March 2004.
Standard engine
Rotax 912
Power
81 hp
Power loading
12.4 pounds per hp
Max Speed
90 mph
Cruise speed
50-72 mph
Rate of climb at gross
1,200 fpm
Takeoff distance at gross
213 feet 1
Landing distance at gross
196 feet 1
Notes:
1 With one occupant, takeoff distance is 131
feet and landing distance is 147 feet.
Standard Features
Rotax 912, 81-hp engine with electric starting, liquid-controlled carburetor temperature, Arplast 3-blade prop, Tanarg completely redesigned chassis with deluxe cockpit and one-person, easy-lift mast erection, rear-seat throttle and steering, iXess wing (available in single size), in-flight trim, hand and foot throttles, nosewheel steering, nosewheel brake and fender, 3-wheel brakes with parking feature, 3-point recoil pilot restraints front and rear, 3-wheel suspension, instrument panel, 17.2-gallon fuel tank, several storage areas (see article).
Options
Kiss 450, Fun 450, and iXess Training model wings also available; ballistic parachute system.
Construction
Aluminum airframe, fiberglass fairing, mixed-fabric Dacron sailcloth wing covering. Made in France (with 20% ownership by American importer). Distributed by U.S.-based importer.
Design
Cosmetic appearance, structural integrity, achievement of design goals, effectiveness of aerodynamics, ergonomics.
Pros – Entirely new trike chassis by established manufacturer. Many excellent detail improvements (see article). Creature comforts enhanced in significant ways. Beautiful fabrication of all components. Superb engine vibration isolation. Sets a new standard for Air Création competitors to meet.
Cons – Sets a new price standard while pushing the design concept forward. Combined with a high euro-to-dollar exchange rate, price is well above $50,000. Many pilots don't "get" trikes so paying a stiff premium makes even less sense to them. Resale value of a high-end trike unknown.
Systems
Subsystems available to pilot such as: Flaps; Fuel sources; Electric start; In-air restart; Brakes; Engine controls; Navigations; Radio; (items covered may be optional).
Pros – Hand and foot throttles for both seats; foot pedals adjustable. Rear-seat steering. Excellent trim system; works well and universally labeled. Isolation of electrical wiring from fuel line routing. Secure placements of kill switches. Hydraulic brakes on all three wheels; two hydraulic systems for more versatile adjustments.
Cons – No landing aids like flaps (true for all trikes to date). Fuel sight gauge not marked for quantity on test trike. Engine access not as open as older trikes. No other system negatives.
Cockpit/Cabin
Instrumentation; Ergonomics of controls; Creature comforts; (items covered may be optional).
Pros – Three-wheel dual-system hydraulic brake package is highly effective, more so than most planes I've flown. Dual hand and foot throttles with rear-seat steering. Storage areas provided in several locations (see article). Strikingly styled cockpit fairing is very roomy. Secure, comfortable steering pedals.
Cons – Fabric gear leg fairings are light and functional, but don't match the high quality in most components (though they save weight). Full-face helmet recommended and therefore won't appeal to everyone; open-cockpit aircraft are a smaller part of the market, possibly affecting resale.
Ground Handling
Taxi visibility; Steering; Turn radius; Shock absorption; Stance/Stability; Braking.
Pros – Large, supportive foot pedals and trailing link suspension that suspends the nose well make the Tanarg very comfortable in taxi. Excellent engine vibration dampening; none felt through airframe. Hydraulic brakes on all three wheels are very powerful. Rear-seat steering and foot throttle.
Cons – Push-right/go-left steering, now standard on nearly every trike, remains counterintuitive for conventionally trained pilots. Recommended full-face helmet restricts ground visibility. No other ground handling negatives.
Takeoff/Landing
Qualities; Efficiency; Ease; Comparative values.
Pros – Very fast acceleration, short takeoff roll, strong climb rate come on this lightweight 912-powered machine. The iXess wing helps produce quick ground break. Excellent energy retention. Wide-open visibility on takeoff and landing. Stout and secure-feeling chassis with good ground clearance.
Cons – The 81-hp Rotax 912 represents excess power for many applications; flown solo, I used around 60% throttle for launch. Faster flying wing brings speedy ground roll, which makes push-right/go-left steering seem more difficult. Trikes cannot compensate as well as 3-axis planes in crosswinds.
Control
Quality and quantity for: Coordination; Authority; Pressures; Response; and Coupling.
Pros – The iXess wing has a good percentage of the light handling of the earlier Kiss wing (also reviewed with the Tanarg) plus the speed performance of the older, faster XP series. Trimmer system nicely eases handling pressures. Highly reliable handling; you always get what you'd expect from Air Création wings.
Cons – The iXess wing is so well achieved that handling negatives are few. Significant crosswind limitations still apply despite excellent iXess wing handling. Maintaining control of a movable wing while taxiing in gusty winds can demand some muscle power.
Performance
Climb; Glide; Sink; Cruise/stall/max speeds; Endurance; Range; Maneuverability.
Pros – The Tanarg with 81-hp Rotax 912 engine plus iXess wing make for excellent trike performance. Fast climbs. Maximum cruise of 85 mph with stall down into 30s. Very effective trimmer helps pilot use full performance range. Even at high speeds, the iXess wing possesses good control authority. Low vibration engine mount even at higher power settings.
Cons – For some situations the Rotax 912 has more power than needed (unless large occupants, high elevations, or floats). Landings and takeoffs are rather brisk in Rotax 912-powered iXess. No other performance negatives.
Stability
Stall recovery and characteristics; Dampening; Spiral stability; Adverse yaw qualities.
Pros – Excellent stability characteristics at any speed range with iXess wing. Wonderful, well-behaved ultralight. All stalls were very benign; did not break (only through very aggressive entry can you produce a stall break). Longitudinal and throttle response checks were positive. Three-point pilot restraint is secure. Parachute fitting bracket is standard equipment as is a related automatic engine shutdown.
Cons – Like most trikes, the iXess wing cannot be steeply dived, even with power reduced (with too much power, no dive is possible). Some overbanking tendency noted if bank angles become steep – common in trike wings, which employ some anhedral. No parachute fitted to test Tanarg aircraft (even though company is supportive of devices).
Overall
Addresses the questions: "Will a buyer get what he/she expects to buy, and did the designer/builder achieve the chosen goal?"
Pros – The Tanarg 912 iXess is presently the state of the art in weight-shift aircraft; it seems appropriate that it was the first trike to win SLSA approval. New design is so thorough that it's hard to imagine additional improvement. U.S. representation is predictable and solid with American ownership of part of the Air Création company.
Cons – The Tanarg's $50,000+ price is a barrier to many pilots; may affect eventual resale. Less appropriate for beginning trike pilots (though they could certainly learn to fly the Tanarg 912 Kiss (or other lower-performance wings available on the Tanarg). The Rotax 912 engine is expensive and complicated compared to 2-stroke choices.