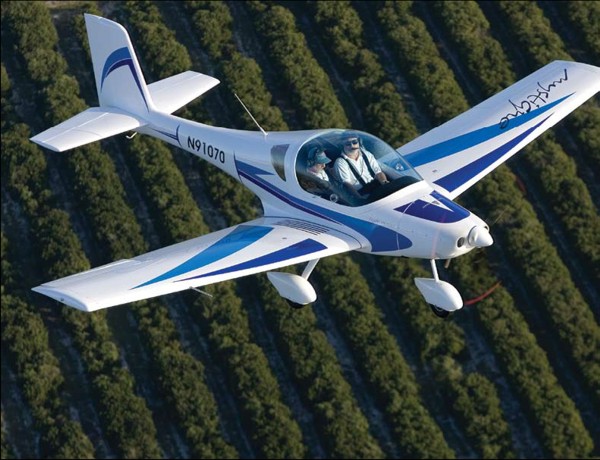 But this airplane offers no mystery …
Most pilots will find
nothing mysterious
about the Mystique. In
fact, many readers already
know its manufacturer,
Interplane Aircraft, which
also manufactures the
Skyboy that achieved early
success before light-sport
aircraft (LSA) were given
official status.
Yet to American pilot
eyes, the Mystique is a
new bird on the horizon.
It earned its special lightsport
aircraft (S-LSA)
airworthiness certificate
shortly before the U.S.
Sport Aviation Expo in
mid-January 2007. This is
the second S-LSA approval
for Interplane; Skyboy won
approval in October 2006.
Let's Meet the Distributor and Manufacturer
Many LSA pilots have come to
know Doug and Betty Hempstead,
the proprietors of several aviation
companies based at the Sanford-Lee
County Regional Airport in North
Carolina. Doug and Betty operate a
flight school, two import enterprises,
and plan to embark on final assembly
of airplanes in the United States.
The Hempsteads import the Allegro,
manufactured in the Czech
Republic by Fantasy Air, under the
Fantasy Air USA name. This reasonably
priced airplane is one of the success
stories in early LSA deliveries,
occupying the number 3 position
according to one tally in the fall of
2006. Doug reported 68 deliveries as
of January 2007. A number of flight
schools have embraced the model,
and Fantasy Air USA introduced its
significantly upgraded Allegro 2007
model at the Sebring Expo to replace
the more familiar Allegro 2000.
Another of the Hempsteads' enterprises
is the newly formed LSA America,
Inc. Under this corporate name
they import the Interplane aircraft-
the Skyboy and Mystique.
The older Skyboy is back on the
U.S. market at a most agreeable price
of $47,500 ready-to-fly, or just over
$50,000 when overseas shipping is
added. At this price you get an 80-
hp Jabiru 2200-powered aircraft that
will perform energetically and offers a
most comfortable cabin. LSA America
can supply you with facts and figures
about Skyboy.
Interplane Aircraft is based in
the Czech Republic but is owned by
American Ralph Mandarino, a Michigan
resident. After selling a successful
automotive business and restricted
by a non-compete agreement,
Ralph decided to enter the aviation
business. He saw a way to use his experience
as well as old country contacts.
He not only bought the design
of the Skyboy but also the manufacturing
plant in a country where he
has family connections.
A team of engineers formerly employed
by the LET Kunovice aircraft
factory created the Skyboy, Mystique,
and other designs, including commuter
aircraft such as the 19-passenger
L-410 and 40-passenger L-610,
plus world-class sailplanes such as the
L-23 Super Blanik and the L-33 Solo.
Thousands of their aircraft are flying
around the world.
Interplane's manufacturing facility
is located in Zbraslavice, Czech
Republic, just 50 miles outside of
Prague. The company boasts wellequipped
facilities with modern
machinery, a situation made possible
by Mandarino's investment.
In addition to building the Skyboy,
Interplane uses its special machining
capabilities to seek new business
in small metal assemblies and composites.
In fact, the company builds
component parts for other LSA producers
in the region.
Thanks to the background of Interplane
and its association with LSA
America, purchasing a Mystique is a
largely American affair. Still, when
purchasing a foreign-built aircraft,
it's especially important to know the
company behind the product.
Demystified
The Mystique features all-composite
construction with a cantilevered low
wing that's also built with composite
main and auxiliary spars. Using
sailplane methods common to Eastern
European designers, Interplane builds the removable wings with robust
main spar bolts.
The Mystique's fuselage exterior
is a graceful shape that lets the air
flow gently around it, though this
beautiful shape ends at a rather
boxy-looking vertical tail. And, the
Mystique's unfaired gear legs seem
to stick out of the cabin abruptly.
I'll bet future updates to the design
refine those points.
In flight, the Mystique was tight
and solid feeling. Though the design
may gain from further development,
the airplane appears well executed.
It also boasts an impressive payload,
more than its empty weight. Its useful
load calculates to 750 pounds, assuming
the factory figure of 570 pounds
empty weight, a very low number
among S-LSA. With 18 gallons of fuel
on board in the standard configuration,
the Mystique still has a payload
of 642 pounds. If the airplane can
maintain such a trim weight, it will
have a superior capability of hauling
two, extra-large 250-pound occupants
with a whopping 142 pounds left
over. At these figures, the Mystique
has one of the best payloads in the
S-LSA category-an important figure
to many potential buyers.
However, the Mystique's 43-1/2-
inch wide cabin presents a challenge
to this generous payload. While the
airplane might be able to lift heavy
occupants, they might not fit inside.
Buyers will want to try the aircraft on
for size to be sure. (One standard bearer
that most pilots know is the Cessna
172 Skyhawk, whose cabin measures
43 inches wide. Many other LSA boast
cabin widths of 46-49 inches.)
Older, less flexible pilots might
struggle a bit to mount the Mystique's
wing. I pulled myself up using the
substantial canopy rear structure and
braced my hand on the aft fuselage,
but it seemed a bit awkward without
a fuselage handle. Owners obviously
will develop a technique that works
for them. The Mystique does have
split flaps, so you don't have to take
the same care to step across that surface,
but it's a fairly good stride from
entry foot peg to mid-chord.
And, baggage space is fairly limited.
Despite the airplane's great carrying
capacity, the Mystique simply
doesn't have room for much gear.
You're limited to an overnight bag or
two aft of the seats.
But, Oh, The Visibility!
Inside I found the Mystique's seat to
be comfortable with secure restraints.
The canopy is big, beautiful, and optically
excellent. You feel as though
you can see forever aloft. At my
height of five feet ten inches, I had
good headroom; taller-than-average
pilots will need to sit in the airplane
to check clearance.
Visibility was as broad as you'd
expect with the large, fully unobscured
canopy, however, it got hot
inside as we taxied out for takeoff in
the Florida sunshine. Like most forward-
hinged bubble canopy designs,
the Mystique lacks a way to prop
open the canopy to let more air flow
through. This hothouse feeling is a
common problem for similar designs
in warm conditions; some sunbelt
operators spurn low wing designs for
this reason. On the Mystique I flew,
the right side canopy latch was very
tight to secure. I needed help the first
time. It'll probably loosen up in time
with use.
The canopy is big,
beautiful, and optically
excellent. You feel as
though you can see
forever aloft.
A plus for the Mystique design is
a thick roll bar that is reassuring in
the event of a turnover mishap. However,
this aircraft had no parachute.
LSA America had just received its first
Mystique; after they have more time
working with Mystique customers,
they'll likely offer other options.
During our flight, the Mystique appeared
to be running a bit hot at 260
degrees. Company pilot Jim Schmidt
was looking for 240 degrees. We actually
cut the flight short to assure we
did no damage to the engine. After
the U.S. Sport Aviation Expo, where
I flew this model, LSA America's mechanics
discovered the airplane's engine
information system (EIS) was
showing incorrect information, so
the perceived heating problem wasn't
a problem.
Trim also needed some adjustment
as it did not provide enough aft authority,
though the pitch pressures
were sufficiently light such that this
wasn't a problem.
The Mystique's split flaps operate
via a mechanical lever between the
seats. A detent bar releases the current
setting and allows for easy resetting.
Forward of the flap lever is a linked
throttle lever. To the right side of the
throttle is trim, and forward of each
of these is the brake lever.
For me, I found the brake handle a
bit far to reach, and the brakes themselves
were not particularly effective.
Jim indicated that this might have
been because of an air bubble in the
line, another adjustment LSA America's
mechanics can easily do.
Jumping Aloft
The standard Mystique I flew was
equipped with the 80-hp Rotax 912;
for most pilots that will prove to be
In a brisk wind, the Mystique performed
very lively. We left the ground
quickly and climbed fast, more than
1,000 fpm even with my lack of familiarity
with the best climb technique
for this airplane.
Personally, I love the 80-hp Rotax
engine. Less is asked of this engine
versus the higher compression
100-hp Rotax 912S. It can also use
87-octane gas whereas the 912S demands
more expensive 92-octane
fuel. Owners flying from high elevations
may need the additional power
of the 912S, but most pilots should
be well served with the less costly
powerplant.
powerplant.
As we approached for landing,
the Mystique provided excellent
control authority. Even in a strong
crosswind at a sharp angle, my landing
turned out well. Because of the
heating problem, we did only one
landing, but even this lone experience
made me feel that the Mystique
could work well in a training environment.
Recreational pilots will
surely relax quickly during takeoffs
and landings.
The Mystique did steep turns well,
holding the prescribed bank with little
input. I used only a cruise power
setting, yet it held altitude with only
a bit of back stick, proving the design
moves efficiently through the air.
The control balance felt good
even though all the control linkages
were new and slightly stiff. The rudder
was a little firm as well. However,
pitch pressures were light but
pleasant; responsive without being
sensitive. I found a great deal to like
about the Mystique's handling, and I
consider myself a handling buff.
Likes To Run
With full power in level flight at about
2,000 feet mean sea level (MSL), the
Mystique reached 118 mph indicated
on an out-and-back averaged run (installed
airspeed indicators often have some error). In addition, Jim reported
that our test aircraft had been fitted
with a coarse prop for training operations.
With a finer pitch, it should
cruise faster.
When LSA America investigated
the EIS readouts relative to the heating
problem mentioned above, they
also discovered that a small leak
caused airspeed to be reading slightly
low. We were actually flying a bit faster
than I witnessed.
Interplane claims a 15-to-1 glide
ratio for the Mystique. Such a performance
statistic is difficult to measure
without proper instrumentation, but
on approach to landing I recognized
this airplane clearly wanted to stay
aloft. In ground effect, the design
also retained energy well-another
indication this model might be good
for training flights.
That said, more than one manufacturer
of LSA with long wings and
flat glides have later shortened their
wingspans to accommodate Americans
accustomed to general aviation
(GA) aircraft, most of which exhibit
shorter glides. When an airplane can
stretch final approach, you have to
factor in that ability when landing.
Come in too fast and you'll float all
the way down the runway. Quite a
few higher performing planes experience
this characteristic.
Jim reported the Mystique's fuel
burn at about four gallons an hour.
While not uncommon for more
aerodynamic LSA using the Rotax
912, this figure trumps any general
aviation airplane I've flown.
Slow flight under 50 mph indicated
showed that the Mystique
flies well at lower power settings
and slower speed; that's not only
important for landing approaches
but also for slow speed stability.
Roll and rudder response at barely
above stall remained sufficiently
authoritative.
Routine stalls with and without
power and accelerated stalls in a 30-
degree bank showed the Mystique
to be quite well behaved. Stalls
showed no tendency to fall on a
wing, and recovery was as fast as
other lightweight LSA.
Although my examination of this
newly arrived airplane was not rigorous,
the Mystique felt comfortable
in modest unusual attitudes. Longitudinal
stability and response to
power changes also introduced no
mysteries. The Mystique exhibited a
fair share of adverse yaw when controlled
solely by ailerons, but this is
the rule rather than the exception
to nearly all aircraft.
How Much?
Mystique sells for a base price of
$79,000 (see the standard equipment
list at the end of this article). Shipping-$
3,000-is not included, so
the final price is $82,000 including
airworthiness, registration, and a full
fuel tank. To that you may want to
add some desirable options such as: a
100-hp Rotax 912S engine ($3,000);
exterior finish colors ($850); transponder
($2,450); Garmin 296 GPS
($2,250); emergency parachute
($4,950); wheel fairings ($450); larger
fuel supply-two 15-gallon tanks
replace the 18-gallon standard tank
($1,050); and/or an attitude gyro
(2,889). This list is not complete.
Ask LSA America for a price sheet to
see the rest of the options available
and to be sure the figures haven't
changed. Doug reports that the first
Mystique orders closed since the Sebring
Expo ended have been running
about $87,000.
If your interest is piqued, contact
LSA America and ask about the Mystique
or the Skyboy-as your wallet
dictates. You owe it to yourself to
check out these attractive and affordable
choices. I enjoyed the Mystique
and look forward to another flight
opportunity. Perhaps it'll be the airplane
for you.
Published in EAA Sport Pilot & Light Sport Aircraft Magazine
Seating
2, side-by-side
Empty weight
704 pounds
Gross weight
1,320 pounds
Wingspan
28.5 feet
Wing area
127.0 square feet
Wing loading
10.4 pounds/square feet
Length
21 feet
Cabin Interior
43.5 inches
Height
6.9 feet
Fuel Capacity
18.0 gallons
Baggage area
aft of seats
Airworthiness
Certified SLSA
Standard engine
Rotax 912
Prop Diameter
3-blade all composite Woodcomp
Power
80 hp
Power loading
13.2 pounds/hp.
Max Speed
120 knots/138 mph
Cruise speed
109 knots/125 mph
Stall Speed (Flaps)
35 knots/40 mph
Stall Speed
39 knots/45 mph
Never exceed speed
148 knots/170 mph
Rate of climb at gross
1,200 fpm
Takeoff distance at gross
600 feet
Landing distance at gross
700 feet
Range (powered)
575 mi. / 4.5 hrs. (no reserve)
Fuel Consumption
about 4.0 gph
Standard Features
80-hp Rotax 912 engine; 3-blade ground adjustable
propeller; dual controls; dual hydraulic main wheel brakes; 4-point
shoulder harness; steerable nose wheel; ICOM A200 radio; PS Engineering
intercom; in-flight elevator trim with dual trim tabs; cabin heat; emergency
locator transmitter; flaps; 18-gallon fuel tank; airspeed indicator; altimeter;
tachometer, fuel gauge, compass, vertical speed indicator, bank indicator,
cylinder head temperature gauge, oil temp gauge, oil pressure gauge, fuel
pressure gauge, hour meter