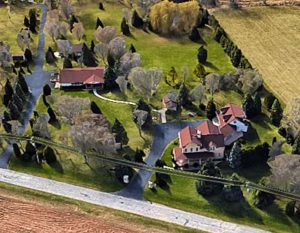 Have you ever flown the ultralight area pattern at EAA AirVenture Oshkosh? Quite a few readers of ByDanJohnson.com have done so or have at least seen their buddy's photo or video while flying above the world's most famous airshow.
Usually the aerial views you see are of the jam-packed area to the north with giant military airplanes, bizjets, and innumerable groupings of all manner of aircraft from spam cans to homebuilts and everything in between.
Those of us who love light (lightest) aviation are drawn to the ultralight area… "down on the farm" …the area now cleverly named "Fun Fly Zone." If you fly the weirdly shaped pattern of the ultralight area, you have almost certainly seen EAA founder Paul Poberezny's house with a view that might look something like the one above (courtesy Google Earth).
"Pope Paul" died August 22, 2013 at the age of 91 after a amazing career spanning more than 70 years of flying and building arguably the most interesting member organization in aviation.
Back in 2004 and 2005, when I consulted EAA about the then-new Sport Pilot / Light-Sport Aircraft initiative, I visited Paul at his final home. I was focused on my talk with the man but he showed me around his mini-museum on the premises. That was a too-brief but highly personal glimpse of aviation history as captured by Paul.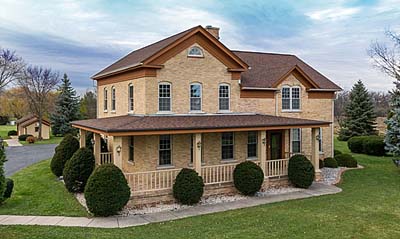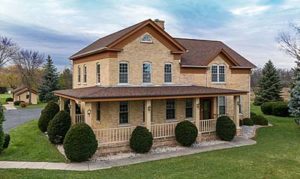 I didn't see all he had in his collection but maybe now I'll get another chance.
Aircraft Spruce & Specialty announced, "[We have] purchased the former home of Paul and Audrey Poberezny in Oshkosh and will make the home available to the EAA for tours and special events." The original stone farmhouse is over 100 years old.
"This home hosted many of aviation's leaders and icons. [It houses] countless aviation artifacts and photos representing the relationships and events that shaped Paul's remarkable life … providing insight into the lifetime passion and vision of one of aviation's greatest leaders," added Aircraft Spruce.
"Contact EAA for details on visiting the Poberezny home beginning in the summer of 2017," advised Aircraft Spruce. Cool! I'll bet many will take them up on this opportunity. Thanks to Aircraft Spruce for preserving this aspect of American aviation history!