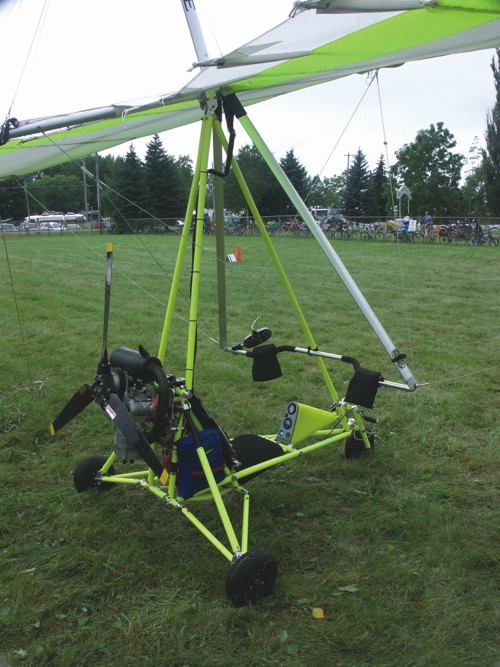 even in a Light-Sport Aircraft World.
Despite the intense focus on the FAA's new Sport Pilot/Light-Sport Aircraft rule, EAA's big summertime airshow brought the introduction of at least four intriguing, legitimate ultralights—aircraft that truly meet the 254-pound rule. Many observers believed LSA would sound the death knell for Part 103. I guess not!
Not only were new ultralights common, their diversity was broad. You could see a fixed-wing, a weight-shift trike, a powered parachute and a helicopter. As if seeking to prove the new rule won't eliminate Part 103, these machines were proudly displayed by vendors who also supply larger, heavier models.
Skymaster Light Trike
One bright spot at EAA AirVenture was—literally—the glowing yellow Skymaster Light Trike. Excellent detailing kept viewers looking carefully.
Mike Lane is the man behind the project at Skymaster. He's a hang-glider pilot looking for an easy way to launch in the flatlands of Wisconsin. His ultralight vehicle benefits from the supply bins at Skymaster powered parachutes, helping this prototype look production ready.
Lane built the machine around a Hirth F-33 single cylinder, 28-hp engine that he says gives the Light Trike a solid 600-fpm climb rate. The simple aircraft weighs only 380 pounds gross and 198 empty (giving it a whopping 56 pounds to spare under Part 103). It can cruise at 55 mph and stalls at 24 mph.
Skymaster boss Bob Bieser said at press time that a few changes will be made to the Light Trike, such as providing added occupant protection from the rather close propeller. After these final modifications, Bieser intends to put the "nanotrike" into production. Its price has not been set.
Phoenix Aero 503
Powered parachutes have overwhelmingly been two-seaters, nearly all of them tandem. The few side-by-side designs are clearly in the minority, as are new single-place units. Most manufacturers have solo models, but few promote them vigorously. Perhaps this is no wonder since they use most of the same parts and yet sell for significantly lower prices.
Phoenix Powered Parachutes, however, prominently displayed its Aero 503 at AirVenture 2004. A large signboard revealed a price of only $10,795, complete and ready to fly, $4000 less than the company's comparable two-seat model. Tipping the scales at only 250 pounds, the Aero 503 can still squeeze in the most popular Rotax two-stroke and meet the rule's definitions.
With a 46-hp Rotax 503 providing the thrust through a 62-inch Ivoprop, the Aero 503 is lifted by a Performance Design 400-square-foot canopy. At a normal cruise of 25 mph, the 5-gallon fuel supply will keep you aloft for 2.5 hours, Phoenix says.
The carriage is smaller and lighter than those supporting two-seat powered parachutes, some of which have become large vehicles with powerful four-cylinder engines. Aero 503 stays on a diet that allows a takeoff run of 50-200 feet even with the smaller powerplant.
Raceair Zipster
Ed Fisher is a remarkable developer of Part 103-compliant aircraft. He's done it three times, and each was an award winner. An earlier model, the Zippy Sport, was used to help test Rotax engines for faster ultralights.
Since Zippy Sport was sold to Green Sky Adventures, Fisher has designed and built the bi-wing Micro Mong, the monoplane Skylight, and now the Zipster. All three use small engines like the 28-hp Rotax 277 (no longer available from Rotax), and all are comfortably under Part 103's weight limit—yet they perform admirably. With designs as light as Fisher's, big engines simply aren't necessary.
For those willing to register as Amateur-Built, Fisher says the Zipster can be fitted with larger engines such as the Rotax 503, VW engines or the 1¼3-Corvair conversion—all of which would make for robust performance.
Zipster is a plansbuilt airplane with various components coming from Fisher and, possibly, fully built aircraft. Seeing how he regularly builds award-winning models, the latter idea may be quite appealing for those with a bit more budget. A first-time builder might take 1000 hours to assemble the Zipster, though experience can deduct a third of the time, Fisher says.
Innovator Technologies Mosquito XE
Just over a year ago, I wrote about Canadian John Uptigrove's Part 103-compliant helicopter, the Mosquito. He was back at this year's AirVenture to show his enclosed model, the Mosquito XE (XEL with floats).
Last year's model, still available, had a skeleton look that captured the attention of lots of folks. The diminutive machine didn't look tough enough to fly until Uptigrove took it up and showed his mastery of the simple aircraft. Now the Mosquito has skin over the bones, transforming its appearance.
An independent review in this magazine (KITPLANES® May 2004) gave the machine good points for control harmony. Though a Mosquito won't take you far on Part 103's 5 gallons of fuel combined with a 60-hp Zanzottera engine, rotary pilots can have a superb local area sightseeing machine.
Helicopters require skills many fixed-wing pilots lack, but the company adds training to the price of the base machine (which is just more than $20,000). To fly as a Part 103 ultralight vehicle, the Mosquito XEL requiresfactory floatation. The FAA permits float-equipped 103 ultralights another 60 pounds for a total of 314 pounds. The Mosquito XE weighs 312 pounds, Uptigrove says, a perfect fit.
Used 103 Ultralights
All the aircraft mentioned are reasonably priced even for modest budgets. If they still cost too much, though, one alternative is used aircraft. Many older ultralight aircraft were light enough to qualify for Part 103.
Each year at AirVenture the ultralight area features some "antiques." This year a sharp Kasperwing tailless ultralight was on display. Powered by a Kawasaki 340, this light aircraft should be a potent performer.
Shopping for used aircraft can mean buying into somebody else's trouble, but careful examinations might uncover a gem for a small investment.For those willing to fly single-seaters and aren't in a hurry, there are several interesting choices.
TO REVIEW ALL "Light Stuff" columns, visit www.ByDanJohnson.com, which links to the KITPLANES® web site with articles of interest.
For More Information:
Skymaster Powered Parachutes
262/966-2533
www.flyskymaster.com
Phoenix Powered Parachutes
574/892-4785
www.phoenixpoweredparachutes.com
Raceair Designs
330/856-7520
raceairdesigns@aol.com
Innovator Technologies, Inc.
403/669-3101
www.innovatortech.ca
Published in Kitplanes Magazine