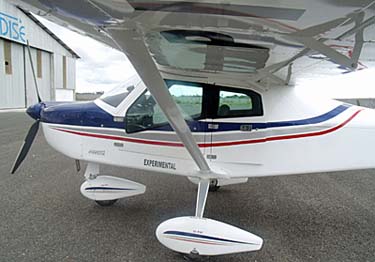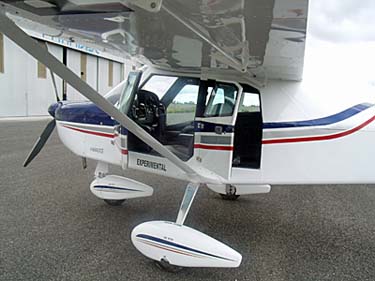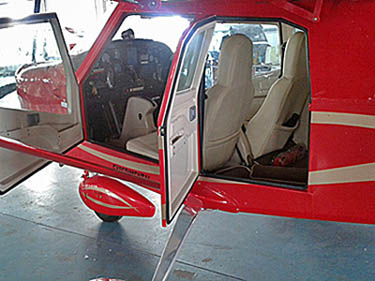 P1NG is not a sound nor golf equipment. The clever name (that's a "1" not an "i") is similar to a plane you know as the Paradise P1. Now get ready for the "Next Generation" P1, or simply, P1NG. The P1 you may have already seen was designed around a four-seat model with the aft cabin simplified to a luggage space. More on the entire family of Paradise airplanes below. P1 and P1NG offer more cubic area than most cockpits in light aviation. Besides a spacious cabin the front seats remove in a few seconds allowing an occupant to stretch out fully in its length. Alternatively, P1NG could easily carry golf clubs (you probably ought to load the American Ping brand), a family pet, camping gear, or anything else that fits within the weight & balance envelope. Though absent from the U.S. market for several years, Paradise reports good business in their native Brazil, a large and aviation-active country. Company officials say several hundred are flying in South America and other countries. Beside the new door, P1NG is wider, has a different wing section, and boasts other upgrades to keep the design current.
Designed by Noe (NO-eh) de Oliveira, P1NG is one of a family of aircraft including P1 — the Light-Sport Aircraft of which 14 are registered in the USA — a two-seat P2S, the four-seat P4, a low wing called Eagle that closely resembles the SportCruiser, and P1NG. Both P1 derivatives and the Eagle are powered by Rotax's 912 or 914 turbo engines while P2S and P4 use a 180-215 horsepower Lycoming. Noe's new P1NG offers the LSA industry's second three-door cabin — the first being the Jabiru J230-SP. Both are based on four seaters explaining the large volume aft cabin and illustrating why a third door is handy. Of course, an LSA can only have two seats but loading the spacious aft cabin of P1NG will be far easier thanks to the pilot side aft door (photos). Based on my earlier flight experience in P1, general aviation pilots used to those popular high wing planes built in Wichita will find much to like including dual control yokes, a central power quadrant, and wide visibility. I found P1 solid and forgiving with predictable flight qualities. Its long-legged 12.5:1 gliding capability offers a margin of safety. Given a few more years of development since the original importer left the business, it is reasonable to expect even better characteristics of P1NG.
Paradise of Brazil parted ways with its first U.S. importer, Paradise USA based at Sebring, about as the economy was entering the 2009 recession. Yet interest in the Cessna-like LSA did not disappear; indeed I take a call every couple months from some potentially interested pilots even though no one has promoted the design in recent years. While other parties suggested a resumption of import, agreements were apparently never settled and Paradise of Brazil provided legal documents attesting to their efforts to sever prior relationships. Meanwhile Paradise remains absent from the American marketplace, however, that will not last. Arrangements are still being finalized but the South American enterprise plans to establish a Florida presence later this year or early next. U.S. representation will be handled by Bert Motoyama, whom interested parties can reach via email or by phone: 850-758-2967.
Paradise of Brazil hails from a country with a rich aviation design heritage, featuring pioneering names like Alberto Santos Dumont. Today most Americans recognize regional airline and business jet producer Embraer and, interestingly, that major company has recently set up shop in Melbourne, Florida. As I am aware of discussions for another Brazilian company to establish manufacturing in Florida, Paradise may be engaging in a popular trend. As the U.S. plans become firm, I will plan to keep you updated but certainly by Sun 'n Fun, I expect to see Paradise back in the American marketplace.
(Nearby photo) Paradise's new P1NG has appeal to those used to popular high wing aircraft built in Wichita, complete with dual control yokes, center power quadrant, a baggage door, and plenty of room in the cabin. all images courtesy Paradise Aviation