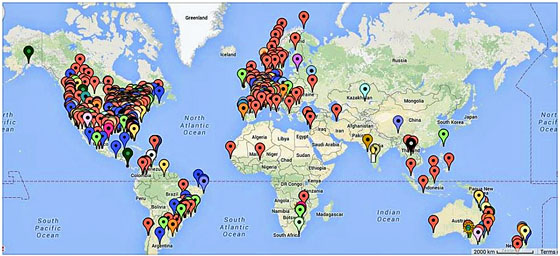 After many years in aviation and being a regular on the (trade) airshow circuit, I know one thing: it is darn hard to start a new event. So when The World Ultralight Fly-In announced its ambitious run at a Guinness Book world record, I thought it was a very fun idea but probably quite hard to assemble.
That was before key promoter Paul Lindamood began putting out what seemed hourly updates to the group's Facebook page. The power of social media is unveiled for serious events such as Arab Spring or whimsical photo flash mobs. In our world of recreational aviation, WUFI '15 proves the new media is also very useful.
Good for Paul and the WUFI gang of open air pilots. My tongue-in-cheek title notwithstanding — I am definitely not a Marx enthusiast — WUFI surely qualifies as the project that put more open-air (and other) ultralights or ultralight-types in the air on one day, all around the world. To see where they all launched, see the map below.
"One Day. One Sky. Be a part of it." That was the slogan and invitation from the Dayton Ultralights WUFI. With the drumbeat of social media encouragement and with the second, ambitious goal of entering the Guinness Book of Records … how did they do?
According to main man Paul, "The final numbers to date (a few days into November 2015), 900 virtual pins were located on the map, with a pin being pilots who previewed their location on the world map showing their intent to fly, weather permitting." This significant population hailed from 46 countries.
"What a great way for pilots to come together all over the world to share their love of aviation," said Doug Smith (painted face photo). The organized effort has also done great things for membership in the group known as Magnificent Men and their Flying Machines (abbreviated as MagMen). As this article posted, main man Paul said the group had grown to nearly 2,000 members. Clearly the idea has been motivating.
Organizers say the first World Ultralight Fly-in was picked up by numerous TV news stations, publications, and online resources. Anecdotal stories include these: "We had guy from Mexico who wanted to fly WUFI so bad he flew to his wedding rather than miss it! Another guy flew four different categories of light aircraft (paramotor, tandem paramotor, skydive, and sailplane) during WUFI day on October 10." Tim Heylbut, an avid flyer from Australia said, "This has been (and is) the greatest action taken towards uniting ultralight pilots around the globe."
But what about that record book attempt? "We are still counting actual certificated 2015 flyers for Guinness — it's over 532 and we're not done." They are presently verifying each one, as required. "We had an amazing start, but what we are finding is a real enthusiasm across the world for a sense of community among these pilots."
Paul explained that the idea was to have an event for the grassroots types of machines. Such machines can't as easily attend venues like Oshkosh due to speed, range, and weather limitations. "However, they can share the same sky on the same day," exclaimed Paul! "We're finding that language, location and political barriers all but disappear within the smiles of this unique brotherhood of flyers … and the sisters as well.
"The Guinness response is still pending," Paul said. "It goes very slowly and we can't do much but wait. They say on their website they get 1,000 entries a week."
As they prepare for a second effort next year, Paul stated, "We are developing a world wide team of WUFI 'captains' — individuals who will recruit from their individual countries — plus WUFI experts in all primary segments of recreational, open air aircraft from powered parachutes to weight shift trikes to gyro, to airplanes and beyond." The group plans to execute an even more comprehensive WUFI 2016.
For the successful 2015 event, Paul wrote, "Thanks to all the WUFI captains!" He listed Marc Carofano, USA east — Thomas Fleming, USA south — Rafael Cortés, Puerto Rico — Yf Yen, Malaysia — Michel Mahler, France — J'm Smith Lobo, China — John Bullpin, UK — Paul Escott, Australia — Adolfo Bikkesba, South America — Jacqueline Costa, Portugal — Tobie Lépine, Canada — plus representatives in Indonesia and Wales."
More "captains" will follow. Indeed, being a good promoter, Paul and his Ohio-based group are already soliciting for more leaders and participants for WUFI 2016.
Co-creators, Bill Esker and Paul Lindamood from the USA with Koen Van de Kerckhove from Belgium were extremely gratified by the exceptional turnout and enormous amount of support worldwide. The event spanned virtually every category of recreational aircraft imaginable, with pilots as varied as the countries they represented.
Kerckhove said, "The goal of the flying event was to show that grassroots, open air aviation is alive, attainable and affordable." He added, "It is also a love and a bond that bridges all geographical boundaries. We look forward to the 2016 event and expect a tremendous increase in the participants.