On the last day of the last airshow of the year — unbelievable as that sounds — I examined a superbly-finished gyroplane that Powered Sport Flying's Vickie Betts saw at the Mentone PRA fly-in earlier this year. She was impressed. She was not alone.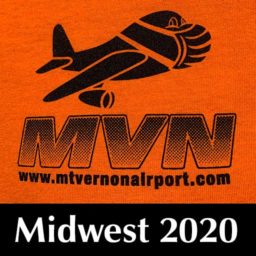 Another designer of very striking hardware is Larry Mednick of Evolution Trikes. (An interview with him revealed that in this very strange year, his company is having their best year ever.)
Larry encouraged me to go check out Gyro Technic as he enthusiastically described parts and components on the gyroplane that he found "exceptional." If the guy behind the elegant Revo weight shift trike thinks an airplane from a competitor is worth a look, I was certainly going to take his advice.
He was correct. The components of this gyro are highly CAD engineered but also exhibit an artistic flare.
Gyro Technic's VX1
"Artistic?" Yes, sir! Look closely at black VX1 or blue VX2 and its aluminum parts.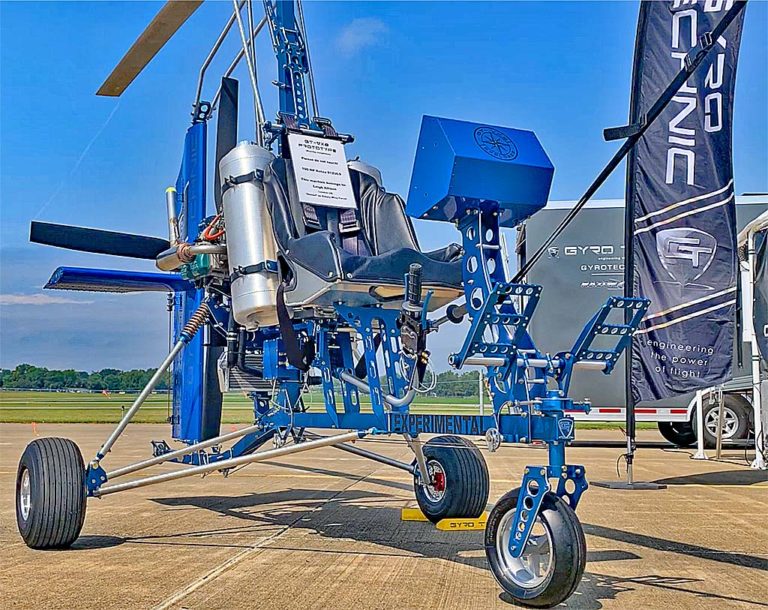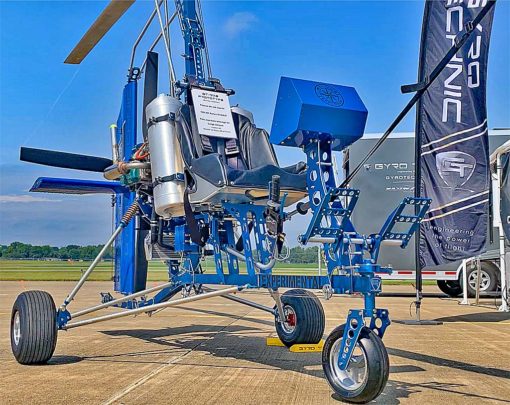 With an active business doing robotics and custom automation, VX1 designer and company boss, Denis Shoemaker is attuned to a fine grade of finish quality. He explained that he anodized the parts seen in the photos but then returned the parts to the shop to machine chamfer edges to give them a gleam that contrasted beautifully with the blue or black anodizing.
"Yeah, it really pops, doesn't it," agreed Denis when I admired the look.
We spent some time talking in a video interview (to follow) about the close proximity of the tailplane and how VX1 differs from most modern gyroplanes.
Denis observed that most modern gyroplanes use an extended tail with multiple vertical surfaces. How can his design function with a much different design?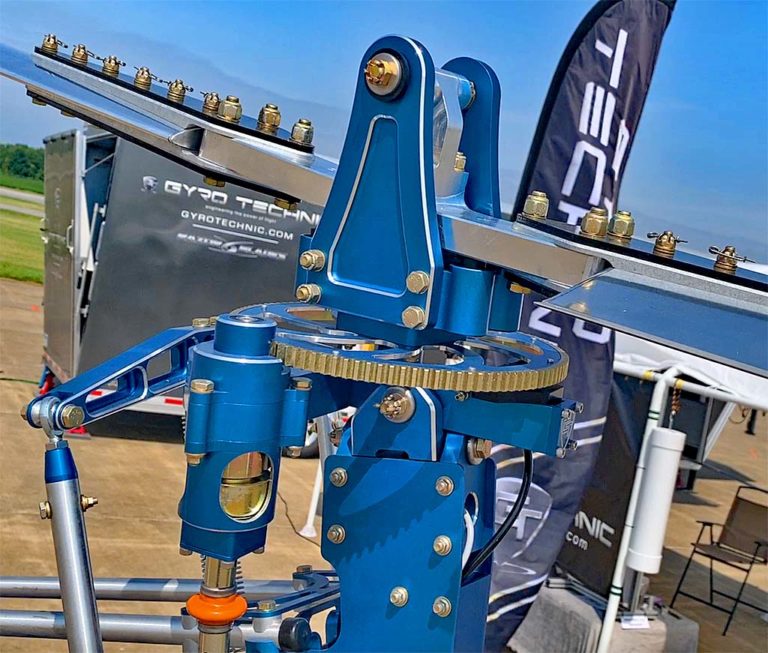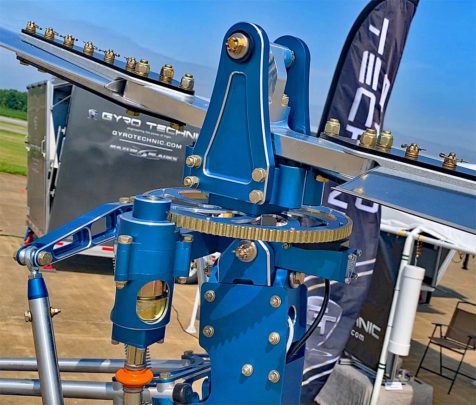 It has to do with the pod or cabin that most modern gyroplanes use. VX1 is an open cockpit design. All that fuselage area forward of CG needs more tail in the rear to offset the aerodynamic effects. Since VX1 has a fully open cockpit, it does not need the same tail displacement.
Clearly, Gyro Technic's VX1 is no mere copy of some other gyro.
In addition to making all their own parts (check this page for a visual treat of finely-machined components), the southern Minnesota producer also makes their own rotor blades, branded as "Razor Blades." It is not common for a gyroplane carriage producer to make their own rotor blades similar to weight shift carriage builders buying wings from a company that specializes in such work. With few exceptions, nearly all of VX1 is fabricated in house; this includes the rotor blades.
I asked about rotor blades that also looked different from those on many gyroplanes — most use a wider chord than Razor Blades. Because most designs are two seaters where VX1 is single place, Denis' aircraft doesn't have to carry as much load and is a much leaner construction.
Flying VX1
Denis wrote, "[When] using a Rotax 582, [VX1] will burn about 6 gallons per hour — thirsty little buggers!" He explains what gyro enthusiasts know, "Gyros move air upward through a rotor disk with a positive angle of attack and are therefore 'plowing' through the air."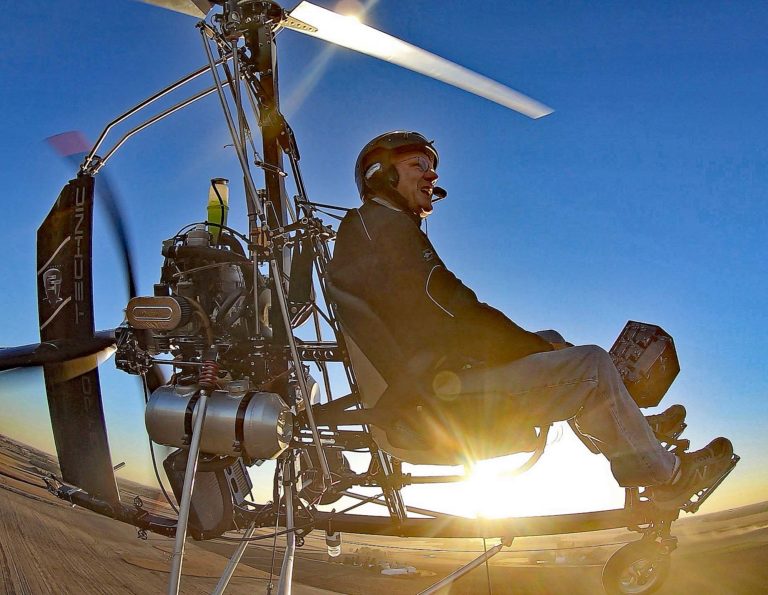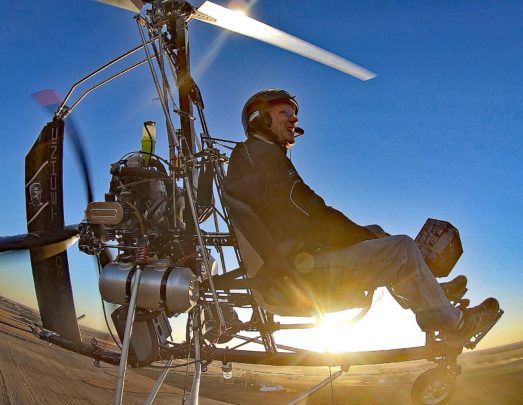 "A comfortable cruise speed is about 60 mph. Full fuel tanks (7.5 gallons) will then give you a range of 50+ miles with a safe fuel reserve.
"This would be a straight-line course to your destination. In reality though, you will be having too much fun, and your flight path will not be a straight line, but rather resembling something closer to a bowl of spaghetti!"
Ha! Good description of the flight path of a pilot just enjoying the experience and not intent on getting from here to a destination as the only reason to fly. Visibility from a gyro like VX1 is about as open as it gets.
At Midwest LSA Expo 2020, Denis displayed the first VX2 (seen in blue), so designated because it uses the Rotax 912 engine. Since all Gyro Technic's aircraft today are single seaters — a two seater is in the concept phase at this time — one of these light aircraft powered by a Rotax 912 should perform awesomely.
Kits for the Rotax 582 model start at $23,850, which seems like a fair price for a finely-achieved aircraft. Their website shows kits ready for delivery. Contact Gyro Technic for more price details and exact delivery details.
Look for a complete video interview with Denis on Videoman Dave's Ultralight News YouTube channel.
---