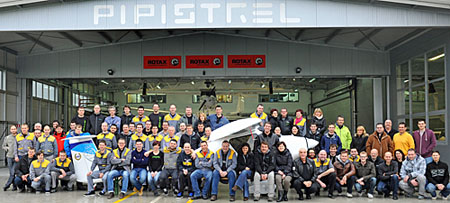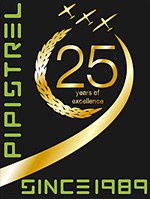 One of the top LSA manufacturers and a coming producer of four seaters is Pipistrel, which I visited last year. Recently the company announced that it completed and delivered its 600th aircraft, after which they shipped it halfway around the globe to Australia. The down under country, presently in its summertime (a warm thought while the Eastern USA digs out from yet another heavy snowstorm), fully accepts ASTM standards. On the occasion of its production of Pipistrel number 600, the Slovenian company with an LSA facility in nearby Italy, also celebrated its 25th anniversary. The twin achievements gave an opportunity for the Pipistrel team of 80 members to pose with aircraft number 600. Regular factory visitor and Australian distributor (also the rep for the United States), Michael Coates joined the photo. Michael has been a Pipistrel distributor for over 15 years and was chosen as the "Distributor of the Year" in 2012.
Today Pipistrel is recognized for its sleek composite designs but the company got its start making weight shift aircraft, or trikes. Including all aircraft types, Pipistrel stated they have built "well over 1200 different aircraft." The Coates distribution organization boasts of selling more than 100 of these employing his team of promoters and dealers on two continents (Australia and the USA). Pipistrel's company network of distributors and dealers operates in 40 countries and the company reported that "our aircraft fly in 67 countries." Pipistrel said it will mark the celebration of its 25th anniversary throughout the year with "special events, achievements and world record attempts." The added, "We are proud to announce that our entire yearly production for 2014 has been sold out already so aircraft number 700 will also be produced [in 2014]!
See our video interview with company founder Ivo Boscarol at Aero 2013.