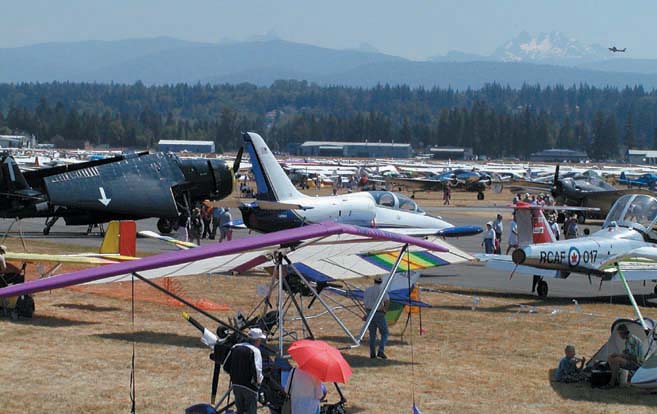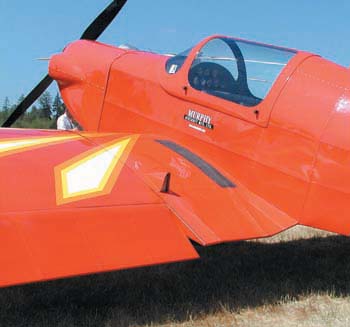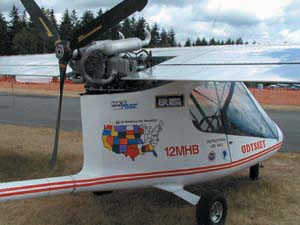 With 200-foot-tall trees and mountain peaks topped with snow throughout the year, Washington is a scenic place for an airshow. Despite a drought that caused the grass to crunch underfoot, light aviation looked alive and well at the EAA's Arlington gathering for 2003.
Local Boys Make Good
One main attraction was the much-anticipated RV-10 four-place aircraft that drew big crowds. But a Washington-area group also revealed their efforts of past months. Sport Flight Aviation displayed in the ultralight area with the first of 50 kits in progress. Two completed Talons—the last of the old design—stood alongside a new Typhoon. The new closely resembles the old.
Company owners Todd Thompson and Ron Osborne took pride in showing me extensive CAD-generated drawings printed after a lengthy effort to document the popular northwest design. Each of the men operates a non-aviation business. They teamed up to resuscitate a company left leaderless after the death of its founder, Roger Bitton.
Fortunately, Thompson and Osborne didn't alter this successful ultralight, delighting many like myself who found this to be a sweet-flying single seater. Armed with their thorough review of the component parts, Sport Flight Aviation is better able to deal with the proposed SportPlanes™/light-sport aircraft certification standards. I think we'll be seeing more of this dynamic duo.
More In-State Success
Flush with a new order for 20 Apache trikes headed to Hong Kong, North Wing Design from western Washington is succeeding after years of work. The company's efforts have culminated in the Apache Sport trike and the Contour wing seen at Arlington.
Owner Kamron Blevins has been in the industry for more than 20 years, starting as a young hang gliding sailmaker. Refining this art, he moved into replacement parts for hang glider owners and then into building wings for other trike makers. After starting as a component supplier, North Wing started developing the entire aircraft. Now the company has steadily grown to be one of the largest trike builders in the U.S.
The Apache Sport, introduced this year at Sun 'n Fun, is aimed at light-sport aircraft in the weight-shift category. Not ones to rest on their laurels, Blevins and his team added a handsome new body fairing to the trike. The fiberglass shape neatly accommodates the twin side radiators used to cool the Rotax 582.
North Wing has also distinguished itself by being the only trike builder in the world to offer strut-supported wings rather than full cable bracing. While there is no aerodynamic drag improvement over wires, the struts do impart a modern look that may fetch more buyers from the fixed-wing community. In my experience with the company's wings, their handling qualities have always been admirable.
Dashing Designer
He flies his ultralights to every show he attends, and he has the map on the side of his airplane to prove it. Earthstar Aircraft owner Mark Beierle is one of the industry's most innovative designers. His work with the Thunder Gull inspired other brands and has put many aircraft in the sky.
Not driving to shows has long been a trademark of Beierle, even when he did so with Experimental single-cylinder two-stroke engines. At Arlington, however, Beierle was propelled by the steady hum of his HKS 700E four-stroke two-opposed-cylinder engine from Japan. North American distributor HPower is pleased to have Beierle work out the installation due to his reputation for thoughtful, thorough engineering. Perhaps Beierle merely wanted a more potent engine so he could haul around his newest creation.
An energetic developer, Beierle is not content simply to make airplanes that fly efficiently. He's also creating his own ultralight-size radial engine named the Rad Cam. This eight-cylinder engine displaces only 600 cubic centimeters but can put out 60 hp. When it's ready, look for Beierle to fly one of his Gulls to an airshow with this round engine supplying the thrust.
Refined Canadian
You can't keep a good man down, and a good man can't keep his airplane design down. Welcome to the JDM-8 No. 2, and welcome again to the HKS engine.
When I first flew the JDM-8, I went aloft behind a Rotax 277 single-cylinder engine. That modest 28-hp engine helped the all-metal plane stay within Part 103's tight guidelines. But the engine is no longer produced by Rotax, and designer Darryl Murphy is never one to back away from enlarging a perfectly good design. His Rebel turned Super Rebel turned Moose is an example of this bigger-is-better ideology—though in fairness, Murphy says he really enjoyed the challenge of staying within Part 103, and he liked the way the lighter plane flew.
JDM-8 with HKS is now fully enclosed and stands atop longer maingear legs. But it hasn't lost any of its shine, plus it gained quite a few miles in top cruise.
Dual Powered Parachutes
I know of only one other powered parachute design (by Sundog Powerchutes) that uses side-by-side seating, yet that's how most of aviation prefers to teach students. Therefore, Airframes Unlimited may have something with its new offering, the SS-2. Arlington judges evidently agreed it was well done, awarding one example the Ultralight Champion prize.
Since you fly with your feet directionally and for aerodynamic braking, the wide-bench twin seater has dual foot controls to operate its 500-square-foot performance design parawing. Powered by a Rotax 582—as are nearly all powered parachutes—SS-2 cruises between 28 and 42 mph, though the higher speed requires a more elliptical (i.e., higher performance) airfoil.
The SS-2 also has dual outside throttles, a center steering bar and a welded airframe. The market is crowded for powered parachute makers today, so Airframes Unlimited's approach may allow them to gain customers.
Published in Kitplanes Magazine