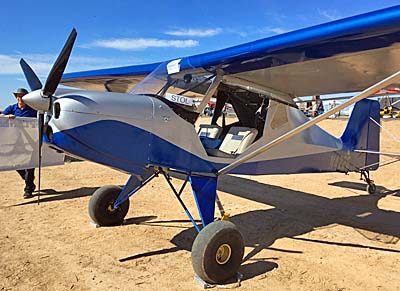 "We are Arizona's newest aircraft manufacturer," said Garrett Komm when we finally located him and his bright blue and silver aircraft.
A fan of this particular flying machine had approached me at Copperstate and said, "You gotta go see this airplane. Tell him Russell sent you!" (Thanks, Russell!)
After wrapping up a couple other video interviews, Videoman Dave and I left the main exhibit area to seek out Russell's discovery. As we came upon it, parked among other transients to the light aircraft area at Copperstate, we both found it vaguely familiar. Well, it was vague for me. Dave was sure right away.
That's because Gair-Planes' Mule started life as the Merlin from Canada and Dave was associated with the project for a time. Garrett had also worked with the Canadian designer so they compared notes for a few minutes.
I'd flown one of these for an hour or so many years ago. I've since enjoyed many more, hence my vaguer recollection. Dave had actually worked with the founder of the company, explaining his instant and deeper recognition. (This combination is why Dave and I make a good team; a couple veterans who have seen most of everything in this space, experience that helped us as we made 600-and-counting videos.)
Garrett is a Canadian national living in Arizona on a visa so he wants to produce kits and therefore employ some Americans to extend his welcome. It's a common tactic of value and given Mule's low price and durable STOL behavior, Gair-Planes can achieve this goal, forging ahead. Pilots like Russell are happy about that.
Merlin to Mule
Canada to Florida to Arizona
Merlin is a Canadian design introduced in 1990 by John Burch, a Canadian ultralight instructor. In other words it was built for flight instruction in Canada, where landings on unimproved runways would (wisely) be part of regular training.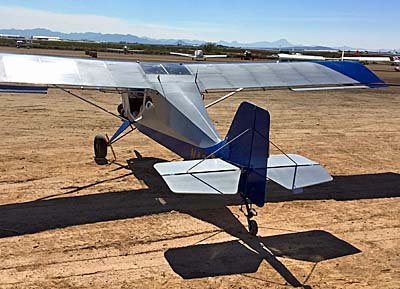 "Merlin was one tough little aeroplane," said Dave Loveman. "John Burch was a Canadian ultralight instructor and needed a better aircraft for his flight school. The 42 inch wide cabin is quite comfortable for even the largest of pilots." Mule is a bit wider at 46 inches.
After Burch's Canadian operation, Merlin was for a period offered by AeroComp on Florida's Atlantic coast, at the Merritt Island airport. Now Gair-Planes is offering the kit from Arizona, all part of the interesting migration of designs that prove their worth.
As with Merlin, Mule is built around a welded 4130 chromoly steel fuselage and tail structure, all fabric covered. Wings use aluminum D Cell construction, with styrofoam ribs. The result was tested by the Canadian creator to +4 and –2 Gs.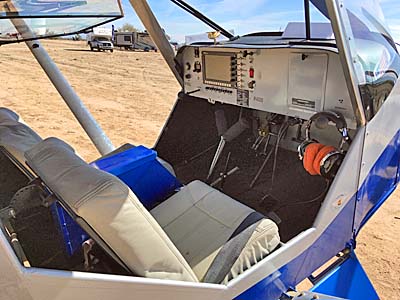 Mule is a taildragger, in a tractor configuration, with side by side seating. Controls are standard stick and rudder with a center Y-stick.
"We are not the fastest airplane out there," observed Garrett, "but we believe that we are one of the best for low and slow backcountry flying."
Powered by a Rotax 912, climb rate is 1,000 feet per minute off the runway, said Garrett. He's using the 912 but the airframe can work with engines from the 65-horsepower Rotax 582 up to 120 horsepower.
Cruise is 85 mph, Garrett said, with slow stall below 30 mph. Mule earns its STOL designation by taking off or landing solo in 150 feet.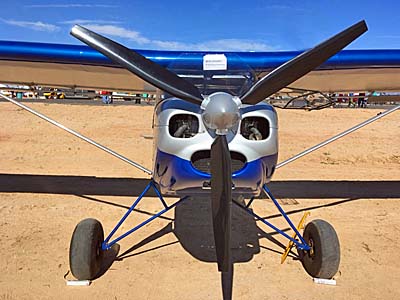 With an airframe kit price of $18,700, adding an engine for a similar amount, plus paint and basic avionics, you should be able to get a Mule airborne for less than $50,000.
"Building time is about 400 hours," said Garrett, though agreeing that this can depend on builder experience and how detailed the builder wants to go.
Mule Is Not All…
Gair-Planes appears to be a new active player in the kit aircraft game and it won't be just a one-horse show. Another very interesting design is coming together pretty quickly, it appears.
Check Garrett's YouTube channel to get a glimpse of his next 62%-replica project, already well along. No moss is gathering on this fellow.
Learn even more, directly from the manufacturer, in our video shot at Copperstate 2019.