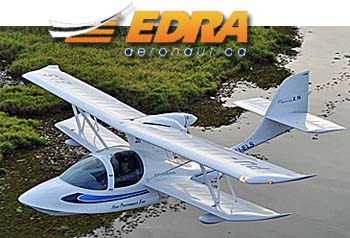 Sebring starts next week … yes, next week! A new year is here and for nine years now that means it is time for the Sebring U.S. Sport Aviation Expo, or just Sebring LSA Expo if you prefer. Executive Director Jana Filip and her team have been putting in the long hours to get ready and to enlist all the right exhibitors. You should get to see all the Light-Sport and other light aircraft you want in this concentrated event. One of those aircraft has not been seen in America for years and even then not as the Super Petrel LS. Longtime veterans of recreational aircraft might remember the Petrel — it's been around for more than 10 years — but this soon-to-be SLSA entrant will look fresh to nearly everyone.
New Flight Design dealer and Florida Light-Sport Aviation owner Brian Boucher is assisting airport neighbor Jerry Scheid to bring this first-of-its-kind Super Petrel LS to Sebring for your closer examination. Scheid has established PS-Bird LLC to represent the striking aircraft. Interested parties may call 386-760-4140 for more info. The new Super Petrel LS still flying off its hours as an Experimental Exhibition category aircraft. Brazilian manufacturer Edra Aeronautica will pursue Special Light-Sport Aircraft approval by following ASTM standards, which happen to be nearing full government acceptance in Brazil. As the aircraft meets similar standards in other countries and with their long history, gaining approval after an FAA audit seems probable.
Super Petrel LS is different from the wave of SLSA amphibians headed to market in America. This water bird is a biwing model. Why? Simple. Seaplanes have a first duty to get on step and launch, to escape the "stickiness" or "surface tension" that occurs when moving at flight speeds in water (especially smooth water). Long wings could provide that as well but long wings are more difficult to maneuver in beaching or docking situations. Two sets of wings generate additional lift yet are relatively short in span. In all, this can be an ideal solution though the lower wing and low fuselage position may not encourage operation in rougher water.
Let's fill in some blanks. That shorter span is just under 29 feet. Empty weight is a surprisingly svelte 775 pounds according to the factory depending on what equipment the owner wants installed. Gross weight does not use the 1,430 pounds allowed under LSA rules, instead coming in at 1,320 like most Light-Sport landplanes. This still yields a useful load of 545 pounds. As Super Petrel carries 25 gallons of fuel, that produces a payload of 395 pounds, which translates to two 190-pound occupants and allows a few pounds for baggage. As Icon is seeking a weight increase exemption to 1,680 pounds, Super Petrel does indeed seem quite light on her sponsons. This helps the design to leave the water in less than 400 feet, according to published specs; it can lift off of a runway in just 260 feet. Super Petrel cruises at a hair under 90 knots, not surprising for a seaplane biplane. Never exceed speed is listed at 114 knots. Stall is a mere 35 knots Edra reports, again a product of twin wings and 161 square feet of area, which results in a wing loading of only 8.2 pounds per square feet. Note that specs were updated 1/9/13 upon advice from Edra.
Super Petrel LS is a handsome bird with a broad comfortable interior. You can fly doors on or off. U.S. importer PS-Bird principals think they can sell the aircraft for an attractive price. Various panel choices will be offered, though seaplanes commonly are simpler aircraft flown in a more seat-of-your-pants style rather than on autopilot at higher altitudes on the straightest possible track. If Super Petrel LS catches your interest, the best solution is come to Sebring 2013 and check it out in person.