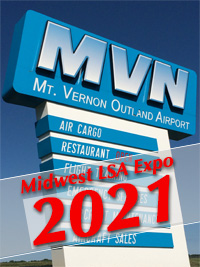 On the final day of the Midwest LSA Expo 2021, winds came up as predicted and energy levels began to come down to Earth, but it was a fitting conclusion to what appeared to be a very successful show.
I talked to people from all over, several from California two thousand miles to the west. Most attendees were probably midwestern pilots but a a surprising number of visitors came a long way, hailing from both coasts. The reputation for this event, now finishing its thirteenth year, has grown beyond what many once anticipated. I'd still call it a regional event but one with a long reach.
Pilots came to examine aircraft, to see how they fit in them, to learn more about ones of particular interest, to learn more about developments in the industry (see FAA update video below), and to enjoy the camaraderie of fellow recreational pilots. Smiles were plentiful.
Quite a few pilots made purchase decisions and went away with an order confirmation in hand. I spoke with numerous vendors who reported at least one and in multiple cases more than one order was taken at the show. Many good prospects had ample time to talk to airplane reps and everyone seemed pleased about the experience. The only downside: lead times are up. Some vendors are quoting delivery well into 2022.
Between Day 2 and 3, Videoman Dave worked through the night to edit the video you see below. This is the full version of the talk given to an SRO crowd at Mt. Vernon.
Gleaming G1 STOL
Four Distinctive Features
On the last day, I recorded more video interviews including one with Mark Mellicker, the U.S. rep for the G1 STOL. Also see more about G1 in my Midwest 2021 preview.
We had seen an example at both Sun 'n Fun and Oshkosh 2021, so it was clear this company was on the move to market their short takeoff and landing entry in the kit aircraft space. When I studied G1 at Midwest, I discovered four features that differentiate this entry from those that look similar. Here are G1 specifications.
The design is not new; it has more than a 20 year history in Europe where I had first seen it at the Aero Fridrichshafen show. In Germany a G1 displayed with wings folded and on a trailer caught my attention initially because it was fitted with hand controls, allowing a pilot without the use of his or her legs to fly the machine. I find this a worthy development to help others get in the air. That's one feature.
Only after the fact did I even pay attention to the wing fold, another distinction. Many light aircraft enthusiasts will note that G1 looks very similar to Zenith's CH-750, a shape that has attracted numerous entries. Decades back, Chris Heintz designed the CH-701 and Zenith Aircraft in Mexico, Missouri later developed the 701 into the wider, more comfortable CH-750 variation. The U.S. company sells both models today, but the 750, with its bulging doors can accommodate larger Americans better.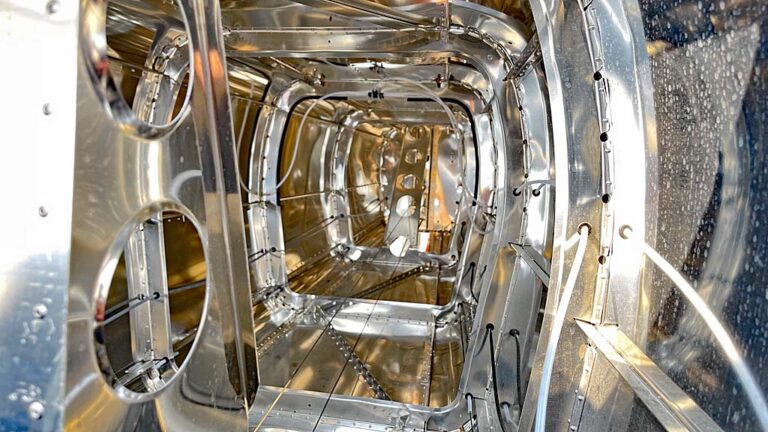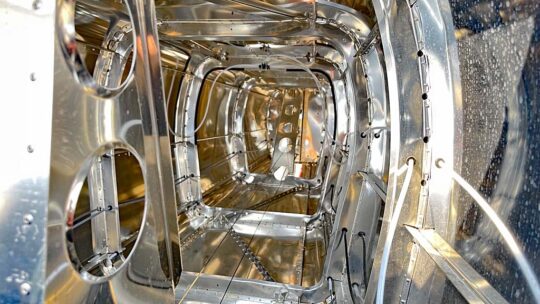 Various other producers have adapted this general shape and developed their own versions. I've reported on at least six such: CH-750 (the original, along with the 701); ICP's Savannah of Italy, SP30 from Russia, Sila from Serbia, and G1 from France. Even this list is not complete. G1 was reportedly modeled after yet another, the now-discontinued Alisport Puma. Clearly, this is a popular form of aircraft. Read G1 America's FAQs for more information.
One unique aspect of G1, however, is its folding wings. Another quality is the curved-corner fuselage, which is made easier for builders thanks to use of precision match-hole construction developed with CNC equipment, plus a substantial amount of work already completed from the factory. Wing and fuselage are largely built before shipping to Canada and USA.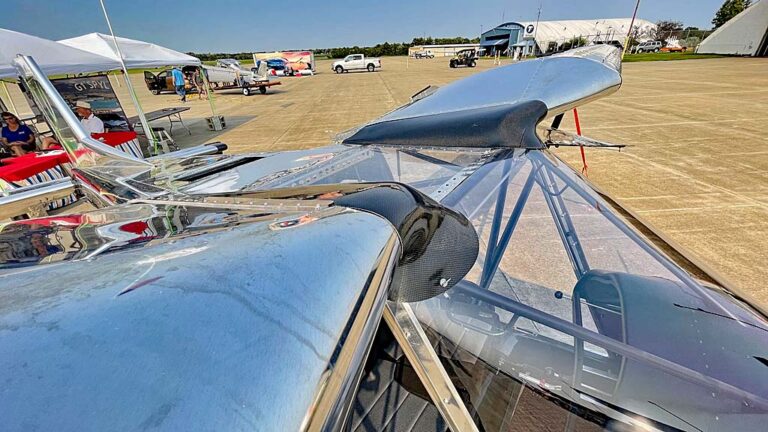 Mark said they estimate someone with average mechanical aptitude will need only 300 hours to assemble the kit. A customer who has built any kit previously could possibly assemble G1 in significantly less time, Mark believes.
Use of match-hole construction makes it far more builder-friendly. Wings and fuselage comes significantly assembled with a minimum number of rivets already in place to keep the skins where they belong. Builders earn their 51% contribution by pulling a lot of rivets (among other duties). A hydraulic pulling tool — available for around $100 — would be a smart investment, saving not only your wrist muscles but also more consistently pulling rivets. "Match-hole," for those that don't know, means that CNC equipment has punched rivet holes in the right places so precisely that a user a builder can literally take a bag full of clecos, join the skins more firmly, and start riveting.
G1's fuselage construction further sets it off from others. You may recall that a CH-701 has a rather boxy fuselage. This is probably easy for homebuilders but lacks the smooth appearance G1 shows with its gently curved corners. As the nearby image shows, this is possible again due to CNC, match-hole, and the factory using their jigs to get most parts already in the right place.
In addition to riveting, plumbing, electrical and other other construction steps, a primary task for the builder is to join the wings to the fuselage, a step of some precision to get the dihedral right, and to assure the wing-join mechanisms work to facilitate folding the wings.
Not only does G1 have a folding wing mechanism, but I found it unique. Again, nearby images will show the base of the wing struts are arranged in such a way to allow the wing to pivot from the middle rather than the trailing edge, as is common in designs like Kitfox, for example.
When I looked at G1's wing fold, I couldn't quite envision how it worked until Mark explained that the flaps and ailerons are also designed to flip up over the wing such that when you fold the wings they actually cover a portion of the fuselage, keeping the width within the 8 feet that is needed to trailer this on most roadways. Linkages stay connected. It's a pretty slick method and one that shows this is not a copy of the CH-750. Find more comparisons here.
A fourth interesting aspect of the design is its fold-forward control sticks. They move together and have no pins or levers. You merely push the joystick forward to the floor. When doing so, you'll feel the over-center design that holds it flat to the flow, greatly easing cockpit entry. Once in, just pull it aft and prepare to taxi.
In summer 2021, he G1 kit sells for $39,500 and a build-center-assist ready-to-fly model can get airborne for $79,500, depending on equipment an owner wants and the level of finish desired.
A video to follow will show all these features in more detail as Mark Mellicker will provide additional information.

The following talk, given on September 10, 2021 at Mt. Vernon, updates the latest we know (or think we know) about FAA's MOSAIC regulation in progress. While all this could change due to the fluid nature of rule writing, this is the best information we have today. Note that this is a lengthy video.