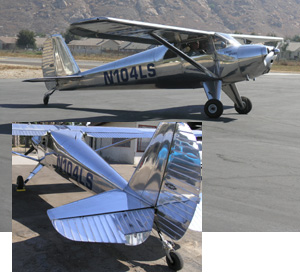 Luscombe Silvaire Airplane Company recently announced winning SLSA approval for their Silvaire LSA-8 entry in the Sport Pilot sweepstakes.
Silvaire is model 43 to earn its Special LSA airworthiness certificate. Luscombe Silvaire set the base price at $90,000 for a VFR model with night capability and flaps (neither of which were standard for modest aircraft in the days when Luscombe was first made). "Great Airplane," exclaimed Carol Winell Dearden speaking for the Southern California manufacturer.
Luscombe is based at the Flabob Airport in Riverside, California…"Historic Flabob" their website proclaims.
Owned by EAA Board Member Thomas Wathen's Foundation, the iconic airport is also home to EAA Chapter #1 and the Wathen Aviation High School. Flabob and Riverside are a very short flight away from AOPA fall 2006 Expo in nearby Palm Springs Nov 9-10-11, this Thursday, Friday, and Saturday. Come out and see the new Luscombe Silvaire along with more than 20 other Light-Sport Aircraft.