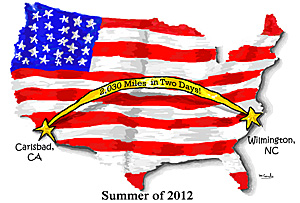 In a valid but failed attempt, LSA pilot Michael Combs tried to set a Coast-to-Coast record and came up just 91 miles short (out of 1,954) when thunderstorms blocked his route. He reports he'll try again. He flew the first attempt with his son, Daniel Routh.
*** Many of us think about our activities with our airplanes but Combs looks at it quite differently. After facing a life-threatening illness that almost took his life in 2003, Michael realigned his priorities. He pursued learning to fly.
*** Michael found US Aviation in Denton, who supported his dream by providing flight training in a Remos. He later solicited Remos Aircraft, who agreed to sponsor "Hope One," (N82GX) a nicely equipped Remos GX. In April of 2010 — not long after after his first solo flight — Michael headed off on a true piloting adventure of a lifetime. He embarked on a quest to land in each of the 50 United States in his LSA as a Sport Pilot. His mission meant day VFR all the way landing at more than 200 airports and logging 32,000 miles. His goal is to reach 50 million people with his central message: "It's never, ever too late to follow your dreams!"
*** Setting records and gaining media attention seen by the non-flying public is part of the program. On Saturday June 30th, he attempted a new Coast-to-Coast national and world record in a Light-Sport Aircraft. While we've had round-the-world flights, we haven't heard much about LSA records. What does it mean?
*** Michael's flight is sanctioned through the National Aeronautic Association (NAA), America's aviation record-keeper and Fédération Aéronautique Internationale (FAI), the world aviation record sanctioning body. The record specifies a flight from one place to stated destination, and the flights have to be more than a certain distance. Various aircraft classes are available, depending upon weight. Michael's Remos fits in the under-1,000 kilogram class called C1B. His record is attempted in an unmodified Light-Sport Aircraft under the restrictions of the Sport Pilot certificate. The maximum time to achieve a world record is determined by dividing the total straight line flight distance by the slowest flap speed of the aircraft, which for Michael's Remos calculates to 43 hours. The Straight Line Distance is 1,954 nautical miles, with an Actual Calculated Flight Distance of 2,030 nautical miles involving eight fuel stops, and one night stop.
*** Such record attempts are challenging in many ways. Once you take off the meter is running. The challenge is to overcome the speed restriction while adhering to the limitations of the Sport Pilot Airman Certificate. That means no night flying, but the meter is still running while you sleep, and of course, you must cope with weather.
*** Michael had a delayed take off from near San Diego due to clouds. Literally, 15 minutes before his Go/No-Go time, conditions improved enough for a special VFR departure. That started him about and hour and a half late. He experienced some weather along the route that forced a stop in Abilene, Texas instead of his home base at US Aviation in Denton, Texas. The next morning, Hope One made good time, and was still within the time restriction at 91 miles from the destination. After flying VFR through fairly violent weather, he was forced to scrub record attempt as the destination airport was socked in under lightning and thunderstorms.
*** So, the clock ran out without setting a record, but Michael made a valiant attempt. Safety and sanity must prevail, as they did, so he can make another attempt and continue to inspire people to follow their dreams.
Check Michael's record attempt where you can see more of his exploits. Then, stay tuned for the follow-up attempt.
Maybe this will inspire all of us to do more following our dreams!