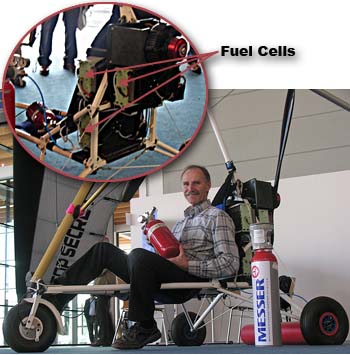 Research and practical applications are developing rapidly for electric-powered aircraft. Given my personal fascination, I'll follow this regularly. So far, most electric power has been supplied by batteries — even in such as Flight Design's hybrid aircraft engine unveiled at Aero 2009 However, that's only one way to generate electric "fuel." Hydrogen is another.
Forget fears of a Hindenburg airship exploding; even that fireball was likely precipitated by something other than hydrogen in the envelope (its paint is suspect). Today, the source is a relatively small tank of hydrogen (photo), supplied by companies like Messer which is sponsoring the work of Gerard Thevenot in creating his hydrogen fuel cell-powered trike.
Ultra-lightweight aircraft like trikes are a perfect platform for experimentation and Thevenot knows all about them. Gerard founded La Mouette, once the world's largest producer of hang gliders. He's highly inventive and well suited to such a project. (He's concurrently working on an airbag system to protect people in case of falls, such as older folks or those troubled with epilepsy). The fuel cell project is not for sale but you can follow Gerard's ground-breaking progress on his Hydrogen Flying Tour (presently only available in French).