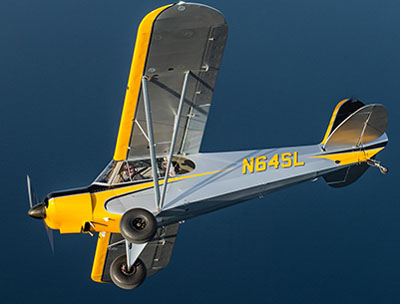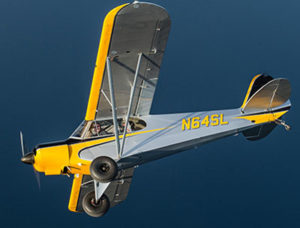 At last fall's inaugural DeLand Showcase event, I got a chance to fly Legend Cub on their own Legend Floats. I've interviewed Legend folks about this model, but flying one was still on my to-do list.
American Legend Aircraft Company was one of the very first in the Light-Sport Aircraft business and they've now fleshed out their product line of pretty yellow taildraggers… though, of course, they don't have to be painted yellow even if almost everyone orders them this way. I guess it's a vintage look thing, but I'm here to tell you these Cubalikes are nothing like your granddad's Piper Cub (thank goodness, as Legend has made many desirable improvements).
One of the biggest changes is the wide variety of engines this company has offered. They started with the Continental Motors' venerable 100-horsepower O-200, added the 120-horsepower Jabiru 3300 six cylinder model, then tapped the 115-horsepower Lycoming O-233, and now Legend offers the mighty 180-horsepower Titan, offered these days by Continental following their acquisition of ECi of Texas. Along the way, Legend also did a preliminary mount of the Superior diesel entry although that particular engine has yet to come to market.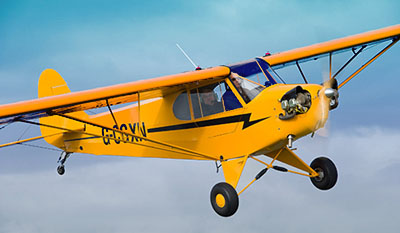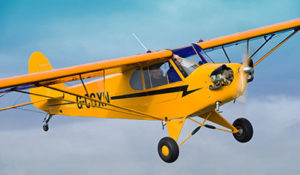 If you are patient enough to go through all the material you can see something about most of these powerplant variations in articles or videos found on this site. We've gathered it all in one place for you if you click this link to American Legend. Get a snack and a cold one and enjoy all things Legend Cub.
The company recently promoted some of their hard work. "Legend Cub from American Legend Aircraft Company continues to improve," the company wrote. "Since its introduction, the now-standard inclusions of a wider cabin, electrical system and double doors are amended with gentle strokes of progress." Some of those strokes come via the multiple engine choices the Sulphur Springs, Texas company offers.
ALAC's Super Legend boasts the big Titan engine coupled with a Catto propeller. "With so much power up front, a Legend Cub personifies short takeoffs. As a leader in STOL performance, the Legend Cub is light footed and makes short work of getting airborne." What a fun way to turn modest amounts of fuel into major amounts of fun.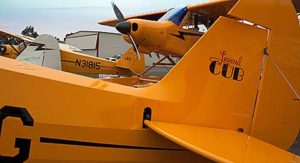 Your grandfather's Piper probably had few instruments on board, perhaps an airspeed indicator, altimeter, and a few engine instruments… every one of them round dials. These are simple flying machines that need little else. Yet in the modern tech-world with far more helpful information available at, literally, the touch of a finger for reasonable cost, why not have the good stuff?
Legend Cub readily admits, "Cub has never really needed instruments for flying. So a glass-paneled Cub may seem the archetype of counterintuitive. Yet at the press of a button today's advanced Legend Cub instrument panel options broadly expand a pilot's navigation and communications capabilities."
Legend offers Garmin's wonderful G3X and Dynon's trendsetting SkyView. You may also equip your Legend Cub with an autopilot and ADS-B for traffic, weather and flight information services. To some Cub purists, this may seem sacrilege, but those folks may be privately envious at such a well-equipped Cub.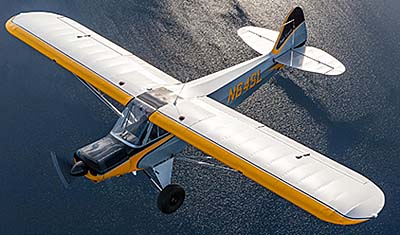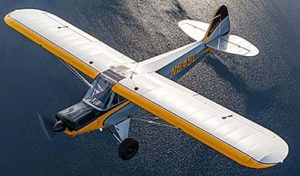 "Far from being a comprehensive list, power and panel are complemented by a host of other options," said the Texas airplane manufacturer.
Other gear Legend uses on their aircraft includes: Catto composite propellers — lightweight and able to deliver high performance; bright LED lighting in the leading edges and wingtips help a pilot see while consuming less power; supersized tires allow Legend Cubs to master a greater variety of surfaces; and bungee-supported seats upholstered in ultraleather keep the occupants cooler on a pleasant summer day.
My flight in November benefitted from wonderful 80-degree weather in DeLand, Florida (about 20 miles inland from Daytona Beach on the Atlantic Ocean). It was a great time to check out Legend Cub on floats.
Learn more in the video below, including in-flight views and observing water operations. (See the same video on our page and skip the opening ad.)