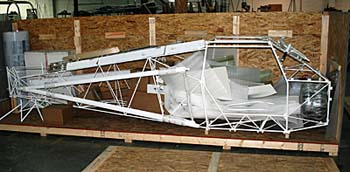 We all have favorites … foods, websites, movies, and of course, airplanes. I have favorites, too. This doesn't mean my favorites are better than others, nor that anyone else may agree with me. That's OK. Properly caveated, I have to say one of my favorite airplanes is Just Aircraft's SuperSTOL. Flying it at last Sun 'n Fun with head developer Troy Woodland was arguably my most enjoyable flying experience at the show, or for that matter, in recent memory. To state this carefully, airplanes have different capabilities so I don't have an all-around #1 favorite but SuperSTOL is way up high on my list. Evidently, I am not the only one who feels strongly about the smile-factor of flying SuperSTOL. Honestly, what's not to like? The plane flies docilely — even though it looks totally radical — and it doesn't cost an arm and a leg. Plus, the folks behind it are your salt-of-the-Earth, down-home types that you cannot help but like.
Just Aircraft, based in the "out back" of South Carolina, in Walhalla, announced they shipped their 500th kit aircraft. James Coonan of Ransom, Illinois didn't have to pay a king's ransom for his new SuperSTOL (photo) and I'll bet he's got one of those large SuperSTOL smiles. Just Aircraft reported that kits have been delivered to all 50 U.S. states and to 20 countries. They added, "Though [we are] still shipping out kits for the Highlander, the majority of sales in the past year have been SuperSTOLs." Highlander is essentially the same airplane with a good history but without the long main gear legs or leading edge slats although Just does offer some retrofit capability. Over the years Highlander has developed a loyal following. However, since the SuperSTOL with its attention-grabbing performance was first shown to visitors of AirVenture 2012 and offered for sale last year Just said kit sales more than doubled. The company has added a second shift to keep up with demand. That's a great problem to face.
SuperSTOL can cruise close to 100 mph yet stalls almost absurdly slow. SuperSTOL's features slats that when combined with large Fowler flaps allow very slow flight and landings at 32 mph. Yet those hard working wings still fold, a feature Just models have long boasted. Rugged landing gear with long-stroke air shocks is designed to allow the aircraft to be plopped on the ground at very steep angles of attack. In my several landing with Troy, I estimated ground rollouts less than 100 feet after every touchdown. "Actual runways are optional with the SuperSTOL," say company reps with a smile. The high wing, two-seat, fabric covered aircraft can be fitted with massive 29-inch tundra tires that need little more than a level or inclined clearing in the back country for take offs or landings. Builders can opt for either taildragger or tricycle gear aircraft, though I cannot personally imagine anyone ever choosing tricycle gear. SuperSTOL can be fitted with regular or tundra tires, floats or skis. The airplane is Experimental Amateur-Built only at this time; the high demand suggests it isn't presently necessary to go through the ASTM process for this model though the company achieved SLSA status with the Highlander. Builders can choose Rotax or Jabiru powerplants. At its empty weight of 720 pounds, SuperSTOL has a useful load capability of 600 pounds.