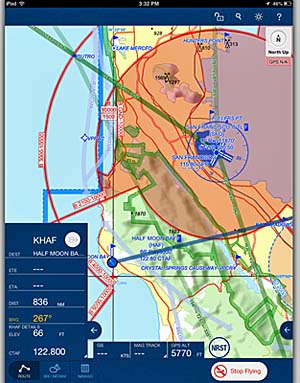 For most of the years I have been flying, we (in the USA) had NOAA aviation charts and Jeppesen Sanderson charts. Other companies supplied maps and charts as well, but NOAA and Jepp dominated. The National Oceanic and Atmospheric Administration aeronautical charts were published by NOAA's National Ocean Service until publication was taken over by FAA in October 2000, coincidentally the same year Jeppesen was acquired by Boeing. NOAA charts were cheaper but a large measure of pilots felt Jepp charts were superior. For many years Jeppesen has served four market segments: airlines, business aviation, general aviation, and the military. The Colorado-based enterprise is celebrating its 80th anniversary since Varney Airlines pilot Elrey Jeppesen made the first aeronautical charts to navigate in flight in 1934. For more on the company's long history, see Wikipedia's entry.
Jepp charts were king for decades until the digital revolution disrupted many things in life … from cameras and taking photos to electronic communications to widespread GPS use to HD television, and much more. Among those disruptions was Jeppesen's paper chart business. At Aero 2014 I heard a flight instructor chastising Jepp staffers about the company's discontinuation of paper charts — he worries over instruments or devices going dark and the pilot having no backup (though I'll wager he no longer depends on candles). The truth is Jeppesen's chart business went into decline with the introduction of the iPad four years ago. It isn't coming back despite what the aforementioned flight instructor prefers. Jeppesen realized they needed to adapt and they did so with products for airline pilots and more under the heading of EFB, or electronic flight bags. All fine and good but the users of Jepp maps for VFR flying felt left behind. In 2013 that changed with the debut of Jeppesen's Mobile FliteDeck VFR, an app aimed squarely at the pilots who constitute the largest segment. Jeppesen was late to this party and numerous other products swept in to grab market share. Now the big company is back and their product is evolving rapidly as I heard at their press conference at Aero 2014, thanks to German Jeppesen rep' Tobias Baesch.
At Aero Tobias detailed version 1.4 improvements to FliteDeck VFR including expanded VFR enroute data for European countries (his focus is all non-Americas territory), graphical NOTAMs, and TFR updates. Jeppesen has been in Europe since 1957 but now the VFR app is rapidly adding countries. The entire U.S. is already covered. Mobile FliteDeck VFR data includes topographical information, terrain, obstacles, airspace, NAVAIDs, VFR waypoints, and primary airport data, including elevation, runway length, and frequencies. Weather info such as METARs, TAFs and NOTAMs are also included. To better manage the wealth of data available for download, pilots can choose to target only VFR coverage and topographical data that they want. Versons 2.0 and 3.0 are coming in spring and summer as the company adds features. Jeppesen Mobile FliteDeck VFR is available for a free download and trial phase through the App Store on iPad or on iTunes (Android tablets are not supported). A yearly subscription is modestly priced at $49. Jeppesen figures that if you fly only VFR you don't need to pay for IFR charts and approach plates.
Simply making a paper chart digital ignores what more detailed data manipulation can do and Jeppesen exploits its long history in FliteDeck VFR's methods. Users can also easily access planned, actual, and past flights. I found it especially interesting to note a sign in their Aero display showing all the top instrument makers that depend on Jeppesen navigation data (photo). Jeppesen may be late to the iPad method of planning and guiding a flight but they're coming on strong. While noting Jeppesen is a company of 3,300 employees, Tobias Baesch said the VFR app development emerged from a "garage operation" (think Apple or Google to put this in context). The product is developing rapidly and Jeppesen will need to keep the gas pedal depressed as several other app makers will continue their fast-paced development, making this a great time for pilots to get involved with these great software developments.