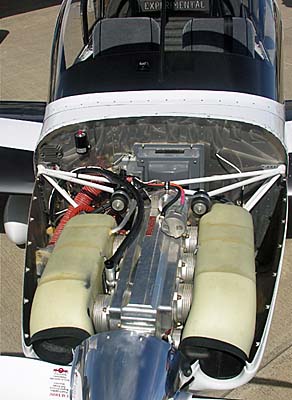 Among all the engines that lift Light-Sport Aircraft and light kit aircraft into the air, a few names dominate the field. To be used in a Special LSA, the engine has to meet all the requirements of the ASTM consensus standards. That is tough enough that currently we have Rotax, HKS, Continental, and Titan, with even the Continental (like Lycoming) qualifying by virtue of those powerplants meeting FAR 33. The other major player is Jabiru… the engine company as distinct from the airframe producer. Other engine suppliers such as UL Power, and D-Motor (and perhaps more) could possibly qualify but have not completed the ASTM process at this time.
So, it was some surprise to many readers that in December of 2014, the Australian equivalent to FAA, called CASA, implemented restrictions on the operation of Jabiru-powered aircraft in that country. In the Sport Pilot magazine published by Recreational Aviation Australia, Dave Edmunds wrote, "These restrictions required passengers to sign a waiver indicating that they were aware of potential aircraft problems." Some areas of operation of flights schools were also imposed.
"Even the most cursory examination of these restrictions indicates they have no impact on safety, do not address any structural or mechanical problems, but have a huge effect on the reputation of Jabiru," continued Edmunds.
At issue was something called IFSD or Inflight Shut Down of engines and CASA documents produced under a Freedom of Information request revealed a technical survey of engine failure rates for a two-year period. Edmunds, who obtained the documents, said the shutdowns were not filtered to include only those related to mechanical failures. For example, Edmunds wrote, "The figures used by CASA for IFDSs are raw figures, and include running out of fuel."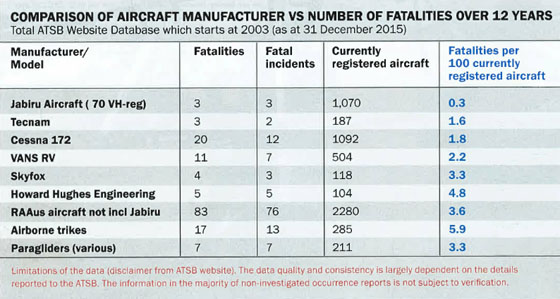 As the nearby chart taken from the magazine supplied by Jabiru North America shows, Jabiru has the lowest number of fatalities per 100 currently registered aircraft… by a wide margin. Even the U.S. FAR 23-certified Cessna Skyhawk, with a very similar number of aircraft flying in Australia, had six times the fatalities-per-100-aircraft rate.
CASA's documents also made no reference to Jabiru addressing known modes of failure via three separate service bulletins. Problems can happen with any brand; the solution is addressing them with remedies, as Jabiru evidently did. Indeed, Edmunds wrote, "Aircraft which have had the issues addressed in the service bulletins have a dramatically lower rate of engine failure."
Other reporting anomalies appeared. Edmunds wrote, "The CASA website reported 46 Jabiru 'problems and events,' whereas Jabiru believes these were only 12 shutdowns due to mechanical failure [in the period examined]." He added, "It is not clear why CASA has used the vague and all-encompassing term, 'problems and events'."
As Edmunds continued his article — which views the editor said, "do not necessarily reflect those of RAAus" — he expressed, "CASA is rightly concerned about its responsibility for safety." Yet he added later, "…if CASA is prepared to operate on data as thin as this, then perhaps there is a great deal it is missing the aviation environment more widely."
Government agencies including our FAA are often on the hot seat to provide answers where few may exist but they also seem willing to amplify a problem to a degree that can be hard to accept. The requirement for registration of wee little drones (as light as nine ounces) with demands for a pilot license to operate them when photographing — for example, homes for sale — border on overreach. The Academy of Model Aeronautics felt so strongly about it, the AMA advised members not to immediately register their RC airplanes. We have learned to trust these agencies but they are operated and managed by ordinary humans who are not superior to the rest of us.
Articles like that of Dave Edmunds can help present both sides of the story. Those of you going to Sun 'n Fun in a matter of days can stop by the exhibit of Jabiru North America and ask more questions. See their display at space N-056 & 057 (not far from the blue FAA building).