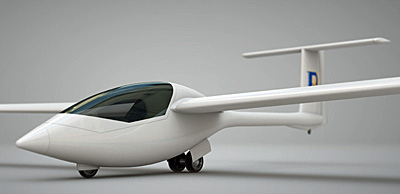 Some people, myself included, love soaring flight. As the following article from Dave Unwin explains, to use his words, "Soaring flight exercises a fascination that is both difficult to explain and hard to resist, sometimes called 'three-dimensional sailing.' Flying a heavier-than-air machine for several hours and hundreds of miles by using the atmosphere as the fuel possesses an undeniable attraction." As he further explained in a longer article, the downside is getting airborne for soaring flight. Various alternatives have been explored. Some were reasonable; others were too marginal to be enjoyed. In the following piece Dave tells about a new aircraft that might solve this problem, one that can fit England's innovative SSDR 300 (kilogram) category. —DJ
---
Article Updated 6/17/15 — ProAirsport announced, "We have now released a priority price of 39,950 British pounds (about $63,000). More details can be found on our website." This is an excellent value for a motorglider. The company forecast their first delivery in February 2016. (Update 7/6/21: The company website is no longer functioning.)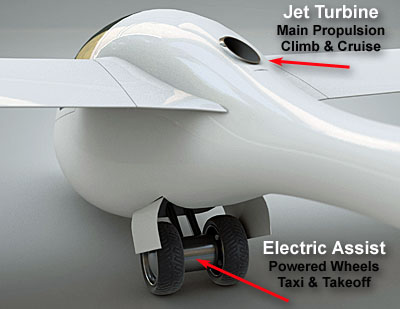 When I heard that ProAirsport (not working-0721) was proposing a new type of self-launching SSDR sailplane, powered by a lightweight turbojet my initial reaction was one of skepticism. Having taken a cursory glance at the specifications and weights, I doubted that this thing would have enough thrust to even taxi to the far hedge, let alone fly over it!
Then ProAirsport CEO Roger Hurley revealed that "project GloW" sitting in his computer was a hybrid, and that the wheels would be driven by a powerful electric motor. My skepticism turned to enthusiasm and I made an appointment to meet Roger at his shop. I inspected the fuselage plug and marveled at the small size of the jet engine.
Created to meet the requirements of the new UK Single Seat Deregulated (SSDR) class and the U.S. Light-Sport category GloW has a max takeoff weight of 300 kilograms (660 pounds), empty weight of about 180 kilograms (396 pounds), and can achieve a full fuel payload of 205 pounds.
GloW's fiberglass and carbon fiber fuselage carries the wing, engine, fuel tank, batteries, and the clever powered undercarriage. The shoulder-mounted wing gently sweeps at the tips with only a small amount of dihedral. Large airbrakes are fitted to the top surface of the wing.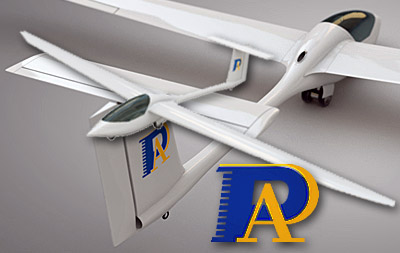 The Titan jet engine is fixed internally behind the cockpit and features an automatic open/close intake scoop. This very neat little turbojet is less 40 centimeters (16 inches) long and weighs an astonishing 3.7 kilograms (8 pounds), yet produces a creditable 88 pounds of thrust. This should be enough to produce reasonable climb rates at around 50 knots, while the 9-gallon fuel tank should last for several further climbs.
As the Titan engine can burn a variety of fuels, from Jet A-1 and JP-4 to diesel, kerosene, and domestic fuel oil, it cannot only be readily refuelled from a variety of sources but is incredibly cheap!
As it is expected that a take-off and climb to 3,000 feet will burn a bit more than two gallons of fuel, the cost of a relatively high go-where-you-want launch will still be less than the average winch launch and much less than an aerotow! In cruise, fuel flow is predicted to be much lower.
The Titan is a standard commercial item which is used successfully in large R/C models and drones. Compared to a piston engine, turbines offer several advantages.
They are light, compact and have only a few moving parts. Vibration levels are low, and they are very reliable. Starting the jet is very simple; select start, the airscoop opens, and it starts. Shutting it down is equally simple. However, while very small jets have been used on self-sustainers for some years, they simply don't have anywhere near the static thrust required to take off in a reasonable distance.
This brings us to GloW's most unconventional aspect, the undercarriage, which consists of four wheels of three different sizes mounted along the fuselage centerline: a small steerable pneumatic nosewheel, a tiny solid urethane tailwheel, and dual retractable mainwheels. GloW sits upright with wings level. This is where GloW gets really interesting, as these wheels are driven by a powerful electric motor.
Modern electric motors put out a lot of torque and this can produce incredible rates of acceleration (think: Tesla automobiles). A high-tech motor, controller. and LiFePO4 battery pack, and charging system coordinate to accelerate GloW up to take off speed. Here is the design's "secret sauce."
For take-off, GloW can be wings-level taxied, even reversed into position before starting the jet and setting full power. Clever gearing of the wheels easily and quickly accelerates the aircraft to the safe speed above which it will fly and a smooth rotation eases the motorglider into the air so it can climb using the thrust of the jet. As the electric energy required for take-off is tapped only for a few seconds, the acceleration should be outstanding.
The design certainly looked extremely professional. Roger has assembled an impressive team of pilots and engineers. Although the SSDR class is not regulated or subject to mandatory airworthiness approval, ProAirsport decided to follow ASTM standards.
Prices have yet to be announced, but its clear from the design choices made and the manufacturing methods adopted that ProAirsport's objective could place it at the low end of the self-launch market.
I came away from my visit to ProAirsport completely converted to the idea. Imagine owning a self-launching microlight sailplane, free from regulatory hassle and able to take off from any reasonable field or strip? It could open soaring flight for many pilots.

Trade-offs exist, of course. By definition GloW is very light so although the projected best L/D is expected to be mid-30s, this will be achieved at relatively low speed. However, the same is true for the minimum sink, so GloW should climb very well indeed.
A reliable engine and easy starting means I could use it to explore gentle wave systems, sea breeze fronts and shearlines, and also to investigate hills and ridges that simply aren't accessible by pure gliders.