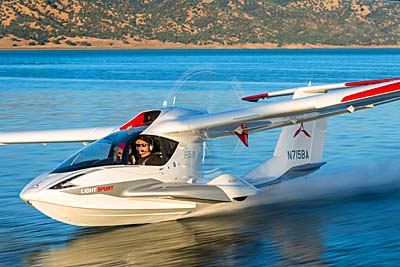 Have you noticed how much LSA seaplanes pop up on this website and all over the web and print world? I admit to fascination with the developments these versatile aircraft are bringing to market but my attitude is shared by many others.
For example, I enjoyed reading AOPA journalist Dave Hirschman's account of his solo trip crossing the width of the United States in an A5. Read the whole story here. Dave is an excellent writer and an experienced pilot. His account is very positive, yet balanced. Having flown the A5, I found his observations largely matched mine.
However, a problem exists.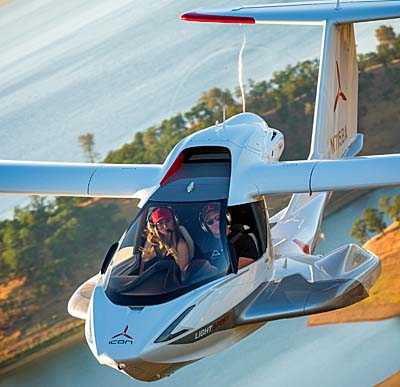 As time passed, Icon has steadily raised the price of A5. What started as an affordable seaplane with innovative features has progressed to be an aircraft that even founder Kirk Hawkins agrees can only be bought by rather wealthy owners.
That same scenario can be used for Cirrus Aircraft and its SR20 and SR22 (their most expensive model that accounts for a solid majority of their sales). Each year as deliveries are tallied I am impressed that once again they found hundreds of buyers for a fixed-gear, single-engine airplane with a nearly $1 million price tag. Wealthy buyers obviously exist, but if you are not one, are you locked out of these highly engineered aircraft?
Introducing a Fractional A5
At this summer's Oshkosh event, Icon announced a new "Managed Fractional Program." They describe it as one "to allow easier and lower-cost access to A5 ownership."
Icon's "Fleet Access" program is a full-service sales and aircraft management solution that offers 50% and 25% ownership shares of the A5 and, "unlike many other programs in the industry, will also allow owners to use other shared A5 aircraft in various locations across the U.S. as if they were their own." This is different than other fractional programs I've examined and it provides all scheduled maintenance, storage, insurance, scheduling, dispatch, staging, and more. They can even help with one of their custom designed trailers.
What Icon calls their "beta version" of Fleet Access will launch in Tampa and Miami, Florida; in Los Angeles; and in the San Francisco Bay Area by fall 2018. If it works as they hope, Icon will add "up to six additional expansion sites … through the end of 2019" perhaps including bases in Texas, the Midwest, Southeast, Northeast, Pacific Northwest, and the Great Lakes.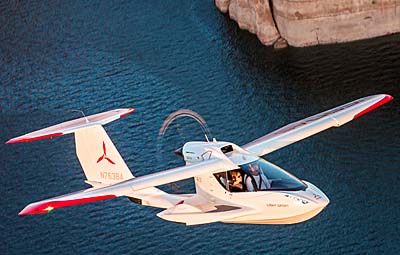 No, this isn't a partnership program where you have to find several other partners and then administrate the cooperation. That's a fine idea but it has never become popular as it takes some level of bureaucracy. Icon eliminates that effort by managing the program itself.
So, what will this cost?
A 25% share — probably enough for most pilots I know — will cost $95,000 if you sign up early enough. Add to that a $900 "monthly management fee" that will cover storage, scheduling, and insurance, plus a $75 hourly fee. For many readers, this may still be too much but for some this could be a good option. If t works for you, contact Icon at this email address or call 707-564-4100. Here's Icon's dedicated page with more details.
One More Thing
If you feel the fractional program doesn't work for you, yet you admire what Icon has done …well, one more possibility exists for your involvement.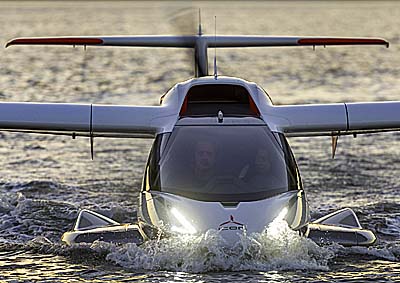 Can your interest be turned into a money-making proposition? Yes, it can.
You can be an Icon Advocate.
Enroll in their program and refer someone who buys — you could make $10,000. Refer someone who wants to offer A5 flight training, become a Service Provider, or join as a Sales Advocate and you can earn $15,000.
Do this a few times — no limit is imposed on the program — and you might earn enough for your own airplane, though admittedly you'll have to do this many times to afford your own A5.
While I could wish an A5 hadn't reached such top-of-the-category pricing*, I do applaud the California company's effort to cope with their pricing issues and the airplane is indeed a well-thought-out beauty.
Here's my review of Icon's A5
* A Carbon Cub isn't priced much less than an A5 yet has steadily risen to be the top selling Light-Sport Aircraft in America.