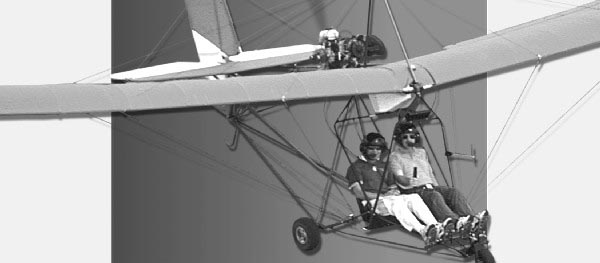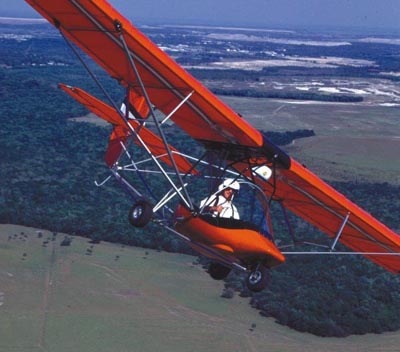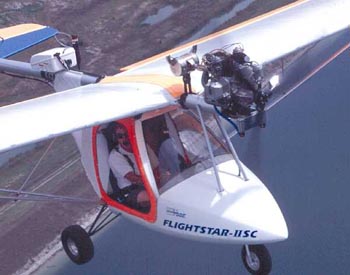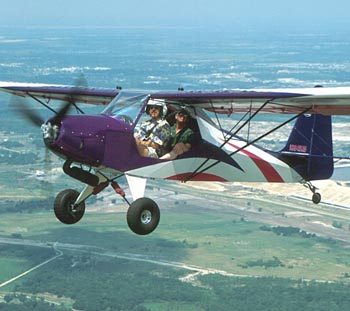 WANT TO BUY A LIGHTPLANE?
Task Can Be Daunting, Yet Rewarding
I'm one lucky pilot. I love airplanes and get to fly more of them than the average sky jockey. Writing pilot reports for several magazines has given me the opportunity to fly about 250 different aircraft in the last 23 years.
This makes me a "Master of None" type of pilot (except in my own planes) but does give me a feel for the huge variety of light airplanes you can buy.
The choices are fantastic. Counting the whole world of sport aircraft, you can have just about anything you want| and that's the problem. What to buy?
TRYING TO HELP
At every airshow I attend, and through phone calls between airshow, pilots often make a request: "You've flown all these lightplanes, which one should I buy?"
Frankly, the question makes me uncomfortable.
While I appreciate the feeling of confidence some pilots place in my experience, telling someone what to buy is a sure way to be considered wrong eventually. I usually know too little about the pilot asking the question to give a good recommendation.
Organizations like EAA pride themselves in offering helpful services to their members. They receive phone calls asking for counsel in selecting a lightplane. EAA's man-on-the-job is Tim Boggenhaggen (SPELLING?), and he also struggles to answer pilot's purchase questions.
IT'S NO SURPRISE
If you've attended one of country's major airshows — the kind with row upon row of commercial exhibitors showing their shiny new airplanes — you know how tough it can be to reduce the number of choices to the one best selection for you.
With over 100 different models to choose between at a show like Sun 'n Fun, you can easily find two or three airplanes that grab your interest. How can you intelligently select the one best airplane?
Before you think this article may answer the question, think again. This is a tough task and it is a highly personal one. What's best for me may not be the least bit appropriate for you. As an example, my personal lightplane is an ultralight single seat trike with a hang glider wing on it. The odds are high that your choice is or will be different than mine.
Rather than recommending a specific aircraft, my task here is to try and offer some guidance, not telling you what you should buy, but rather how to make the decision. The worst thing I can do is point to one model and say, "There, go buy that one." Like a weather forecaster, I know I'd be wrong unless I got lucky. Buying a lightplane shouldn't depend on luck.
Here's one vitally important realization I've come in giving advice on what lightplane to buy: You may not be trying to decide which aircraft to buy so much as trying to decide which ones NOT to buy. To paraphrase fictional detective Sherlock Holmes, "After you have eliminated all the clues that are not useful, the one you are left with, however improbable, must be your answer." The point is that if you eliminate all the aircraft that don't answer your needs, the smaller number of aircraft that can satisfy you will make for an easier decision. Buying an airplane, like many products, can be a process of elimination.
In my evaluation flying, I try to find both positives and negatives in any airplane. Having negatives doesn't mean a plane is bad. It only means that some quality or qualities about any airplane may not please all buyers. For example, an open cockpit on a lightplane that flies fast — perhaps because of an unusually powerful engine — produces a wind blast which may be uncomfortable for some pilots. Yet other pilots might love the motorcycle-like sensation.
Negatives are only negatives for some people. And my reporting of negatives doesn't condemn| it identifies.
The articles I write are usually rather positive. That isn't because I think all these lightplanes are perfect. In fact, none are. I simply refuse to fly planes I think haven't been fully tested yet, or which are not ready for the market, or in which I don't have complete faith, or in which I have no experience (like rotor craft), or which may be so highly specialized that the majority of pilots won't want them.
To use the Sherlock wisdom again, all the planes that remain — that I have flown — are probably good choices| for some pilots. However, my advice comes with no guarantees. I am not an engineer, my evaluations are not scientific, and I have made my own buying mistakes.
DIVIDE AND CONQUER
At first Experimenter editor Mary Jones and I felt this project would consume a few articles over several months. After a couple months of consideration, you can expect three editions in the series of How-to-Buy a Lightplane.
In the next article I'll go through the many TYPES of choices you have, and in the final article I'll try to help guide you toward the plane that interests you. As stated above, I won't suggest a precise light aircraft for you, but I can make generalizations that have proven helpful in the past when talking to prospective buyers.
In this first installment we'll discuss two important starting points: you, and the mission of your flying. Until we know more about each, trying to figure the best lightplane for you to buy is a like looking for that needle in the haystack while wearing a blindfold and gloves.
As we look at the pilot — that would be YOU — honesty is mandatory. If you fool yourself and then buy an airplane, you'll probably be unhappy.
To get more familiar with you, I'd like to ask a few questions:
(1) What is your flying background? Answers might be:
– none
– novice pilot of any type
– ultralight pilot of medium experience
– experience with kit-built aircraft
– low-hour general aviation pilot
– experienced general aviation pilot
– other light background, like powered parachute or hang glider `
– some combination of the above
Note that I did not include "expert ultralight pilot" or any other kind of "expert pilot" as I doubt these individuals need or want any advice. They've already bought aircraft before, maybe several of them.
The good news is that these experts may also be useful to you in making your decision. As with a doctor, you should always get a second opinion. Almost every airfield has a local expert and since you two may know each other, your resident expert may offer you the best possible advice.
One caveat: Buyers must beware when asking advice from anyone selling an ultralight. Everyone needs to sell at one time or another, but when someone is selling they're motivated differently than someone giving advice with no financial stake. Go ahead, ask a seller to pitch you on his or her machine. But be smart enough to realize they are not unbiased. They want to make a sale.
(2) How many hours have you accumulated, and in what kinds of planes?
– Approximate amount in lightplanes
– Amount in general aviation planes
– Amount in other types
– Do you have time in a taildragger?
– Do you have time in a floatplane?
If you want to stick with a aircraft similar to your experience, your choices will focus on this fact. Or a Cessna 172 pilot might want to try something different like trikes or powered parachutes (he'll need transition training).
Pilots with more than 1,000 hours logged are widely considered to be experienced pilots. Although I accept this measurement, someone with 5,000 hours of military jet experience may be completely out of his league in a Part 103 ultralight. It simply won't feel the same even if it has a conventional control system.
If you consider yourself experienced in anything but lightplanes, I encourage a couple hours dual in a lightplane similar to the one that interests you. You need do little more than take off and land repeatedly with a qualified instructor.
Let me repeat one generalization I give any pilot asking my counsel. If you are still in training (even if this training is transition training from some other type of aircraft to lightplanes), don't buy anything! Wait until you are done with training. Your ability to make a better decision will be far better. And, in truth, after some training, you may decide lightplanes aren't for you at all. Therefore, another Dan Johnson maxim is, "All the training you can afford is worth it." If you pay for training and decide you hate lightplanes, think how much money I just saved you. Be realistic: lightplanes aren't for everyone, just like being a pilot isn't for everyone.
(3) Other personal factors suggest answering questions like these:
– Are you older or less physically able for any reason?
– Do you live in a warm or cold climate? Do you like wind-in-the-face flying or do you prefer an enclosed cockpit?
– Is your FAA medical still valid (and will it stay that way)?
– Are you a very cautious pilot?
– Are you a craftsman? Do you want to buy-and-fly, or build a kit?
– Do you want "something different" than everyone else, or do you prefer a lightplane that is relatively common?
– Will you do your own maintenance or do you hire it out?
– Do you want your lightplane to have all the "bells and whistles," or do you want a "plain jane" aircraft?
– Are you into nostalgia or old-time looks?
– Must you have "conventional" three axis controls? Or can you accept other forms of control (as long as you judge them adequate)?
– Do you prefer home or trailer storage of your aircraft (over airpark/airport storage)?
Your response to the above series of questions can have a major impact on the aircraft you buy. Remember, we're still talking about you, the most important part of the airplane you buy.
PHYSICALLY ABLE — For example, if you have trouble wiggling your body into a cockpit surrounded by tubes or one that is very low or very high or steeply reclined, you can limit the number of choices somewhat.
HOME CLIMATE/ENCLOSURE — If you fly in colder climates (like I do) enclosures can extend the flying season a lot. They also take something away from the pure feel of light flight. Your enclosure preference can narrow your choices considerably.
VALID MEDICAL — Are you looking at ultralights to keep flying after losing a medical? Then you have two choices: fly a single seater meeting Part 103 or fly a two seater as a card-holding ultralight instructor| for instruction only. While a certain amount of single seat operation is reasonable for maintenance or to ferry to the student's location, the law says you must otherwise use this vehicle for instruction alone. This situation will cut your list shorter.
LEVEL OF CAUTION — Some aircraft are more demanding to operate and some are much easier. As performance increases, you often see a decrease in stability or ease of operation. Most novices and many veterans should stick with easy-to-fly machines and should remember why they got involved in this realm of flight. Being honest with this will help you eliminate some choices.
BUILD OR NOT — Building a kit is a burden to some and a joy to others. Some build to fly and others build to build. Therefore, the way a kit is assembled can be a determining factor in the purchase decision.
UNIQUE OR COMMON — Some like to be the only one with a certain aircraft or want the newest design available. Others value established designs, perhaps because parts and services are so available. This links with "Maintenance" next. In any event, this easily divides your choices further.
MAINTENANCE — If you're like me, you hire most services. If they're available for a certain aircraft (like a locally-manufactured kit) it might influence your decision. See "Unique or Common" above.
WELL EQUIPPED OR PLAIN — If you expect to have a well-equipped aircraft and stay within Part 103, you'll really limit your choices to a couple conventional kits, light trikes, or light powered parachutes that can make the grade with some deluxe features. If you can accept spartan equipment, you have many choices of 103 aircraft. If you want it loaded with gear, you can still narrow the choices by several factors (like panel space).
VINTAGE OR SPECIALTY — Lightplanes are very good at emulating the look of yesteryear in aviation. Light was "in" in the '40s as it is again today so the aircraft can easily resemble one another. While you have several good choices, you also eliminate others with this preference.
CONTROL PREFERENCES — Many licensed pilots with conventional training prefer to stick with conventional three axis. You should not expect precisely the same feel due to lighter weights and lower speeds, but if you cannot see yourself adapting to another system (like weight shift, powered parachute flying, of rotor), then you'll eliminate a few choices.
STORAGE NEEDS — Some pilots don't have access to hangars, have other space limitations, or like to travel with their planes. Aircraft which do or don't break down or which fold can further reduce your list of possibilities.
MISSION PROFILE
The military and corporate aircraft sellers like the phrase "mission profile." This is simply jargon for: "What do want your aircraft to do for you?"
It is just as important for lightweight flyers to ask this question. Light aircraft cost less than heavy ones and require less maintenance, but they may focus tightly on a particular kind of flying. Focus is good as an aircraft can then excel at a certain type of flying, but it can also be bad because few of us can afford two or three specialty aircraft.
Despite the focus of aircraft designers, most pilots would like their plane to serve several purposes. As a common example, many pilots I speak to ask about a two seater. When I ask them why they want one they often say, "Because I want to take someone flying once in a while."
That's an honest response but it means two things. First, you cannot then consider a Part 103 airplane (except for instruction only with credentials) and, second, it may mean your aircraft will be bought for one purpose and often flown for another.
We don't have good statistics in light aviation but in the world of general aviation the average occupancy of a typical four- or six-seater is 1.6 persons per flight. In your common two seat lightplane, I'm willing to bet that 80-90% of all flights are made solo.
"So what," you ask? Well, in a Cessna 172, the difference between one or two people means almost nothing. The plane is so heavy (about 2,500 pounds gross) that one more 175-pound occupant adds only 7% in weight.
In a two-seat ultralight grossing at 750 pounds, a second 175-pound occupant represents nearly 25% more weight. Fast speeds also help blur the flight quality differences of airplanes, but the vast majority of lightplanes will fly quite a bit differently when that much extra weight is added.
A two-seat equivalent of a single seat model will not fly as well as the one seater, at least generally speaking. The controls will be less responsive. The aircraft will not perform with the same agility. Operating costs will be higher, and of course, purchase price is greater.
If a two seater is mandatory for your flying, by all means buy one. However, even this decision branches off in two directions.
A two seater can only be flown one of two ways, legally. You can operate it as a sanctioned trainer, to be flown for instruction only by an accredited ultralight instructor. Or you can register a two seater (N-numbers), have it inspected, and use an FAA license to fly it. We'll come back to this point, but for now, this means you will have more restrictions than someone who buys and flies a Part 103 single seater which enjoys wide latitude in how it can be flown under the law.
With the above in mind, I commonly ask a few "missions profile" questions.
(4) What kind of flying do you like to do or do you plan to do?
– Do you plan or want to operate off of water?
– Do you want to fly cross country (of more than 100 miles)?
– Do you prefer to stick close to your home field?
– Are you interested in performing aerobatics?
– Are you interested in soaring flight?
– Do you plan to conduct training?
– Do you have some work purpose in mind for your aircraft? This might include aerial photography, aerial inspection, agricultural flying, or even non-commercial activities like giving Young Eagle rides.
(5) What kind of weather minimums do you set for yourself? Some responses can be that you:
– Fly only in calm winds
– Fly in winds up to 15-20 mph
– Fly in fairly strong winds?
– Fly only when the wind is down the runway or in crosswind conditions
– Want to fly in a wide range of conditions
(6) Where do you fly? The question is not about your destination but your home flying locale. Some factors that can define a wise purchase are:
– Low or high elevation area
– Unusually hot or humid area
– Crowded or sparse population near airfield
– Length and surface of runways
– Close or tall obstacles on approach or departure (What emergency landing areas are near?) (Lateral obstacles like trees along one or both sides)
– Does your home airfield requires skiis or floats?
(7) What can you afford?
– The lowest cost airplane available
– Low cost kit with your time adding considerable value
– Medium priced kit that cost a little more but builds quicker
– Ready-to-fly airplane (a Part 103 vehicle is then your only NEW option)
– Ready-to-fly not meeting Part 103 (meaning a kit someone else built)
– Anything you want including more than one plane
SUMMARIZING OUR PROGRESS
By now, you may be feeling a little overwhelmed. If you have some experience, this article may have helped organize your thoughts. Very experienced pilots probably didn't feel the need to finish it. The latter pilots I don't worry about much as they probably have a good idea what they want to buy. The still-undecided pilots need to continue on with this exercise.
I understand. Five years ago I bought a new auto and I'm in the market again now. This gives me a wonderful perspective to be writing this series of How-to-Buy articles.
To start, I went around to the auto lots in my area and got some idea about what interested me — much like going to an airshow.
After I chose a full-sized pickup, I had narrowed my search quite a bit. Next I picked up brochures for each brand that offered what I wanted. I spread each out on a large table and compared between specs, body styles, and options available.
The brochures told me enough things with which I could eliminate other models. I wanted certain things from my truck and though a few designs had features I liked, some didn't satisfy the qualities I demanded.
I went on the World Wide Web and got price and other information that was useful and I found out what my five-year-old vehicle was worth. You can do a lot of airplane searching on the Internet as well, although it isn't yet quite as comprehensive and easy as it is for autos.
After a period of time, I came up with one truck that should best fit my current desires. A similar effort could help you make a decision for a lightplane. This series of article will try to help you accomplish such a goal.
I'll leave you with one final thought as we end this edition of the series: Whatever you buy, you'll eventually sell. While you may be excited about buying today, remember you'll be selling someday. If you factor that into your decision, it may work out better financially.
In the next article, we'll talk about the various types of lightplanes you can buy. Keep watching your Experimenter.
Published in Experimenter Magazine