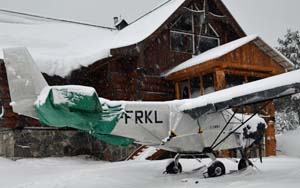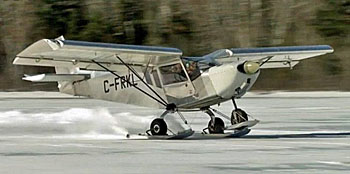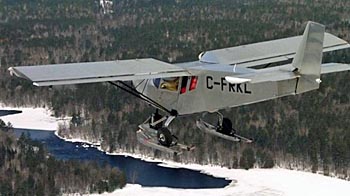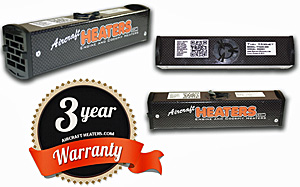 As winter arrives in much of the USA, it is worth asking: "Are Light-Sport Aircraft solely fair weather flyers or can they serve greater purposes?" When trying to answer let's avoid the error of generalizing. The range of LSA is very broad and ranges from below $40,000 to $150,000 or more and from conventional fixed wings to weight shift, powered parachutes, motorgliders, gyros, hot-air and more. One answer to the winter question won't suffice. Secondly, not all LSA are factory built so the rules differ. Nonetheless, one thing is certain: Winter or summer, LSA can certainly be useful even if they are not used for compensation flying or flown for hire. Take the following example.
Richard Lauzon operates his Zenith CH-801 in conjunction with his Ten Mile Lodge in northern Quebec. He reported, "STOL CH 801 is by far the most practical means of getting in and out of [my] hunting/fishing resort." The nearest airport is 45 flying minutes to the south. The alternative is a 60-mile road that takes four hours to drive and would challenge any four wheel drive vehicle or snowmobile. The '801 allows Richard to bring supplies, mail and groceries to his lodge. In the winter, he parks the aircraft on the frozen lake in front of the lodge and in summer he uses a 2,400-foot gravel strip he cut into the forest behind the lodge. In summer 2014, he'll be using amphibious floats to allow him to keep his aircraft on Lac Dumoine year round.
The snow begins drifting in early November and stays on the ground through April. During that time the road is closed to all but snowmobiles, and it's a long, cold ride through the forest with limited space for bringing back materials. The CH 801 burns far less fuel and Richard considers it more reliable. He likes the fact that the Zenith is airborne and lands in about 50 feet. "It's like having a flying pick-up truck," he said, "and it sure does get used." Zenith Aircraft announced in May, 2012, "Zenair Ltd. (Canada) is supplying parts, kits and support worldwide for the STOL CH 801.
While I'm aware Zenair's CH-801 is not a LSA, the story still applies and the 801 in photos could be Zenith Aircraft's CH-750 (another kit EAB) or any number of fully built LSA. Canadian rules are different than those in the USA, however, flying your LSA to another work location is no different than driving our car and that is not a compensated or hired operation. At LSA cruise speeds, low fuel use, good range, and modern construction and equipment, many of these aircraft could carry a business owner around if that serves the enterprise as it does for Lauzon. Given how he depends on his airplane Richard might want to invest in a heater to keep the engine at safe temperatures in the deep cold of a Canadian winter. Aircraft Spruce recently announced a new line that could be just what Old Man Winter requires.
Hornet Heaters use an advanced, self-temperature regulating, semi-conducting material. Aircraft Spruce said, "These heaters are designed to safely heat your engine in environments that are considered to be dangerous locations." Hornet Heaters are hand built, allow the user to select the thermostat temperatures and work with a two-stage operation that reduces amp inrush by sequencing the heaters. "Perhaps the most important feature of the Twin heating system," added Aircraft Spruce, "is the peace of mind that comes from knowing that the possibility of both heaters failing simultaneously is almost nonexistent and one heating circuit will provide enough heat to prevent engine damage." The Hornet unit is equipped with a switch that provides the user with a means to test the operation of each heating circuit independently. Other important features include a non-conductive fire rated fiberglass housing, mil-spec wiring, and an industry leading 3-year warranty. For more information, please visit Aircraft Spruce, or call 877-477-7823.