Note to readers — This article first appeared in EAA Sport Pilot magazine. The layout is unusual because of magazine formatting, but all the text and photo information is as it originally appears… —DJ
AND LEARNING THE HISTORY OF FAR PART 103

Not long after takeoff, the airline captain's deep voice transmitted the following: "Ah… Los Angeles Center, I see hang gliders not far off my wing. They aren't in our airspace, but I'm surprised to see these guys up here."
Thus began the impetus to create
Federal Aviation Regulation (FAR) Part
103. Of course, the rule had no name
at the outset, but one FAA official saw
the future.
Honoring the foresight of this
man, EAA recently inducted W.
Michael "Mike" Sacrey into the EAA
Ultralight Hall of Fame during
ceremonies on November 2, 2001, at
EAA headquarters in Oshkosh,
Wisconsin.
Mike holds an airline transport pilot
(ATP) rating with numerous sign-offs
for a variety of jets and multiengine
seaplanes. He's also flown at least a
dozen different ultralights. A
certificated flight instructor for both
airplanes (CFI) and instruments (CFII),
Mike has logged more than 8,000
hours of flight time. During his nearly
30-year career with FAA, he held a
number of positions in various Flight
Standards District Offices (FSDOs),
including assignments to FAA's
Washington, D.C., headquarters staff.
He retired from FAA in June 2000, after
having served as director of FAA's
Southern Region Flight Standards
District Office for more than six years.
While Mike's work in mainstream
aviation affected thousands of pilots
plus millions of airline customers, none
have been touched more saliently than
the ultralight community. Tens of
thousands of fly-for-fun pilots owe this
man a debt of gratitude, even if they
don't know his name (though,
obviously, articles like this one will
somewhat change that situation).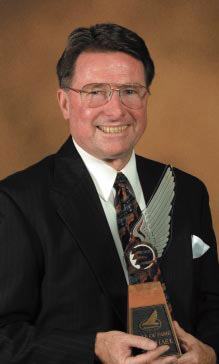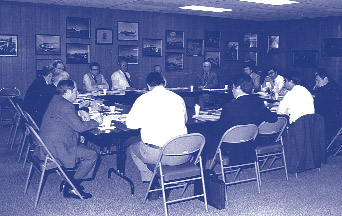 Though modern-day ultralight
pilots may not often consider the
significance of Mike's work two
decades ago, he created the structure in
which ultralights were allowed to
flourish. Careful to give credit to
others, Mike would demure to the
designers, instructors, organizers,
association leaders, and flying club
officials who compose the backbone of
ultralight aviation as it is today.
Yet it takes a visionary person to put
new developments in their proper position; when it comes to ultralight
aviation, Mike Sacrey is the person
many believe deserves this distinction.
As he looked ahead, his eyesight was
better than 20/20.
Part 103 will celebrate its 20th
anniversary not long after EAA
AirVenture Oshkosh 2002 is history.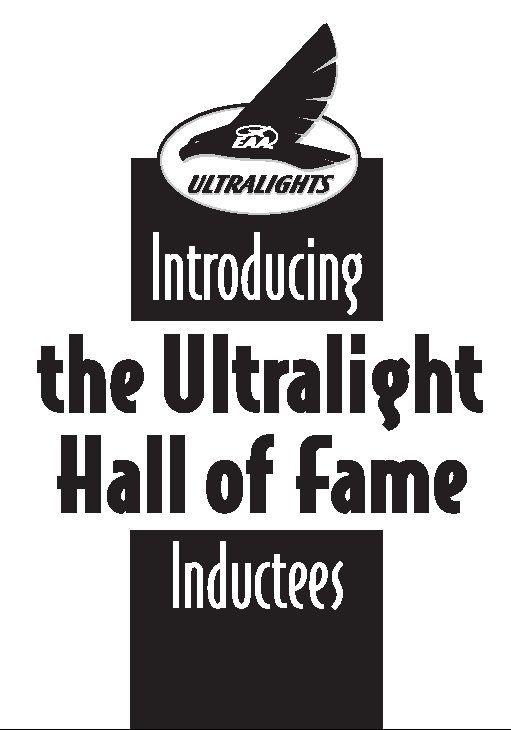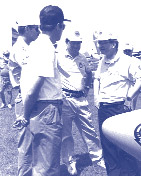 Today it is widely accepted as a
triumph of rule making|a rule about which pilots can actually become enthusiastic.
Creating Ultralight Vehicles
For the term "ultralight vehicle" Mike gives credit to FAA's Juan Croft, who developed the original foot-launch policy for powered hang gliders. Mike explains: "In the late 1970s, Juan reviewed powered hang glider operations, and he argued that they would not be a hazard to air commerce. Based on his recommendation, the agency chose to classify powered hang gliders as vehicles rather than aircraft and to regulate them differently because they were and are recreational vehicles rather than air commerce vehicles."


But, in the early 1980s, FAA's attention was again drawn to ultralights after enthusiasts started putting better developed engines on the machines, which allowed them to fly higher and farther. Mike recalls that FAA's Air Traffic Division was given the assignment to create a sub-chapter to FAR Part 91 that would regulate the activities of these vehicles.
"That was the original plan," says Mike, "to figure out how to prohibit powered hang gliders/ultralights from using the most pieces of airspace that also were used by air commerce. FAA didn't want to kill ultralights, but nobody in air commerce was too anxious to see them proliferate. We were trying to find a way to adequately fulfill FAA's responsibilities to control air traffic and assure the safety of the public.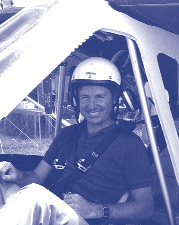 "The actual assignment to write the rule came to Bernie Geier and Keith Potts as division managers. Besides myself, others on the team included Jack Reynolds from Airports, Ken Peppard from Air Traffic, and Art Jones of the Certification branch. Art was involved because at one time the thought of requiring some level of pilot certification had been considered. Even though Art was manager of the Certification branch, he was not someone who was particularly into empire building. He had a good feel for what was and wasn't needed, and in the end he felt that pilot certification would not be a significant benefit and could become a burden on the agency if FAA had to oversee certification."
According to Mike, one of the biggest discussions that evolved from FAA's initial meetings was coming up with a definition of ultralights. "We could see that the foot-launching rule wasn't working any more as a defining line because more and more people were putting landing gear on the machines, and we could see that was safer, so we began looking for other defining criteria. At that time, we had no idea how sophisticated these machines were going to become."
The Magical 254-Pound Weight Limit
One of the most-asked questions by ultralight newcomers and veterans alike is, "How did FAA choose 254 pounds for the maximum empty weight of ultralight vehicles?"
Mike finally tells the story: "The weights were a compromise. First we started talking about how much weight pilots could actually foot-launch. The original proposal was for 155 pounds, but people told us they were routinely launching 200-pound ultralights. We didn't necessarily believe that was the case, but that's what manufacturers and enthusiasts represented to us. After many discussions with those active in the industry, the weight of 254 pounds came down because we thought
manufacturers and owners could build
a safe machine at that weight, and
then we added the weight exemption
for a 'safety device to be deployed in a
potentially catastrophic situation.'"
Mike says that exemption came
about as the rule-making team began
to consider the repercussions of inair/
structural failures. "We heard a lot
of talk about parachutes that could
lower the whole machine to the
ground in the event of a structural
failure, and that seemed worth
investigating."
Then, as now, some enthusiasts
marvel that safety devices didn't
include all manner of other safety gear.
Mike responds: "In fact, we were
thinking specifically of parachutes,
although we didn't want to say only
parachutes because we didn't want to
limit ingenuity. But we decided that
safety devices to be deployed in a
catastrophic situation did not mean
brakes or a radio, as some have
challenged since the rule's institution.
Frankly, we argued about many of
them, including radios, brakes, and a
transponder, or even a horn because it
would let people on the ground know
to get out of the way. People tried to
say brakes were needed, but that's not
true in a catastrophic situation.
"The idea of the whole-airplane
parachute was relatively new. Many
pilots were wearing parachutes with
hang gliders-and there had already
been successful deployments. A couple
of companies were working on systems
for powered ultralights, and we
thought, 'Why not give them an extra
allowance?' We were limiting the
weight of the airframe, thus to some
extent interfering with the design, so
we thought emergency parachutes
would just be a good redundancy.
"At that time there was a lot of talk
in regulatory circles that if you're going
to make some piece of equipment
optional, there should be some extra
privilege if pilots/owners added it. For
example, in other aircraft, if you added
a transponder, you were allowed to fly
through additional airspace.
"We decided that if owners added
the extra weight of the parachute, we'd
give them the extra weight allowance
so that they wouldn't pay a penalty in
weight for equipping their vehicle with
this safety device."
With several "saves" recorded
because of the availability of ballistic
chutes, history shows the rule-making
team's logic was sound. But how did
extra weight for floats figure into the
special exemption? Mike explains
that, too.
"Regarding floats, we could see that
if people were operating off water they
weren't operating anyplace where they
were going to be involved with other
air traffic. In the examples I saw,
people were operating at low altitudes
in small bodies of water, and they just
were not a threat to other air traffic."
Could ultralight manufacturers have
convinced Mike and the team that
more airframe weight was reasonable?
Remembering that "foot-launch" had
been the prior rule, Mike says perhaps,
but not likely. "The weight was
definitely a negotiation. The industry
was trying to convince us that these
were the same machines they had
been foot-launching, but it's hard to
convince someone you can footlaunch
a 300-pound vehicle."
Speed Limits in the Sky
How about that 55-knot or 63-mph
speed limit? Wasn't that rather
restrictive? (In the context of the
proposed sport pilot/light-sport aircraft rule that carries a top speed limit of 132 mph, this question seems relevant.)
Mike responds with typical logic: "First of all we looked at the speeds at which most of the machines were operating, and 55 knots was about average. Second, we looked at the damage that could be caused-the faster the projectile or the aircraft was going, the more kinetic energy you have.
"We looked at the type of technology that was being used, the wing designs, and we decided that a 55-knot speed would be adequate for sport and recreation. These aircraft were never going to be transportation machines per se, so it was a compromise, as are most things in regulatory language. We knew that if we kept a limit on the top speed and if we could get the stall speed down pretty low, the chances were we would not have much third-party injury or damage. And I don't think we have had much third-party injury or damage."
Many who know him think Mike is some kind of ideal FAA regulator. How might he act today if he had remained in his old role? He muses: "I, for one, would be for a new definition of ultralights with a new, higher empty weight, and I wouldn't object to some speed increase on the top end, but I would object to any speed increase on the bottom end, though that would be a very difficult thing for a designer. The low kinetic energy has been responsible for fewer injuries and fewer third-party damage incidents; consequently, we haven't had a significant part of the public saying that ultralights are a problem."
Why No Certificate?
Because most ultralights fly only locally, many certificated pilots will somewhat grudgingly admit a certificate may not be necessary. However, we all know some ultralights fly long distances.
Mike explains: "We decided that ultralight flying was a sport similar to mountain climbing and skiing, and we didn't have any intention of coming up with standards for the machines. We had a good model for that in the sport parachuting rule, which is the model that I settled on and became the major advocate for- not licensing the aircraft, not licensing the airmen, just limiting the potential for disaster by (1) keeping them out of certain air space, and (2) limiting the size of the aircraft and the amount of fuel they could carry.
"Of course we know that ultralights have gone all around the United States, but I submit that every time, they were being operated by somebody having adequate knowledge to do it safely. In some cases they were already certificated pilots at another level, but even if not, the truth is they were able to do it safely without endangering anyone else, and that's all that mattered.
That's all licensing is about-it's just
a method to assure the public that a
reasonable minimum of knowledge
has been gained. Licensing or
certification is not some magic
panacea."
Although Mike encountered some
resistance within FAA for his "letthem-
fly-freely" philosophy, he
continued to use logic to further his
goals. "We knew we could not have
an inspector at every airport or place
where hang gliders or ultralights
could be operated. That was foolish
thinking. It was better to depend on
industry, the community, and the
marketplace to determine what's
successful."
In the end it may have been the
political climate that allowed Mike to
work his rule-making magic.
"The timing was good. Our
government was into self-regulation.
Politically, the administrations didn't
want new governmental functions;
this was during the Carter and
Reagan administrations. Carter was
talking about smaller government,
the Paperwork Reduction Act was in
force, and simplification of
regulations was our marching order,
so it all flowed fairly smoothly.
Nobody wanted to get the federal
government into new areas,
particularly in regulatory matters.
Whenever you came up with a
regulatory scheme you had to show
how you were saving taxpayer's
money, not spending it. So this rule
worked well in that climate."
Nearly 20 years later, it is obvious
to aviators in and out of the
ultralight industry that Part 103 has
functioned admirably. However,
even such a marvelously simple rule
required more detail. Advisory
Circulars 103-6 and the very
important 103-7, which helped FAA
field inspectors as well as ultralight
designers determine if a given
ultralight met the rule, provided
that detail.
This still was not the limit of
Mike's work. Important innovations
that came once Part 103 was written
into law included the exemptions for
two-place training in powered
ultralights and for the towing of
hang gliders.
Mike states: "I did the two-place
exemption and the towing
exemption, and both of them were
difficult to convince FAA General
Counsel to accept. FAA's top lawyers
are very leery about exemptions.
They feel you should go back to rule
making rather than exemptions, but
we talked about how we needed
expediency and the fact that we
could increase the safety of
ultralights.
"While many cite ABC's 20/20
program in November of 1983 as
having been extremely harmful to
the sport of ultralighting, it actually
helped us get the two-place
exemption through because we were
able to convince people that just by
having some experience in the twoplace
machine with an experienced
pilot we could essentially replicate
the kind of safety that was involved
in conventional training aircraft.
They went for that, and we got the
exemption."
In his Hall of Fame nomination
document for Mike, Carmen
Miranda of EAA Ultralight Chapter
71 wrote, "It should be remembered
that the extraordinary success
enjoyed by the ultralight
community today in the United
States is in no small measure due to
the personal efforts and vision of
this one FAA official."
Offering My Congratulations
In closing, I'd like to add my personal
thoughts. I've come to know Mike, not as
an FAA man but as a person and fellow
pilot. Since we first met I've enjoyed his
calm demeanor and winning smile (not
always attributes I associate with my
representatives in FAA). We've had
numerous conversations, and you know
what — he's "one of us."
In his acceptance speech, Mike
recognized the irony of EAA inducting a "rule
maker" into the ranks of sport aviation's
finest. Yet anyone who's ever met and talked
to Mike finds this of no surprise whatsoever.
While some rule makers load regulation
upon rule to the shoulders of pilots, Mike
and his associates in the early '80s helped
create the least imposing rule in the thick
book of FAA regulations. As I've often, and
proudly, repeated, this is an FAA rule that
can be printed in its entirely on the front and
back of one 8.5-by-11-inch piece of paper.
Lastly, Mike's work has had a profound
influence on my life and that of thousands
more owing to his dedication to ballistically
deployed emergency parachutes. By seeing
the future (BRS was very young at the time
and had yet to save its first life), Mike not
only helped provide me with a career, but he
also allowed these devices to save literally
hundreds of lives.
Please join me in giving Mike a round of
applause for his work on aviation's tiniest
rule, the famous Part 103. Not only did he
accomplish a noteworthy rule creation; he
did so in barely one year once the NPRM
was published.
Perhaps Mike puts it best when he
summarizes: "The rule started out to be a
prohibitive rule-prohibit the operation
here, prohibit the operation there. What we
were able to do was make it into a
permissive rule that allowed the operation
of ultralights and put significant
responsibility on the operators and on the
industry. That was the whole model. If I
became famous for any part of 103, it was
because I advocated letting the pilots
regulate themselves. Regulation shouldn't
limit invention."
Amen — and congratulations to Mike
Sacrey, an FAA rule maker pilots can
applaud! EAA has bestowed a well deserved
honor.
Originally published in EAA's Experimenter Magazine