Welcome to the 27th SLSA to be approved. Storm Aircraft of Italy has struck a deal to have their Rally manufactured in the U.S. by Prestige Aircraft, of Jackson, Michigan.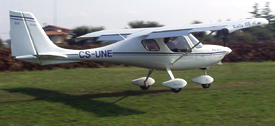 This carbon fiber and Kevlar all-composite machine using the 100-hp Rotax 912S is base priced at $85,000. Prestige has appointed Air Elite Aviation of Three Rivers, Michigan as their exclusive distributor.
Rally boasts a wide cabin with 300 degrees of visibility plus doors that can be opened when flying slower than 60 knots (69 mph). Rally can cruise 107 knots (123 mph) at 75% power. Using its 34-gallon fuel capacity, the side-by-side two seater can carry you 900 statue miles.
Prestige plans to deliver Rally with basic day VFR flight instruments plus ICOM 200 Radio, Garmin Transponder with an altitude encoder, turn coordinator, and a tail strobe. The company also says that all aircraft models come with a limited two-year or 1000-hour warranty.