I have a confession to make. I … have a drone (with a nod to Dr. King and his "Dream" speech). No, I have not abandoned my love of flying inside the cockpit; far from it. However, in my role as an aviation journalist and with my goal of creating great content, I wanted to explore the new realm.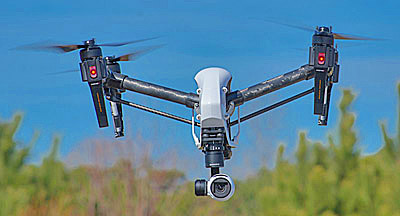 I believe we can capture great video, for example, of airplanes taking off in ways not possible with either ground-based cameras or via air-to-air photography. Love them or hate them, drones can produce certain images that are simply not possible any other way. Plus, I wanted to investigate and learn about this new range of aircraft.
My primary goal is to take my drone to airshows and, after securing permission from the show organizer, use it to give you a better perspective. When it can be used safely, a drone should allow more intriguing viewpoints of Light-Sports, light kits, or ultralights during take off and landing.
Not long ago, I acquired a DJI-brand Phantom 2 Vision+ drone. The quadcopter comes with a three-axis gyro-gimbal stabilization that allows smooth filming even in windy or moderately turbulent conditions. The Vision 2+ holds a tiny video camera that produces 1080p-quality video and/or 14-megapixel still photos. Using on-board Wi-Fi Vision+ sends what is called first person view (FPV) to your Apple iOS or Android device that is held by clamp to the remote controller. The smartphone screen shows what the camera is seeing along with other data such as height, distance, battery life, orientation, and more.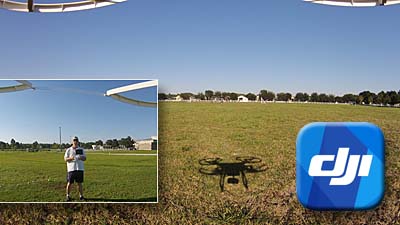 Drone Source proprietor Ron Bishop wisely counseled my use of prop guards as I learned to fly the Phantom. The good news is that if you let go at any time and don't bump the two joy sticks (one for throttle and yaw; the other for fore/aft, right/left), Vision 2+ will hover smoothly and hold altitude and position until you give it a further command.
Phantom is remarkably smart. Should you lose radio signal, Vision+ rises to about 55 feet, above common obstacles, and then will fly back to the launch point completely on its own. You can program the Phantom to autonomously (without human input) fly a course of up to 16 waypoints. If the battery gets low Vision 2+ comes home and lands without input. All this costs about $1,000 and prices will inevitably fall as drones develop at "Internet speed."
"The world's largest retailer by revenue recently asked the FAA for permission to use outdoor unmanned aircraft to test everything from package delivery to inventory management," reported the Wall Street Journal. "Wal-Mart's interest in drones [follows] … industries such as farming, filmmaking, and construction."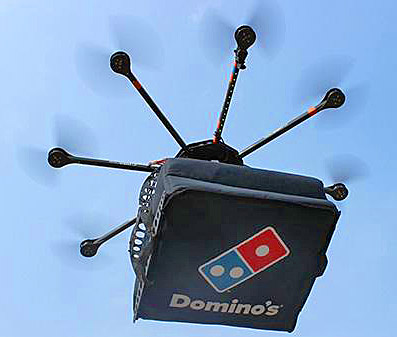 Amazon, Google, and DHL are testing drones for the final leg of package delivery, often said to be the most inefficient and expensive part of delivery logistics. Although the agency seemed to move lethargically at first, FAA has established a new office headed up by former EAA LSA champion, Earl Lawrence. Things are moving faster now. Wall Street Journal reported, "FAA has issued more than 2,000 approvals in the past year to use drones commercially and the agency has recently accelerated such approvals."
Cool as flying and using drones may be, it is increasingly more complicated as authorities insert themselves. Purchase prices are the least of your concerns. My drone ran a bit north of $1,000 and you can spend $3-10,000 for more professional units. This pales in comparison to shooting photos with a helicopter.
However, if you want to use a drone professionally, to be paid for the images you create, you will need a 333 Exemption. I am currently in this process with assistance from others. Typical of efforts to gain a license or other government approval, the task is tedious at best.
Next you'll need to obtain a pilot's license if you don't already have one. Powered Parachute instructor and Designated Pilot Examiner, Roy Beisswenger, has had a busy summer training pilots who seek to fly drones to, for example, take real estate photos. The fastest way to a Sport Pilot certificate is through powered parachutes, which require only 12 hours (assuming good aptitude).
Now, FAA wants to register drones … sigh! OK, I'll do it all and perhaps all the regulatory steps will bring order and enhance safety. Certainly, I'll learn a lot. Fortunately, it is quite enjoyable to fly one of these things and the FPV is exceptional. The resulting images are excellent. Watch for some good visuals on this website and in our videos. Drone on …