If you own an iPad, iPhone, or its Android equivalents — wait a minute, have we any pilots who don't own one or more of these handy gizmos? Well, if you're among the many, you need power for your favorite handheld tool. When I fly commercial and I'm in the gate house waiting for my flight, I appear to be like everyone else… looking for a free outlet to juice up my devices.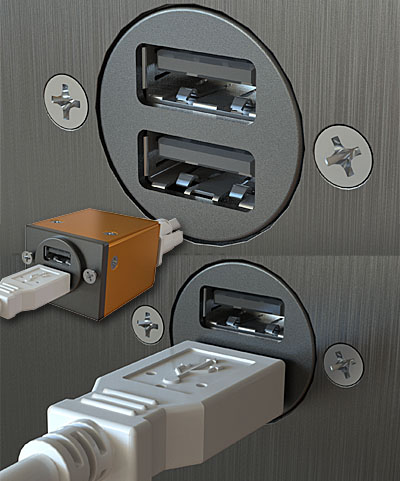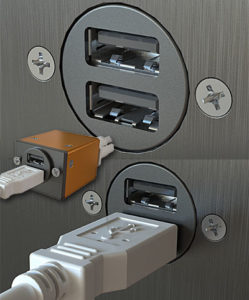 Now, your cockpit does not have to be one of those places of searching. Thanks to Guardian Avionics, you can recharge in flight in your GA airplane that was manufactured with a cigar lighter outlet.
Guardian Power Port — The Tucson, Arizona company introduced a new and simple USB power upgrade option for aircraft owners who have an old 12 volt cigarette lighter socket in their current panel. Guardian's Power 250-101R Dual 2.1 Amp USB Power Supply with a 0.9″ diameter round faceplate is designed to fit a standard round cigarette lighter socket opening in the instrument panel.
"Since USB has become a popular standard for powering smartphones and tablets, pilots in certified aircraft have been required to use bulky adapters for their existing 12 volt lighter socket to gain a usable USB port," explained Guardian. "The new round USB unit perfectly replaces the lighter socket and adds a clean dual USB port that sits flush with the panel converting any aircraft power source from 9 VDC to 48 VDC down to an output of 5 VDC at 2.1 Amp per USB port. Only two countersunk screws need to be added to mount the new unit and the power supply can be wired to aircraft power through a 2 Amp circuit breaker in place of the existing circuit breaker for the 12 volt lighter socket."
This round dual USB unit, along with all USB models offered by Guardian, is listed as part of FAA's "Non-Required Safety Enhancing Equipment" (NORSEE) letter of authorization issued to Guardian Avionics. This means the unit may be installed by an A&P/IA with only a minor alteration logbook entry in any Part 23, 27, or 29 certified aircraft/rotorcraft. No time consuming and costly STC or Form 337 required.
"There are tens of thousands of certified General Aviation currently flying in the United States with a factory installed cigarette lighter in their panel," noted Ash Vij, President of Guardian Avionics. "More and more of the pilots flying those aircraft are using tablets and phones with apps for navigation and they need reliable and safe USB power to power them in flight. Our simple, affordable, and attractive replacement is a fantastic upgrade for any aircraft owner."
See Guardian Avionics at Sebring Expo 2017 in exhibit space NC107.