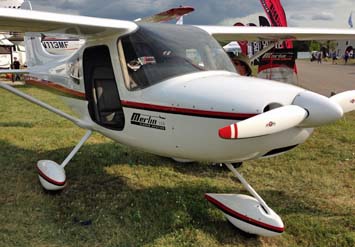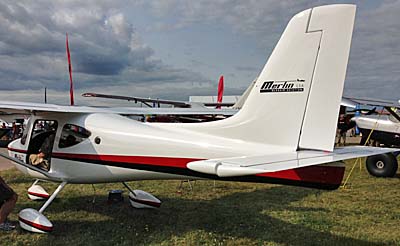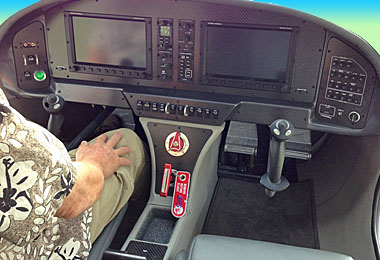 Although not previously known for any involvement in the Light-Sport space, longtime kit aircraft producer Glasair Aviation is jumping in assertively for 2014. At Sun 'n Fun, the Arlington, Washington company debuted their Merlin and to AirVenture 2014 they brought a full-size mockup. They also participated in the standing-room-only press briefing for the new MVP.aero seaplane. Why? Because Glasair will be one of two initial build locations, handling the Western states while Port Orange, Florida-based Fibercraft will produce for Eastern states. I'll offer more on the MVP arrangements in another report on that header-turner design unveiled at AirVenture. Yet this association means Glasair will go from no presence in LSA to taking a significant position in short order. MVP production won't start for more than a year, but Glasair's Merlin project is ambitiously aiming to hit the market in 2014, according president Nigel Moll. Glasair is famous for the their flagship Glasair II and III, speedsters of the sky in the Experimental Amateur Built category and for their well regarded Sportsmen two seater. Besides the Merlin, Glasair has other new projects such as offering the Centurion diesel engine in their Sportsman and all this flurry of activity is a benefit of their new Chinese owners, Jilin Hanxing Group.
The mockup at AirVenture 2014 didn't have any installed but Glasair is planning upward swinging gull-wing doors. It already sports a control stick that significantly resembles a similar system employed in Cessna's now retired SkyCatcher. This design choice keeps a stick from arising out of the floor, which makes entry easier for occupants and a 46.5-inch cabin nearly matches the widest cockpits among LSA. Merlin's panel setup was beautifully done as were its seats and general interior finish. The panel can hold dual Dynon 10-inch SKyView Touch screens (a single screen is standard) and is angled inward on facets on each side to make switches or instruments more accessible and readable to the pilot or passenger. Glasair will install the new Rotax 912 iS, said Moll. He stated that Merlin will sell for around $150,000 to include many items that are optional on many LSA. Indeed, Nigel said that the only options are a second SkyView Touch screen with an autopilot for an additional $10,000 and a parachute, which would also add approximately $10,000 to the purchase price. While other LSA are similarly equipped for about the same price, Glasair can benefit from its established position in the homebuilt community where it is well known. Merlin will be offered ready-to-fly, for the first time in its history broadening the company's product line beyond kit aircraft.
Leading specifications promoted by Glasair for the Merlin include stall speed 39 knots, cruise speed 105 knots, and useful load 530 pounds. The company forecasts a top speed of 120 knots, maximum takeoff weight of 1320 pounds, empty weight of 790 pounds, wing span of 31 feet 9 inches, wing area of 132 square feet, length 21 feet 8 inches, height 8 feet 8 inches, baggage capacity of 50 pounds, and fuel on board of 24 gallons. With the Rotax 912 iS, that much fuel could give endurance of six hours with no reserve or a range of close to 650 nautical miles. I think it may be somewhat challenging to get to market in 2014 since the model has not flown yet and still needs to go through the ASTM standards plus successfully complete an FAA audit likely required as Merlin is a new model yet Glasair has a lot of experience to bring to bear and has adequate funding thanks to its Chinese ownership. While it shares a familiar name, Glasair's Merlin does not resemble an earlier Merlin offered out of Canada. Nigel confirmed this Merlin has nothing to do with the long gone entry from our neighbors to the north. As Glasair continues their entry to the LSA space with Merlin first and MVP later, I'll keep a close eye on this western company. We shot a video with Nigel at AirVenture; watch for it in the next couple months as our video partner is able to complete the editing for this and dozens of new videos we are capturing at AirVenture 2014.