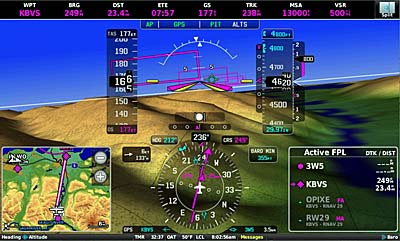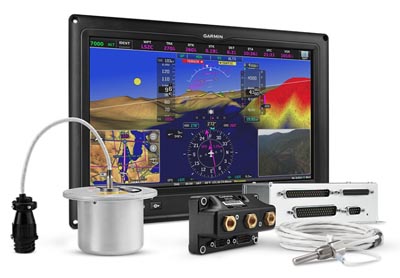 For a billion-dollar, publicly-listed company Garmin (stock symbol: GRMN) has repeatedly displayed the nimbleness of a start-up enterprise. As if to prove this point Garmin announced several new products for the start of Sun 'n Fun. And for those of us who need some introduction to these new gee-whiz gizmos, the company has a seminar tent just north of Hangar D where you can learn it all from the experts. No wonder Garmin remains one of the most trusted names in aviation. (My trusty auto Garmin will be leading me around the winding roads of Europe as we head over to Aero immediately following Sun 'n Fun.) So … G3X Touch, now in a giant 10.6 display • GTR 20 remote comm controlled through the touchscreen • Angle of Attack (AoA) info when paired with their GSU 25 ADAHRS and GAP 26 probe • and, you can even watch VIRB (Garmin's HD action camera) video in a PFD inset. "Our dedicated Experimental engineering team, known as 'Team X,' continues to raise the bar with the introduction of G3X Touch. This team of pilots and homebuilders have … introduced innovative avionics to the sport aircraft market," said Carl Wolf, vice president of aviation sales and marketing.
The big deal is G3X Touch and "big" means a touchscreen glass display for experimental amateur-built and light sport aircraft that is larger than the largest iPad of today.
Showing their commitment to recreational aviation, Garmin notes these are high-resolution, sunlight-readable non-certified displays with split-screen PFD/MFD functionality. G3X Touch is scalable, easily configured; pilots can install up to three displays in one panel. As I have long enjoyed on their also-excellent 796 removable unit, VFR sectionals and IFR enroute charts are available on G3X Touch. Equally important for those who already have a G3X is a "low-cost and easy path" upgrade to Touch system because the same connectors and sensors are used. For those of who like 796, Garmin said, "G3X Touch interface is similar to existing Garmin touchscreen avionics so information is easy to find." Think of those who use iPhones and iPads interchangeably. G3X Touch is priced at $5,499 including Synthetic Vision Technology, a built-in WAAS receiver, video input, ADAHRS, magnetometer, OAT probe and interactive mapping. G3X Touch with EIS starts at $6,099. Either price is affordable especially compared to just a few years ago and much less than certified systems. Personally, I appreciate Garmin maintaining the strong support for sport aviation. Indeed, five top LSA builders selected G3X Touch as an option: Van's Aircraft; CubCrafters; Flight Design; Tecnam; and, Pipistrel.
G3X Touch works with XM Weather but for those who prefer the free weather and traffic may choose a new GDL 39R remotely mounted ADS-B receiver that is compatible with Touch. The big company did more than come out with new touchscreen glass. A new GTR 20 remote comm "offers a clean, powerful communication radio and intercom ($995), which can be controlled from the G3X Touch display." Since AoA appears to be all the buzz lately, Touch can display angle of attack information. Another activity with growing popularity is the chance to see video in flight. No, this doesn't mean Netflix for your passenger but flight schools have seen the value of video for review by their students. Using a composite video connection (BNC) that connects to VIRB, Garmin's HD action camera (or other compatible camera), occupants can see video in an inset of their Primary Flight Display or Multi-Function Display.
So, got all that? OK, if you need more detail and if you are present at Sun 'n Fun like so many other aviation enthusiasts, head to Garmin's seminar tent and get expert help. Thanks, Garmin!