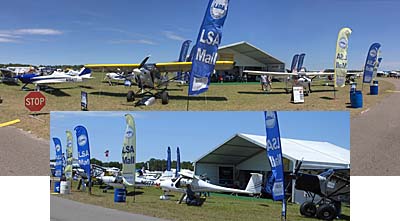 Here at the Sun 'n Fun 2017 airshow LAMA's LSA Mall is full and strong with 13 aircraft gathered from some of the leading brands. This exhibit was paired with the first-ever "Engines of Light Aircraft" display inside a large LAMA "Show Center" tent. On the first days of the Lakeland show, people appeared to be receiving the idea warmly.
One brand, Tecnam of Italy, showed its strength in the light aircraft community with three aircraft represented, two from First Landings at Apopka Airport in Florida and one from Lockwood Aircraft. The former are used in an active Sport Pilot school and the latter is a great example of the durability of Light-Sport Aircraft. The example from Lockwood has 4,500 hours on it and looks brand new.
Beside Tecnam, aircraft included Zlin's Shock, BRM Aero's Bristell, Progressive Aerodyne's Searey, AeroJones' CTLS, Pipistrel's Virus SW, Aerotrek's A-240, TL Ultralight's Sting, Lockwood's AirCam, and a Rans S-7 powered by Viking Engines.
Inside the tent LAMA hosted a display called "Engines of Light Aircraft," including all the most popular powerplants used by LSA, light kits, or ultralights. Brands included market leader Rotax with a 912, Continental and their 180-horsepower Titan X340, Jabiru showing a 2200, Viking's Honda-based engine, UL Power's 260i, and a Hirth 2702 two stroke engine.
Paradise City is Sun 'n Fun's airshow-within-an-airshow. Now with its turf runway used year round by the Central Florida Aerospace Academy and its Lakeland Aeroclub, Paradise City is gaining in importance. Vendors were up from last year and many more than a few years back. Sun 'n Fun management sounded pleased.
The LSA Mall is a central feature of Paradise City. This year the Mall celebrated 10 years running with the popular spring event. It is supported by Sun 'n Fun itself, and funded or assisted by Aviators Hot Line, Rotax Aircraft Engines, and the Flying Musician Association. Volunteers from LAMA and Sun 'n Fun staff the industry exhibit.
A large outdoor "porch" (an extended tent roof) allows easy viewing of the Paradise City airstrip in the shade. Bleachers are located right at the flight line for those who want to be closer to the action.