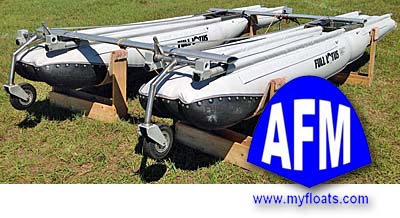 They may not be as sleek and speedy looking as fiberglass floats and lack the familiarity of metal versions but Full Lotus floats have long been revered for their super tough exterior finish and their high functionality. As they were primarily a straight float system and prior to Lotus Floats being acquired by AFM, adapting the floats to amphibious operation took ingenuity from the owner or builder. As Aircraft Float Manufacturing puts it, "Full-Lotus's already versatile aircraft floats for water, snow and ice just jumped to the next level. The newest models are now also equipped for paved runways, gravel, dirt and grass." Zenair Floats / AFM said the new Lotus Amphib design is aimed at pilots who want it all. The company adds, "This new all-season multi-surface amphibious system easily installs to most light aircraft up to 1,450 pounds."
Debuted at Sun 'n Fun in April AFM's news floats were introduced for LSA-type aircraft. "The tough plastic shells resist rocks and other hazards better than any other aircraft float system available," said the company. Full Lotus' flat bottom design allows operations in just a few inches of water and AFM said the large wheels easily handle soft fields. Inside the floats — whose construction is well characterized by comparing them to inflatable boats from Zodiac and other brands — are multiple inflated cells, each independent of the others. "The pressurized air of the multiple 'bladders' (air-bags) offers unparalleled shock-absorbing capabilities," said AFM. Over the years these floats have commonly been used by ultralight aircraft and have long proven their toughness. The original developing company earned its stripes by making bladders for installation in fire bombers.
"We have optimized this new design with a unique main wheel system that retracts within the body of the inflated float," stated says Nick Heintz, speaking for the manufacturer. "This better protects the wheels, keeps landing loads centralized and greatly reduces drag while flying. It also maintains the sleek good looks of the well-known Full-Lotus floats." Sleek or not, depending on how you perceive them, the floats have seen extensive field use where floatplanes can strike submerged debris including branches and other detritus that could inflict damage to fiberglass or metal floats. AFM said the new float system is in production now and one of the first aircraft types to be equipped with it is the popular kit-built Kitfox. That Western U.S. company knows their airplanes are used in bush flying and Full Lotus floats make for a reliable companion when flying in remote, unfamiliar areas. To determine if Full Lotus can work for you (including dimensions, weights, and prices), visit AFM online.