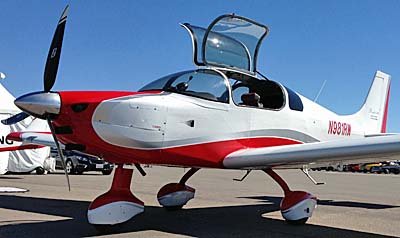 As I've indicated many times in the last couple years, this website seeks to deliver news and video about Light-Sport Aircraft, light kit aircraft, ultralights, and light GA aircraft. The latter refers to four seat (and larger) aircraft created by the same companies that make LSA or kits. Specifically, I do not plan much on Cessna, Piper, Cirrus, Diamond, and other legacy brands as every magazine already examines these every month. Instead, I plan to cover emerging models from companies that established their brand in the LSA space: Tecnam, Flight Design, Pipistrel, Evektor, Van's and The Airplane Factory. These six manufacturers are presently in the four seat game either with ready-to-fly aircraft or four seat kits. More are expected to follow.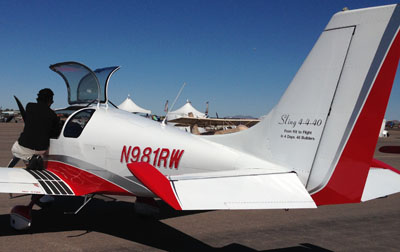 At Copperstate 2015, I finally got a chance to fly the Sling 4 from The Airplane Factory, which I had been anticipating since enjoying the Sling LSA. The South African company has a rich history in light aircraft, with principal Mike Blyth flying weight shift trikes all over the world, including several epic journeys. He certainly "gets" all manner of light aircraft and sought to make a four seater, which, of course, he also flew around the world. Such voyages a something of a habit for Mike.
Sling 4 uses Rotax power, in this case the turbo-charged 914 model. (I'll bet they start using the 135-horsepower 915 when it becomes available. I witnessed Mike paying close attention when the new powerplant was announced at Oshkosh 2015.) Like the two seat Sling LSA, Sling 4 is all-metal excepting some composite elements.
Except for the second row of seats (see last photo), Sling 4 looks much like the Sling LSA. I'd call that a very good thing as the LSA model is a comfortable machine. Different from Sling LSA that uses a sliding canopy, Sling 4 has a couple upward-hinging doors that allow easy enough entry though you must first climb up on the wing. I didn't get in the rear but TAFer Jordan Denitz made it look easy enough.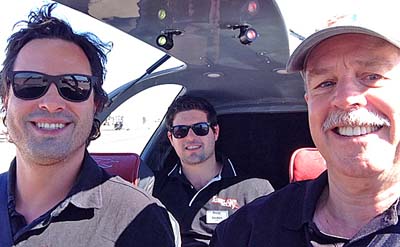 Naturally, as TAF-USA entrepreneur Matt Litnaitzky also represents the MGL Avionics line (also from South Africa), Sling 4 uses these fine instruments and radios. Sling 4 featured twin large EFIS screens.
Unlike Sling LSA, for which we did a full Video Pilot Report that you'll see before too long, I did not do a full review of Sling 4. However, my 20-minute experience with it suggested I could really come to like the airplane. It flew very nicely and offers the extra space some covet. Useful load is significant even with — and partly because of — the small-ish Rotax engine. Sling 4 felt a bit heavier, which of course it is, but it exhibited the same wonderful handling I'd enjoyed on Sling LSA.
Perhaps best of all for those trying to not break their budget, Sling 4 is quite modestly priced, barely into six figures. Naturally, you'll have to build this model but the TAF boys say it is a reasonable project.
Since you need a medical to fly a four seater like Sling 4, you may want to know more about the effort to move beyond the Third Class Medical. EAA states, "Third-class medical reform is closer than ever before, but it's a complex issue …"
"Almost anyone who has held a regular or special issuance third-class medical certificate within the 10 years preceding the date the legislation is enacted will never again need to visit an aviation medical examiner (AME). If you've never held a third-class medical certificate, you will need to get a medical certificate. If your regular or special issuance medical certificate lapsed more than 10 years before the legislation is enacted, you will need to get a medical certificate. And if you develop certain cardiac, neurological, or psychological conditions, you will need a one-time-only special issuance medical."
The legislation is by no means a done deal. "A number of lawmakers made it absolutely clear that they would not support legislation that completely eliminated the third-class medical," clarified EAA. "The compromises Sen. Inhofe arrived at represent the very best deal possible for pilots while winning sufficient support in Congress to keep the legislation alive." Even if it passes in the Senate and the House and gets the president's signature, FAA then enters into rule making and a minimum of a year will pass before you can use the proposed new privileges.
The initiative's cosponsor, AOPA, wrote, "Both chambers must pass the bill and reconcile any differences before it can go the president for his signature." The big member organization added, "The original language of the Pilot's Bill of Rights 2 did not have enough support in the Senate. It was not going to pass or move forward in its original form." Being completely honest, AOPA noted, "Even with all the progress, there's still work to do. Few things move forward quickly in Congress."
To get all the info EAA (and AOPA) offers, visit this FAQ link.