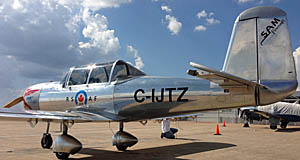 To some it's a new entry in the LSA race (Sam LS is presently selling kits while pursuing SLSA acceptance). To others the Canadian LSA is a "mini T-6" or a "mini Yak 52." Either characterization no doubt pleases designer Thierry Zibi. During development he did a thorough job of asking airshow visitors what appealed to them. Now that Sam is flying, it is fair to say that even with the availability of 132 other Light-Sport Aircraft models, Sam LS is unique. At AOPA's last-ever Summit event in Fort Worth, Texas, I got a chance to take Sam aloft with Thierry overseeing from the aft seat. Short tell: it may look like a miniature warbird, but flies with very solid and pleasant qualities.
As the sun-drenched photos reveal, Thierry's airplane glistens with polished aluminum, an uncommon appearance on airport ramps loaded with brightly painted aircraft accented with jaunty striping. However, the engine cowl — one of the few components that is not all-metal — is emblazoned with a stylized red-winged creature that suggests the overall artistic tone for this deco-inspired LSA. As Sam Aircraft is headquartered in Montreal, Thierry began offering a kit in April 2013 under Canada's advanced ultralight category (similar but not identical to LSA). He reported needing several months of work to qualify for an FAA audit.
Using a carbureted 100-horsepower Rotax 912 ULS engine supplied from 22 gallon fuel tanks to lift 830 pounds of empty weight, Sam doesn't leap from the ground; I saw 600-700 fpm of climb on a hot Texas day. Yet the new model quickly delivers a solid feeling and very cooperative handling. Sam can cruise 110 knots but stalls in the mid-40s clean or 40 knots with flaps deployed; they go to a maximum of 35 degrees. No matter how I did stalls, they were docile events and Sam is very well behaved, not falling on a wing or dropping its nose suddenly. Flaps are electric with a small indicator on the panel, however, it's almost easier to glance back at the trailing edge to see for yourself. From the front seat, the pilot can look nearly downward in front of the wing and general visibility is excellent through the right-side-hinged canopy. Alternatively, in minutes after removing three pins, you can doff the center canopy and fly in "summertime mode" with just a windscreen and aft section. This probably steals some cruise speed but would create a whole different feel to the airplane.
Another journalist felt his forward visibility was restricted during climb but I found looking left and right gave adequate vision. Once level in flight the view is broad. Inside Sam LS is comfortable for all but the widest pilots. On either side of the seat are broad, leather-padded armrests that relaxed my hand on the left side throttle. You'd always solo from the front as that's the only toe brake location but it's OK to fly Sam LS from the rear. When I asked for advice about the right speeds to operate the airplane, Theirry answered, "Sam's magic number is 70 to 75 mph." Indeed, that number works for climb and final approach. I flew slow flight at just above 50 to find handling doesn't differ that much from cruise flight (albeit a tad more sluggish). Once established, steep turns hold nicely throughout a full circle. Two landings proved straightforward affairs that even new pilots could manage with some basic instruction. Launching consumes a reported 350 feet while landings are short at 200 feet.
Thierry set the price of a fully built SAM LS at $131,000 (U.S.) including a single large Dynon SkyView, a full set of basic instruments, leather interior trim, and a useful load of 490 pounds (LSA version; 620 for the kit). His kit starts at $23,200. Given its pilot-friendly flight qualities and its inspired stylization, this is an airplane for somebody wanting to break out of the carbon fiber mold. You can play Walter Mitty in your warbird without challenging your pilot skills.