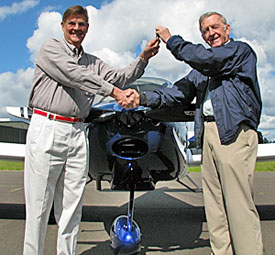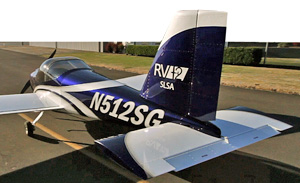 Forty years and more than 8,000 airplanes flying easily makes Van's Aircraft the most prolific kit aircraft supplier in the history of aviation. Does anyone in flying not know about the RV-series? What everyone may not know (or remember) is that Van's entered into a deal with Synergy Air to fully build an initial run of a dozen ready-to-fly RV-12s as they enter into the new and quite different realm of manufactured aircraft under the Light-Sport Aircraft rule. "We're kind of taking it gradually into this new arena," admitted company founder, Dick VanGrunsven as reported by our friends over at AVweb. Synergy Air is a well-established company providing instructional seminars, videos, and builder assistance to complete kit airplanes and is located at the Eugene, Oregon airport. Van's noted that, "A total of twelve Signature Series airplanes have been completed or are under construction. All have been sold and are expected to be delivered to their new owners before the end of the year."
On May 31st 2013 the first fly-away RV-12 went to customer George Longino. He traveled to Van's Aircraft's Aurora, Oregon, facility and accepted the key to his new Signature Series RV-12 Special LSA from VanGrunsven (photo). George will receive training from RV expert Mike Seager. Van's provides training as part of the purchase price and Mike helped George get comfortable and proficient in his new airplane. Afterward the pair flew the airplane to its new home near Dallas, Texas. I flew with Mike three years ago and can attest to this man being at one with any RV. If you like, read my mini report on the Light-Sport RV. You can also check out a couple videos we've done on the RV-12 but it is genuinely exciting to see the SLSA version come to market. Another of the videos said Van's didn't expect to fully build but eventually they found a way. Of course, EAB or ELSA kit versions will also continue to be offered; Van's reported earlier that more than 200 kit RV-12s were flying.
In another coup for Van's Aircraft, Sporty's Pilot Shop announced that they'll give away an RV-12 in their next year's Sweepstakes. The big mail order house announced that on May 17, 2014, a Sporty's customer will win an RV-12 equipped with two-axis autopilot, Dynon Skyview glass panel including ADS-B, custom interior lighting, and wheel fairings. So, if you need some pilot gear and don't want to buy your own SLSA, you can get more info about a chance to win a free RV-12 in the company's Sweepstakes contest. Although Sporty's warmed up slowly to the Light-Sport Aircraft category, they've taken quite a shine to them for prizes. In 2013, the Batavia, Ohio outfit gave away a Legend Cub and in 2010 Sporty's awarded a Skycatcher to a lucky customer. In addition EAA and AOPA have used LSA as sweepstakes airplanes.
When the RV-12 was announced at AOPA in Palm Springs last year, Van's offered a base introductory price of $105,000 including a carbureted Rotax 912ULS engine, Dynon Skyview, Garmin SL-40 radio, Flightcom stereo intercom, 406Mhz ELT, Flightline interior, and LED lighting for night flight. The first 12 RV-12s are all "Signature Edition" models and include a fuller option set including wheelpants, ADS-B equipment, a two-axis autopilot, premium paint finishes, and Oregon Aero seats and interior for an introductory price of $115,000.