Talk about being ahead of its time, Junkers' A50 Junior was designed to 600 kilograms / 1,320 pounds …93 years ago!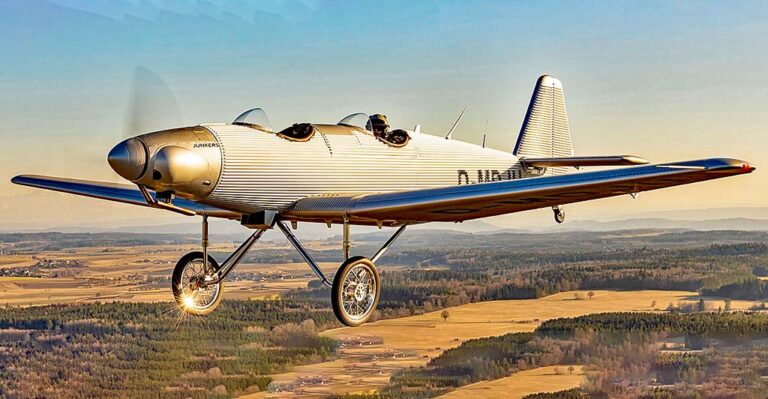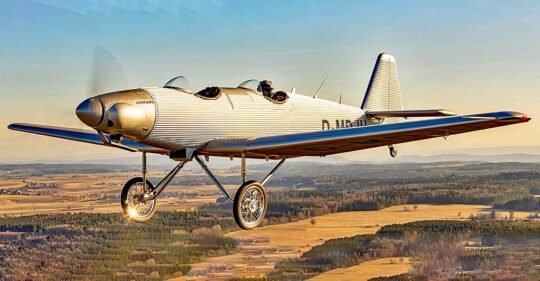 "In 1928," said the company, "what was to become the most successful Junkers sports aircraft left our Dessau production plant for the first time: a single-engine, two-seat, low-wing aircraft with an oval fuselage cross-section and corrugated sheet metal skin. The prototype was equipped with an 80 horsepower Armstrong-Siddeley engine.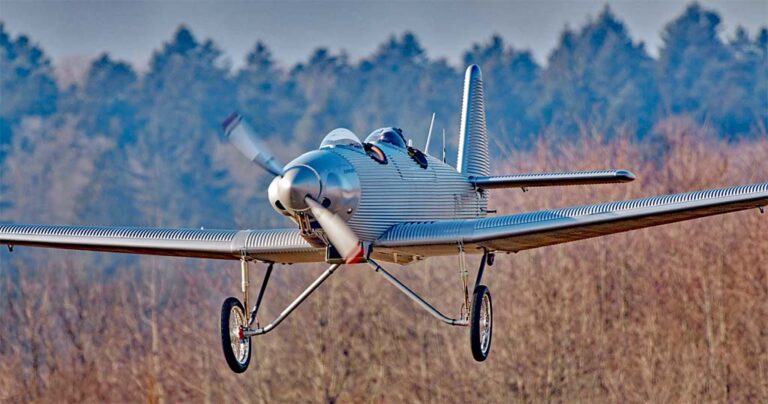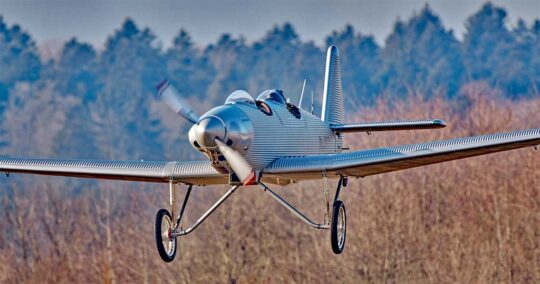 "Astonishingly, she had a take-off weight of a mere 600 kilograms, a light aircraft from the very beginning," said Junkers.
Why am I writing about a 93-year-old aircraft? Because, "It's back!"
Back to the Future?
"Our Junkers A50 Junior had its maiden flight in February 1929," recalled Junkers (say: "yun-kers").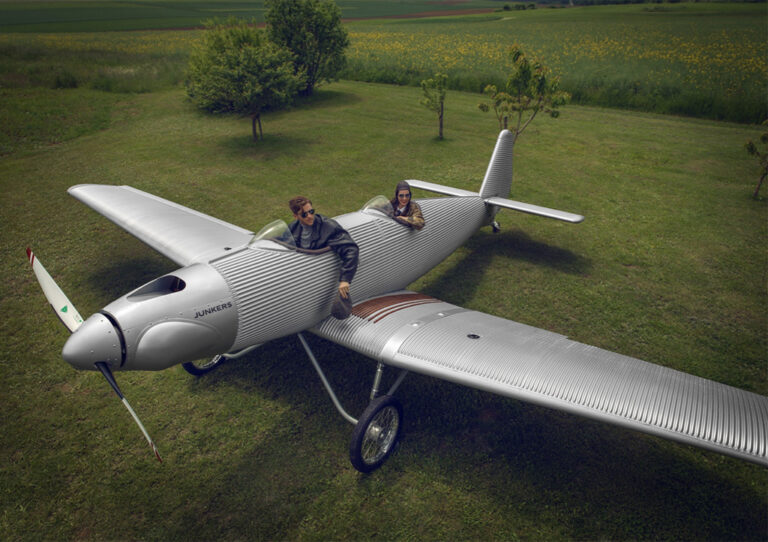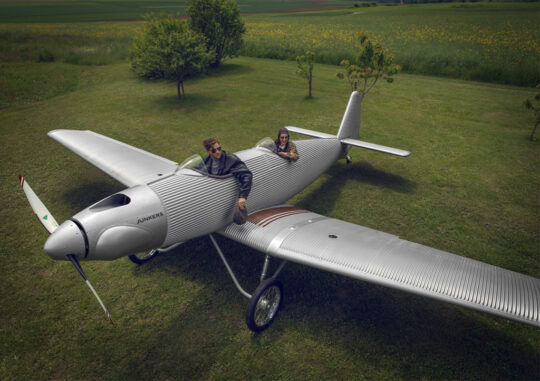 "In that year, 69 aircraft were manufactured, [some of] which set a number of FAI world records. Various European record flights were also carried out with the A50. Famously Marga von Etzdorf was the first woman to fly from Berlin to Tokyo in 1930 with her Junior A50.
This aircraft had the potential to become "the people's aircraft," company records report, but a global economic crisis intervened.
Today, as a light, sport aircraft A50 Junior combines the latest technology with the flair of the '30s. "This unique aircraft induces feelings of freedom for new adventures," said Junkers. "With our new production A50 Junior, the dream of flying back in time is today attainable. We prepare the way; climb aboard to experience adventure!"
"A50 Junior comes packed full of the latest technologies, including a 9-series Rotax engine, MT Mühlbauer propeller, Beringer brakes, and Garmin avionics" said Junkers. "An integrated Galaxy whole airframe parachute system ensures an outstanding level of safety."
Early in 2022, the company forecast first deliveries of the distinctive aircraft in April 2022. Inspired by the original birth of the A50 (1929), the first 29 aircraft will be sold at an introductory price of €179,000 (as this is written in July 2022, dollars and euros are almost at parity).
Collaboration Effort
To create their stylish, vintage design, Junkers partnered with Kaelin.aero and the choice seemed appropriate, in two ways.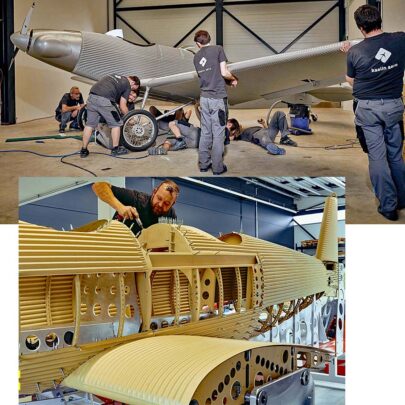 From an engineer's view, Kaelin has long experience in aircraft maintenance and put a large, qualified staff on the task (see video). The vintage-appearing construction looks rather labor intensive, as with most specialty manufacturing. With that in mind, their introductory price may be quite a value.
From a stylist's view, A50 Junior is a work of art from its graceful air-splitting nose down its corrugated skin, to its leather cockpit trim and two open tandem seats, to its wire-spoke wheels. Kaelin's website shows an artistic flavor not common in maintenance and restoration operations.
"This new version of the Junkers A50 is an ultralight aircraft in the 600-kilogram class," wrote Kaelin. Designed with open tandem seating, "A50 Junior resembles a typical light aircraft from the end of the 1920s, so it has a very classic appearance."
"[Junior] does incorporate the latest technology … to ensure the greatest possible safety," added Kaelin.
As nearby images show, A50 Junior has modern digital avionics screens. "The pilot monitors and controls from the rear seat," said Kaelin, but "otherwise the cockpit retains its retro trim."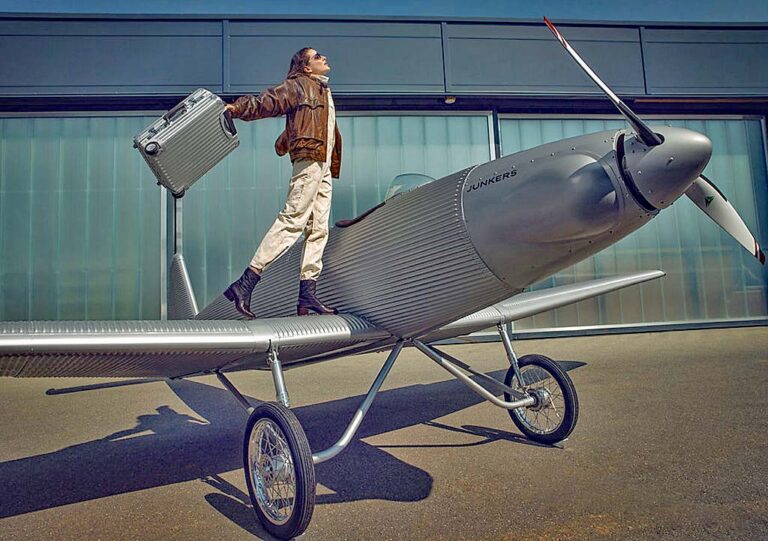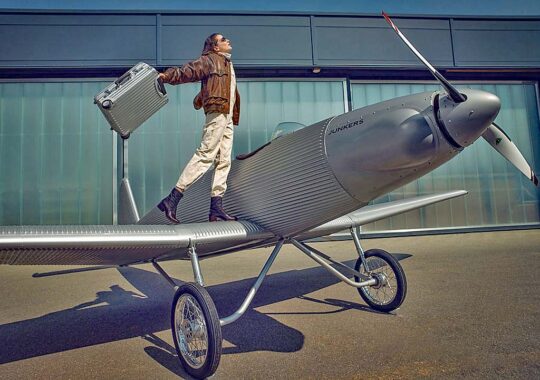 England's Flyer magazine reported plans from Junkers Flugzeugwerke AG, "A50 Junior is built and approved to the new 600 kilogram microlight category in Germany, which means it should be available throughout Europe and the UK." No plans have yet been announced for American distribution.
Flyer goes on, "The idea of recreating the Junkers A50 Junior came from Dieter Morszeck, who was behind the replica Junkers F13. Mr. Morszeck's family firm Rimowa produces the iconic suitcase with a similar exterior skin. (nearby image)
The British magazine also reported that Kaelin Aero previously constructed the Junkers F13. "Kaelin is a renowned aviation engineering company in Germany with much experience in renovations and modifications," added Flyer.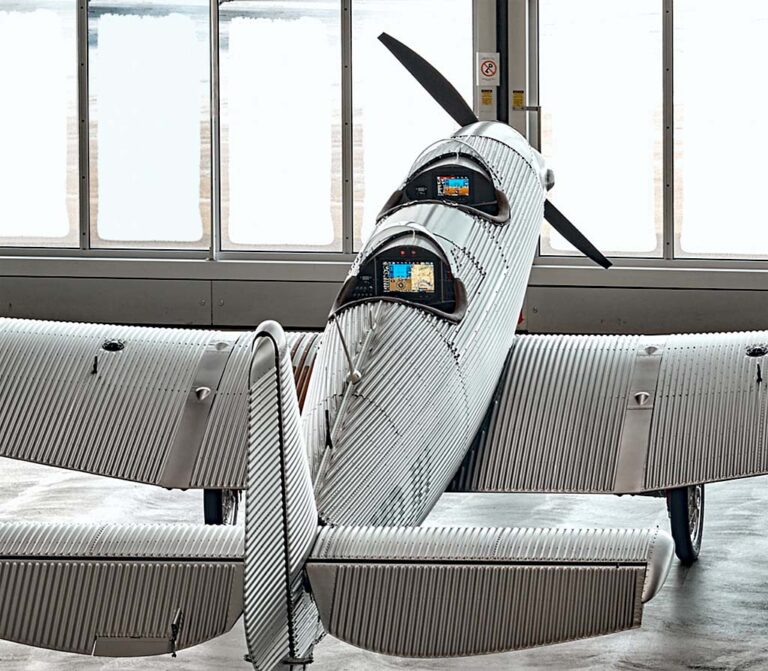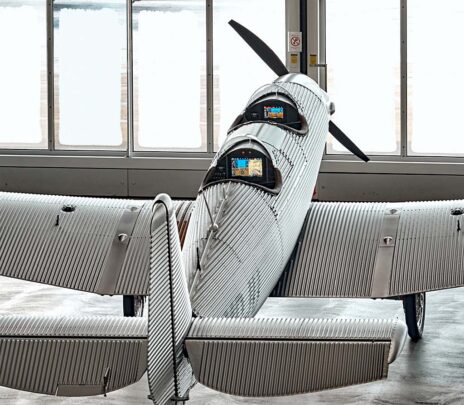 Swiss engineering and quality combined with a fascinating Art Deco look conveyed by the corrugated-skin airframe and its two, separated tandem seats will generate admiring looks at any airfield you visit.
As it made a flight from Berlin to Tokyo back in 1930 — I can only imagine how challenging that would have been 92 years ago — Junkers A50 Junior now looks poised for a comeback.
Do Americans find this classic appearance compelling? Perhaps in the future…?
Junkers Flugzeugwerke AG
A50 Junior
TECHNICAL SPECIFICATIONS
information supplied by Junkers
Wingspan — 32 feet / 9.7 meters
Length — 23 feet 4 inches / 7.1 meters
Height — 7 feet 9 inches / 2.4 meters
Empty weight — 705 pounds / 320 kilograms
Max weight — 1,320 pounds / 600 kilograms
Engine — 100 horsepower Rotax 912iS
Prop — MTV-33-1-A / 170
Fuel Capacity — 31.7 gallons / 120 liters
Cruise Speed — 100 knots / 185 kilometers per hour
Top Speed — 111 knots / 205 kilometers per hour
Stall Speed — 41 miles per hour / 76 kilometers per hour


Video released by Kaelin.aero shows the construction of the A50 Junior.