"Winds are going to be rather sporty," observed AirCam developer, Phil Lockwood, as he and Robert Meyer and the AirCam team finalized arrangements for another fly-out, this one to Jekyll Island (09J).
The single runway near the resort island had a crosswind forecast for arrival day. When it comes from the east, air tumbles down over a tree line to disturb a smooth approach. The air was indeed "sporty."
I'm an AirCam enthusiast even though I don't own one. I earned my multi-engine rating in an AirCam some years ago and I'll take any opportunity to fly one.
Numbering 300 AirCams
(…that's 600 Rotax engines!)
Many of you know the story by now. AirCam was first developed to fly National Geographic photographers trying to document nature in Namibia. From what I can tell the entire country appears to be one enormous, dense jungle. Where ya gonna land?
Phil to the rescue. After building Drifters for years, Phil had a plan to accomplish what the photographers needed for the beautiful but rather primitive African nation. He designed a potent twin engined airplane that could take off from a tiny field and could position a photographer six feet out in front of the leading edge with an enormous field of unobstructed view.
The plan worked perfectly but then a funny thing happened.
Pilots kept saying they wanted one for themselves. Phil and his staff accommodated them and have steadily improved the machine until today, 300 of them fly around the USA and the world. You'll rarely see a bigger smile than from a pilot who just landed an AirCam.
While some AirCam pilots chose to avoid the bumps at Jekyll on arrival day — flying just a few minutes north to St. Simons airport (SSI) with a runway facing into the wind — all the AirCams were back at Jekyll the next day. Even on that first evening, some of us watched as landing lights switched on when Ian and Robert flew a pair of them back from St. Simons after dark.
Since it was late May… since we were in the warm South… and since it's almost summer, several of the AirCams were mounted atop amphibious floats. Well, why not?
With Twin Rotax 912s (even 915s have been fitted), AirCam can lift off water even with amphibs after a very short, brief water run. Considering an AirCam is capable of taking off from land on one engine (not advised, of course!), jumping off the water with both engines fully spun up is exhilarating.
Leading His Flock
Leading a gaggle of AirCams from Florida, Phil managed the navigation and communications from the middle seat, while son Ian flew up front and wife Tisha spotted traffic from the aft seat. How they decided that seating must be something of a State secret since all three are pilots.
The Lockwoods flew in tandem seating — one behind the other — in a Generation Three or "Gen 3" AirCam with the clamshell enclosure (photo). Occupying the aft seat, Tisha reported an abundance of room. AirCam may not look it, but the aircraft is surprisingly spacious.
Using the Whole Runway
Back to Phil's "sporty" air. His forecast was no understatement. My flight from Spruce Creek near Daytona Beach, Florida to Jekyll took only about an hour. We flew over the ocean (within an easy glide distance from shore) where it was was smooth and effortless. Yet once we arrived near Jekyll and dropped down to pattern altitude the mechanical turbulence from air spilling over the tree-filled island added lots of bumps to the air.
"It's doesn't feel that bad," I told Randee. "I think a landing is doable."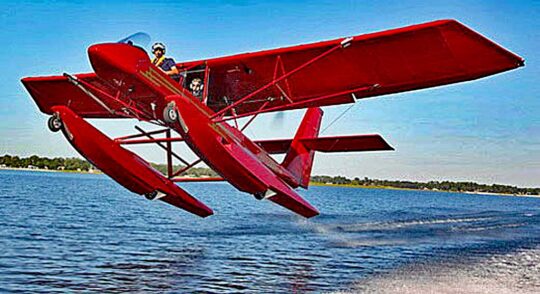 Once we descended below 300 feet, that gusty air made final approach feel like a roller coaster ride. Woo-hoo!
I decided to keep my speed up and leave the flaps retracted to facilitate an abort if it proved too rough. I was prepared to use the majority of the long, paved runway… and I did. Yet we got down. We flew in a Van's RV-12 to which I have access and, like all RVs, the handling is superb. I was sure I would not run out of control authority.
With quite a few hours logged in AirCam, I think it could have handled the winds, but such a decision is about pilot skill and experience, not the aircraft or its controls. Phil made a prudent decision to lead his formation four more miles to St. Simons. Not only was the runway better wind-oriented but the airport area is more open with few nearby obstructions.
As the weekend unfolded, the winds died down and Jekyll proved as fetching a place as ever. I tell you what: these AirCam people know where to take their powerful birds for a good time. Learn lots more about AirCam — maybe you can join the next outing.
---
In this video, LSA expert John Hurst describes his experience flying an AirCam with two 912iS fuel-injected engines from Sebring, Florida to Oshkosh, Wisconsin.