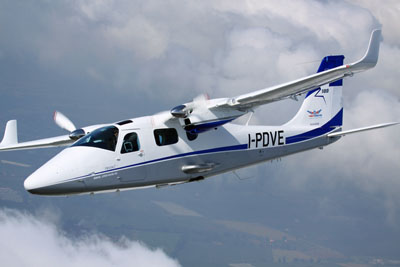 Tecnam had a strong year last year with reasonable sales of Light-Sport Aircraft plus larger, certified airplanes into the U.S. market. Around the world, according to the report released by GAMA and confirmed personally by Managing Director Paolo Pascale, Tecnam shipped nearly 200 airplanes in 2014. While ByDanJohnson.com readers are focused on recreational aircraft primarily from LSA and light kit manufacturers, more of these companies are joining Tecnam by preparing to offer what my journalist friend Marino Boric has dubbed "LSA 4.0," meaning four seat LSA-type aircraft.
I am keenly aware that regulars to this website are focused on Light-Sport, light kit aircraft, ultralights — generally, aircraft flown primarily for fun. However, an entire new legacy is being written as producers of those aircraft types are charging ahead into LSA 4.0 aircraft. Since these new aircraft are from brand names well known to me, I intend to cover what I will call "Light GA" as well.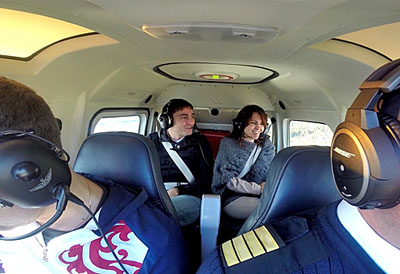 Tecnam is leading this charge with the 2006-era Tecnam Twin that uses two Rotax 912 engines, but they have since gained regulatory approval for their single engine four seater, P2010. (Tecnam models indicate the year the design was initiated.) The company is also going further upscale with a design seating eleven and they are joined by other LSA builders in this goal but we will delve into that story later.
Recently Tecnam reported, "P2006T Twin has successfully achieved certification to enable it to carry passengers for hire." Twin is a four seater, not the larger P2012 Traveler, but they know it is certainly capable of hauling paying passengers (photo). "[We] will promote P2006T Twin for charter and air-taxi usage."
The first Tecnam P2006T Certificate for Passenger Transportation is operated by Russia-based Chelavia. Established in 2003, ChelAvia currently operates nearly 100 Tecnam aircraft and is actively engaged in training commercial pilots for some Russian airlines.
The Ministry of Transport of the Russian Federation authorized Chelavia to use its fleet of Tecnam P2006T Twins for commercial activities. This approval enabled Chelavia to add the P2006T to its Air Operator's Certificate to enable it to offer the aircraft for both passenger and airfreight operations.
In single engine work, Tecnam has also gained approval for its four seat P2010 and recently delivered the first one to a customer. Registered as A7-TBA, the new P2010 joins a range of Tecnam aircraft already in service with Aviation Home, Tecnam's dealer for both the United Arab Emirates, Qatar and the Kingdom of Saudi Arabia. Other Tecnam models operated by Aviation Home include Astore, P2006T Twin, plus a number of P2002JFs.
Tecnam refers to the four seater as "P Twenty Ten." The sleek aircraft which looks like a big brother to their very similar P2008 LSA model, joins a carbon fiber fuselage with metal wings, stabilator, and rudder (just like P2008). The new aircraft won certification under Europe's EASA CS-23 program that is recognized by FAA for reciprocal Part 23 approval. Tecnam USA said American pilots will be able to examine a P2010 at U.S. airshows in 2015.
However, working on their Twin and P2010 is apparently not enough to keep everyone busy at Tecnam, so they have another fascinating project, this one with NASA in America and involving — get this! — 18 motors! That gives new meaning to the multi-engine rating.

Tecnam's P2006 Twin airframe was selected by NASA for an 18-motor experimental project. Here is some of the out-of-the-box thinking that speculates that an aircraft fitted with a long string of small electric motors can theoretically perform well.
NASA loves its abbreviations and trick phrases so the program is called LEAPtech with LEAP standing for Leading Edge Asynchronous Technology. The aim is reported as being "developing safer, more energy efficient, lower operating cost and greener General Aviation aircraft."
NASA will fit an experimental 31-foot aircraft wing with 18 electric motors placed along the leading edge onto a Tecnam P2006T aircraft frame (photos). The electric motors are powered by lithium iron phosphate batteries. American companies ESAero and Joby Aviation will manufacture and integrate wing and motors on the P2006T airframe. Tecnam said, "Researchers hope to fly the modified Tecnam P2006T piloted X-plane within the next couple years."