From Brazil comes a new Hero, an aircraft most Americans have never seen. Outside of the South American country, few know of Hero in its two models. That's about to change with this article.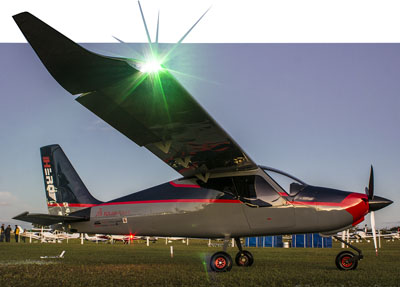 The cantilevered all-metal design has excellent ramp appeal, good specifications, and approval as a Special Light-Sport Aircraft is underway at this time, the developer said. He also added, is coming to the USA, to Florida, to be manufactured. The Brazilian invasion continues…
For this article, I exchanged communications with André Godoy, Sector Aircraft's CEO and aircraft designer. He explained, "I have experience building LSA for other companies in Brazil but I am now working on my new design and company. His project is "Hero, a new high wing LSA."
Brazilian Invasion
Among nations that embrace non-commercial aviation, America leads the parade. Europe has a very large aviation community and like most non-U.S. regions, the concentration is on sport or recreational aircraft. America overwhelmingly dominates "general aviation" with about 80% of the world's GA fleet.*  However, in sport or recreational aircraft, the USA represents around 20% of the world's aircraft population (chart link at bottom).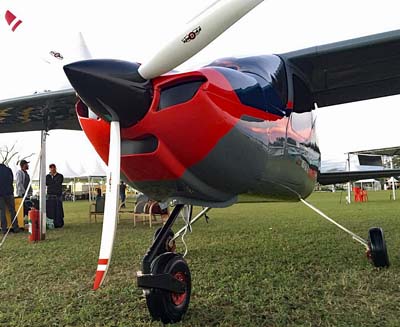 Evidence of Brazil's prowess in creating aircraft that fit the LSA category include the excellent SeaMax LSA seaplane, Super Petrel LS, Pelican, the new Texas Aircraft Colt, Paradise P1, plus a handful of older designs. What's particularly amazing to some is that SeaMax, Super Petrel, Colt and now Hero have set up U.S. operations, most with aspirations of doing most or all manufacturing in America.
André described his new entry to the LSA sweepstakes. Hero is "all 2024-T3 aluminum with cantilever wings and carbon fiber fairings. This model uses the fuel-injected Rotax 912iS engine with wheels and anti-skid brake system from Beringer and provides a Garmin panel." Hero uses unique yoke-mounted joystick somewhat reminiscent of Cessna's joystick in Skycatcher except better achieved.
Hero's interior is large with its internal space "planned for world height standards without compromising the performance of the aircraft." He reports it has "great access to the interior with doors opening upwards."
"I had many partners and sponsorships during development," André continued, "the largest being Dassault Systems SolidWorks with all software and engineering support, Bose Aviation, Akzo Nobel with extensive aerospace links, and others who supported the project."
André acknowledged, "We are now in the flight test phase for ASTM compliance with ANAC Brazil (the country's version of FAA)."
Hero Construction Description:
All aluminum 2024-T3 used for main spar
Landing gear employs 7075-T6511 alloy
Cantilevered (no struts) high wing design
All rivets are flush mounted (AN426)
All fairings are made of carbon fiber
Rotax fuel-injected 912iS Sport engine
Wheels and brakes supplied by Beringer
Garmin's touchscreen G3X with dual screen panel with PA and G5 backup
Bose A20 headphones
Sensenich three-blade propeller
Yoke-mounted joystick with HOTAS (Hands On Throttle-And-Stick)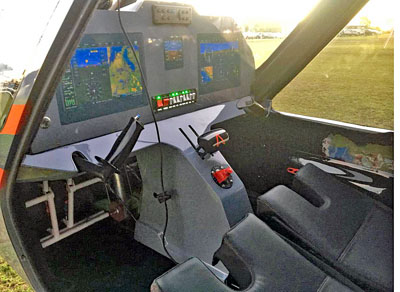 "All parts are manufactured with a high-speed CNC machine and precision tooling jigs," André clarified. The well-equipped deluxe Hero with "complete options, is priced at $180,000 (U.S. dollars).
For those who find that too much, he has another choice, called Pop Hero. "With standard options, the price is estimated $96,500, also in U.S. currency," André said. That is a large difference in price but André explained how the two models differ.
Pop Hero has similar construction using an all-aluminum 2024-T3 main spar and landing gear with 7075-T6511 alloy (same as the deluxe Hero). Pop Hero's wings keep the cantilever construction but all fasteners are pop rivets as on many Light-Sport Aircraft. That alone accounts for many hours in production savings.
Other differences to lower the price of Pop Hero include fairings made of fiberglass rather than carbon fiber; the Rotax 912 ULS carbureted engine; wheels and brake from Grove; an analog (round dial) instrument panel flanked with the very capable, if smaller format, Aera 660 GPS from Garmin; plus a more basic interior and simpler wingtips.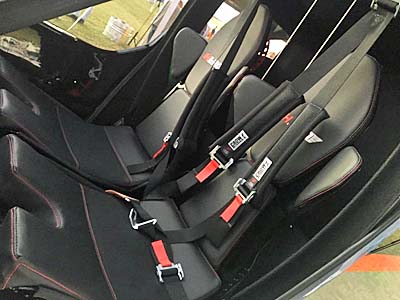 However, Pop Hero will still be delivered with Bose A20 headset, the Sensenich three blade prop, and sidestick. The lower-cost model is not pictured with this article "because we are working in its assembly, yet it is basically the same without winglets," André said.
The developer further signaled his U.S. plans. "My intention is to build this LSA at the DeLand, Florida airport (where the fall DeLand Showcase is held). I'm talking often with Showcase director Jana Filip to build our factory in the airport new Sport Aviation Village." As he sets his plans he added, "I am looking for an American partner in the U.S. to help us with investments and reap the rewards in the future together us."
He closed with, "I'll invite you to fly Hero in DeLand in November 2019." If that plan comes to fruition, watch for a Video Pilot Report on Hero later this year
Hero Specifications (supplied by developer):
Stall Speed, no flaps — 43 knots
Top Speed — 120 knots
Cruise Speed — 110 knots
Takeoff Distance — 360 feet
Landing Distance — 533 feet
Climb Rate — 1,400 feet per minute
Range — 730 nautical miles
Wing Span — 34 feet 5 inches
Length — 22 feet
Empty Weight — 816 pounds
Cabin Width — 43 inches
Fuel Capacity — 26.4 gallons
* This chart measures the global LSA fleet. The notes reflect the dominance of U.S. use of general aviation, type certified aircraft. The chart focuses on single engine pistons but the turbine or jet fleet has similar weighting. In sport and recreational aircraft, the U.S. accounts for about 20% of the world's aircraft.