In my experience, pilot love learning about engines. Yet without a prop, that engine may run fine, but nothing happens to the airplane other than converting a tank of fuel into noise. To get up and go, you gotta have a prop. How about a beautiful composite one?
DUC Hélices New Factory — French propeller manufacturer DUC Hélices moved its facility late in 2016, relocating from Lentilly to Frontenas on the Villefranche-Tarare Airfield.
Last year marked a turning point in the evolution of DUC Propellers, the company said. A relocation project was launched in April 2016 with the primary goal to move the company to the Villefranche-Tarare aerodrome to be at the heart of its business. "This move will allow [us] to expand our premises and modernize further. The move started in November of 2016 and an inauguration or grand opening will be completed by spring 2017."
Shortly after the big move, DUC was pleased to welcome engineering students from Centrale Lyon Engineering School the new site at the Villefranche-Tarare Airfield (LFHV) for a presentation of the facilities and DUC's design and manufacturing activities (nearby photo).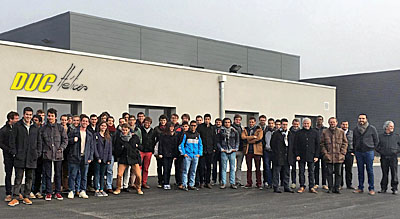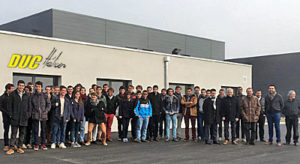 In other DUC news, the company announced, "After three years of work, DUC Propellers received in summer 2016 a EASA Type Certification for the three-blade FLASH-R and five-blade FLAIR-2." The company also supplies many propellers to Light-Sport Aircraft and many European ultralights.
"DUC Propellers will be pleased to welcome visitors to its booth at the US Sport Aviation Expo in Sebring (Florida) from January 25 to 28, 2017," the company invited.
See DUC Hélices at Sebring Expo 2017 in exhibit space NC114.