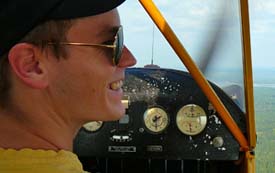 Kent Misegades is a regular writer for GA News and has helped here at ByDanJohnson.com. Recently he proudly told me of his son Tim's experience… a worthy story. ||||
"My youngest son followed the usual route through high school and then into college, pursuing a degree in mechanical engineering at North Carolina State University just as I did in the late 1970s. Unlike his old man, Tim grew up around R/C models, homebuilt airplanes and boats, race cars, and whatever else I could manage to convince my loving wife of 30 years that her husband and two sons needed in our garage shop.
*** "A natural stick-and-rudder pilot since he was very young, Tim also spent a great deal of time as a volunteer in my EAA and IAC chapters. When it became clear that his heart was not in engineering, I suggested he consider opportunities emerging in the relatively young SP/LSA community. Our research uncovered a LSA Repairman class being offered at the Blue Ridge Community College in the Shenandoah Valley of Virginia, not far from our home near Raleigh, NC. That was in the summer of 2009.
*** "Not only did he complete the course with flying colors, but during one weekend he received his Phase One Rotax Repairman certificate, thanks to Dean Vogel of Aero Technical Institute who taught the class at the Blue Ridge College. A visit to Sebring, Florida the same fall resulted in Tim's earning his Phase Two Rotax certificate. As soon as he returned from his LSA classes, he sent an updated resumé to Tom Malechuk, owner of Guardian Aviation Services in Siler City, NC (5W8), where Tim had worked part-time in the past. Malechuk's reply came quick — he was offered a full-time job!
*** "The shop liked his past work and had planned to offer their services to owners of LSA aircraft and Rotax engines, which were becoming part of their established general aviation business. Since then, Tim has worked under Tom's tutelage, gaining the experience and credentials needed to sit for the A&P exams. Since he lacked experience with turbines and complex systems not found on most GA aircraft, he attended a two-week prep course at the highly-regarded Baker's School of Aeronautics in Nashville, TN, where he took the exams recently, passing with high marks.
*** "Tim returned home exhausted, but proud to be a full-fledged Aviation Maintenance Technician
(AMT). Judging from the hundreds of job listings at the AMT recruiting company JSfirm, Tim's job outlook is quite bright. Many of his friends from high school are living back at home with their parents, a college diploma on the wall, and $40,000 in school debt."
*** Can an interest in LSA lead to a job in aviation? Kent concludes, "Fact: the LSA Repairman rules allowed my son to get a taste of the AMT profession quickly and at low cost. This led to a full-time apprenticeship and now an A&P license that is recognized around the world. SP/LSA is not only about airplanes; it has enabled a young man to find a satisfying career and obtain financial independence at a very young age. Thanks from his grateful parents to all who have made this possible."