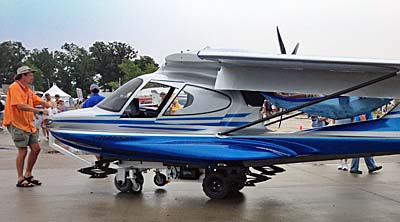 Using the line "Your Passport to the Planet" MVP.aero (yes, that's the company name … well, with an "Inc." on the end), this Minnesota company made a great big splash at AirVenture 2014. Not literally in the sense of a splash into the water but from a marketing standpoint, the MVPers created a tsunami of interest in their LSA seaplane entry that buoyed activity among all Light-Sport Aircraft at the show. MVP innovation showed well in aircraft features (described below) and in PR savvy, calling the "Most Versatile Plane" a "triphibian." As the company is being created near Cirrus Design HQ in Duluth, Minnesota, it may not surprise you that MVP manages takeoff and landing on pavement or turf, water, and snow. The team also brought the term "origami deck" to airplanes with the occupied area convertible in various ways with panels that "fold" into different purposes. In all, MVP represents a batch of fresh thinking that forms a potent statement about how the LSA sector breeds disruptive designs far faster than hide-bound Part 23 Type Certified aircraft that seem to need an act of congress to change a bolt. Shoot, this thing even comes with a hammock you can stretch between engine and tail. Can you imagine Cessna or Mooney offering something like that?
With great panache, MVP's team wheeled out their mockup (photo) and placed it in a deliciously prominent location at the front of EAA's 10-Year Celebration of SP/LSA exhibit right at Boeing Plaza. We didn't see anything of the wheel landing gear at Oshkosh, but it was hinted that more surprises will be announced at future shows. This company has done well to keep things private until they debuted this summer and some aspects of the all-new design are still under wraps. We also didn't see the adaptation for snow landings. Construction is a combination of glass and carbon fiber though wings are fabric covered, a big weight saver. The wing is also what's called "Hershey Bar" after the uniformly rectangular candy bar (see link below; click "Top"). This decision allowed fabricators to make a single wing rib and an example was passed around at the Oshkosh press conference for journalist to see how little weight each one adds. By using a common shape, construction cost and speed will be considerably enhanced. Check out more about the airplane at this link (it's cool and fun).
Our new video seen below will go into more detail about the upward hinging canopy and instrument pod. We'll show you some of the deployable surfaces that you store under the nose deck. You can also hear about the docking system. After taxiing close — which can be done with the canopy up, allowing better visibility and convenient egress to secure the plane to dock — the MVP pilot powers up close and shuts down the engine. One person can fold the wings, and afterward propel MVP towards the dock with a trolling motor. Integrated within the bilge pump is a useful bow thruster to help push MVP during docking. Once tied down, erect your optional camper tent (photo) and you are set for the night. The point of these many capabilities is to make MVP, well … more versatile. Most seaplanes get you to the destination just fine but then you have to leave the plane to do whatever you planned. With MVP, you keep using the airplane into your vacation. To permit these many unique features, MVP's top engineer Mike Van Staagen said that keeping weight down wherever possible has been a primary goal.
Plenty of people were interested and so a common question was, "When can I get one?" A scale model flew in 2013 and a full-size MVP should fly in early 2016. MVP.aero plans to start deliveries in 2017 as an Experimental Amateur-Built kit. An SLSA model will arrive in 2019. This may sound like a distant future but other companies have made promises not kept, so MVPers are being suitably conservative. The company forecast the factory built version will sell for a base price of $189,000 before some of the nifty options mentioned above. A quick-build kit version will be offered for $169,000 before finish work like painting. Two highly qualified centers on each coast have been contracted to build the ready-to-fly model: Glasair in Oregon and Fibercraft in Florida (appropriately, both are popular seaplane use regions). For those that find $200K too rich for a solo purchase, company officials said a shared-ownership option will be a key part of their sales plan. MVP.aero is certainly a company to watch; count on me to keep a close eye on this aeronautical wunderkind.
ALL SPECIFICATIONS ARE PRELIMINARY
Wing Span — 35 feet (10.97 meters)
Wing Area — 130 square feet (12.08 square meters)
Length — 23 feet 9 inches or 26 feet 7 inches (wings folded) (7.24/8.1 meters)
Height — 6 feet 5 inches (1.97 meters)
Gross Weight — 1,430 pounds (650 kilograms)
Useful Load (option dependent) — 450 pounds (204 kilograms)
Payload (with full fuel) — 294 pounds (133 kilograms)
Wing Loading — 11 pounds per square foot
Maximum Cruise Speed — 104 knots at sea level (120 mph)
Stall Speed (full flaps) — 41 knots at sea level (47 mph)
Maximum Rate of Climb — 1,000 fpm at sea level
Fuel Capacity — 26 gallons (8 liters) with auxiliary tank available
Powerplant — Rotax 912 iS Sport or 914 Turbo
Still want more? Catch our video with main man Darrell Lynds at AirVenture,: