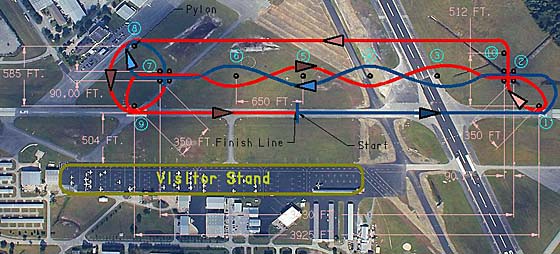 Our title was the headline for a news article in the my hometown Daytona Beach News-Journal newspaper recently. That's rather unusual. Anytime Light-Sport Aircraft make the local headlines — and not due to an accident, that has to be a good thing.
Let me set the stage … Daytona Beach is a major race venue with the Daytona 500 commonly ranked as one of the top auto races in the world. It draws huge numbers of people. Estimates say 250,000 people attend the '500 inside the track with a vast number tailgating outside. For comparison, seating at even the biggest football games is less than half that count. Whatever the actual numbers, a great many people come to Daytona to enjoy auto racing.
An even larger event in Daytona is Bike Week. According to Wikipedia, "Approximately 500,000 people make their way to the rally area for the 10-day event." This number is almost equal to all the pilots in the USA.
As reported by Daytona's News-Journal, "The inaugural Sport Pylon Air Races event is set for DeLand Municipal Airport on March 12, the final Saturday of the 75th annual Bike Week motorcycle rally that runs March 4-13, 2016."
The newspaper report continued … "We hope to capitalize on all the people and national media already here," said Christopher 'Doc' Bailey, the air race's organizer. "Right now we are piggybacking on Bike Week for the first event, but we want to make this a winter series across the country that starts and ends in Volusia County."
Can SPAR attract some of that immense audience? Only time will tell but nearby air racing certainly has a chance. The idea has been some time in the making with an earlier report stating that entrepreneur Bailey hoped to launch SPAR in 2013. Doc' is persistent, though, and this air race for the light aircraft crowd may be nearing reality.
According to the News-Journal reporter the inaugural SPAR event runs from 10 AM to 5 PM and will feature timed heats of Light-Sport airplanes flying at 120 knots through a twisting and turning course of pylons — also referred to as "gates." More than a dozen pilots from throughout the country are expected to compete in the event which will feature races in different categories of LSA.
The newspaper reported FAA is allowing spectators at the air race event to sit about 500 feet from the course, which will be 70 feet above the airport's runways. "This makes our event much more fun and interactive than sitting a mile away with binoculars," Doc' said.
FAA officials are expected to visit DeLand in the next 60 days to inform airport officials what preparations and actions the federal agency will require for the event. The air races will not stop most other airport activities but will "inconvenience" some, said John Eiff, who manages DeLand Municipal Airport.
The inaugural SPAR will also feature food and drink vendors, aircraft displays, skydiving and short-takeoff-and-landing aircraft demonstrations, the newspaper article continued. Post-event activities are also being planned. Tickets will be $25 per person and $20 for a couple. Children age 12 and under, and military veterans with an identification card, will be admitted free, Bailey said.
"[SPAR] will also help highlight the Sport Aircraft Village [a LSA business area planned for] DeLand Municipal Airport and the city's outreach to attract the sport plane industry, as was done when making DeLand a leading skydiving and parachute industry center," said Nick Conte Jr., executive director of the DeLand Area Chamber of Commerce.