As snow swirls in the air and piles up on the ground in the northern latitudes, perhaps it's a good time to think of Florida… specifically, DeLand, Florida. Admittedly, the weather in the southern state is presently experiencing a chill as cold air rushes down from the north. It may not even hit 70° today!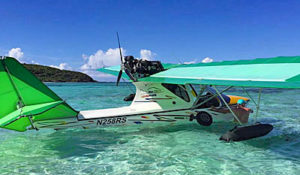 You can relax, though. It should warm up to more respectable temperatures as the show starts and continues. So this seems like a great time to attend the DeLand Showcase 2019 that starts tomorrow (November 14th).
With Florida in mind, let's talk seaplanes. To put a finer point on it, let's talk highly affordable seaplanes from a company based right at DeLand. You might have guessed I'm talking about Aero Adventure.
Along with Aerolight 103 producer, U-Fly-It, Aero Adventure is one of the light aircraft manufacturers based at the home of the DeLand Showcase.
Seaplanes Are Costly
…Or Are They?
Aero Adventure's Aventura arrived on the scene in the 1990s. Around 300 are flying, so the model has lots of history. Prices depend on so many variables that it is foolish to quote exact numbers here. Please check with the company for the most recent information.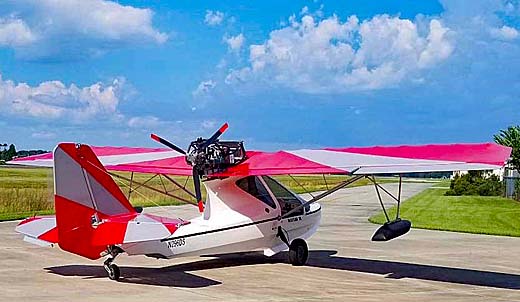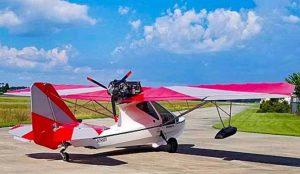 However, I have inquired on several occasions to learn an Aventura kit can get airborne for just over $50,000. The base airframe kit is less than $40,000 and you have several engine options including Rotax or AeroMomentum's highly-refined Suzuki engine conversion. This is the powerplant for the company's impressive S-17 model (with 117 horsepower, the source of the model designation).
The current team has been lead by Alex Rolinski for the last several years. He is closely assisted by Alex Gutierrez who runs the daily operation while the other Alex devises strategy and pursues new directions (for example, a related company's product, the fascinating WingBug).
A few years ago, the company embarked on a major redesign of the manuals. As every other kit aircraft builder in the world knows very well, designing and building a kit may be easier than creating a quality manual to help builders assemble their new airplane. Alex and Alex, with help from others, report going over the entire design thoroughly and today builders credit the job.
However, if you don't feel up to the task — it will take the average builder around 250-300 hours — Alex Gutierrez and crew can help you get underway or can help supervise the entire effort.
As part of their expanding operation, Aero Adventure promotes another business for those ordering a kit. In the video below, you can hear Alex and Alex describe some of the kit and talk about how they can help you.
Meanwhile, let me introduce you to Walstrom Aviation. As Aero Adventure focuses on new projects (more on that later but I will hint that fully-built Aventuras may become available), this Florida enterprise stepped up to assist.
Making a Splash
"The kit is available as a full kit or sub assemblies to meet your time, space and budget requirements," said Walstrom. "Our customers are reporting completion rates of between 250-300 hours." They say you can complete the kit in a few months of part-time effort. Certainly any kit taking only 300 hours is a modest investment of your time and energy but especially for a seaplane — they add some complexity due to retractable gear — this time investment seems very reasonable.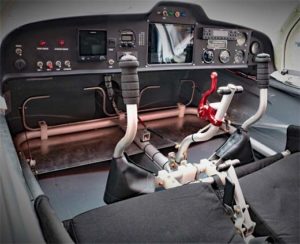 "Only basic shop tools are required and an assembly manual is provided with clear crisp details of each assembly," added Walstrom. "The airframe is aluminum (the structural part of the aircraft) and the hull is made from fiberglass (which simply provides flotation). All hardware and everything required to assemble the kit is included. All of the aluminum is anodized (inside and out) to maximize corrosion protection from the elements."
Walstrom is located in north of the state, not too far from Tallahassee or Panama City, in Alford, Florida. Contact them by phone at 850-630-1286 (or see link above).
Once you're done, go fly from land or water. For those of you presently shivering in the northern climates, Aventura has a door option and, in a moment of need, that hull can even put down in snow.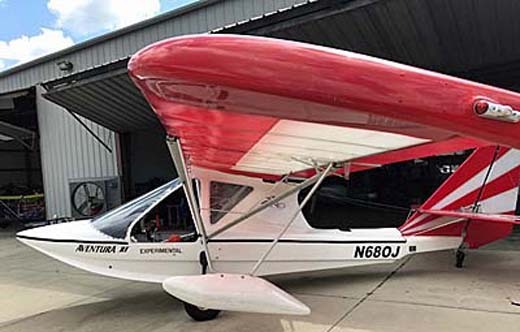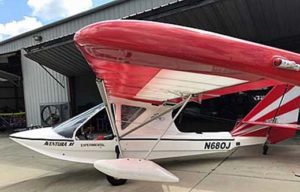 Walstrom further glowed, "These aircraft are capable of taking off and landing in less than 250 feet!"
In Florida or other suitable climates, Aventura's open-sided cockpit lets the wind whistle through your hair while you rest your arm on the window sill. Retractable landing gear is standard; it's mechanically actuated or an electric linear actuator is available as an option.
Learn more by attending DeLand Showcase 2019 or by visiting Areo Adventure at the DeLand airport. Get more info in the video below.
---