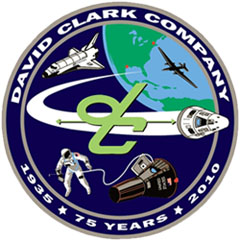 Question: What do space suits and headsets have in common? I bet that few of you can answer that question but the answer is "David Clark." Yep, this 80-year-old company, which began business in 1935, started not with the ubiquitous green ear cup headsets but with flight suits worn by pilots of some very cutting-edge aircraft and spacecraft.
David Clark Company made full-pressure suits developed for test pilots who flew the X-15 to record speeds and altitudes of Mach 6.70 and 354,200 feet. The East coast company also made Gemini space program suits including the G-4C space suit for Ed White's first U.S. space walk
Full-pressure suits worn by pilots of various high-altitude aircraft such as the F-4, F-15, U-2, and SR-71 Blackbird and space shuttle crew escape suits were all produced David Clark.
After all that, headsets may seem a bit mundane, although not for those who care about good cockpit communications and protecting their hearing.
The start of David Clark's headset line is the H10-30, which began production in 1975, making a 40-year run for this very familiar unit. It sells for what seems a modest price of $300. No wonder it has enjoyed such a long life and continues to sell in the 21st century.
One step up the product line brings us to the H10-13.4 model, the largest seller of the company's passive noise attenuation. A passive headset cancels noise by covering your ears through a combination of headset pressure, gel seals, and an ear dome that completely encompasses your ear. It lists for $351 Neither of these two models requires any power.
Looking nearly identical to the -30 and -13.4 is the H10-13X, David Clark's version of active noise reduction (ANR) unit, which the company calls Electronic Noise Canceling or ENC. Some noise can sneak around the good seal provided by the -13 and -13.4 and when it does, ENC can cancel some frequencies powered by a separate power module. ENC primarily cancels low frequency noise. Aviation marketing manager, Dennis Buzzell, explained that studies showed low frequency sounds are the main contributor to pilot fatigue.
Retail price of the H10-13X is $700. While more expensive than the passive line, the -13X is still much less than the superpremium models that other brands sell. Of all David Clark models the most noise suppressing model is the -13X because it employs both passive and active noise reduction design concepts. Pilots operating the loudest aircraft would likely prefer this model.
Pilots who fly extended flights in quieter aircraft asked David Clark Company to make a lighter headset. When I sampled the -13X with ENC, I didn't find it heavy, but for a very long flight or when moving your head rapidly, you might notice the heft.
Dennis then invited me to try the DCPro-X. It was indeed lighter weighing only seven and a half ounces (213 grams) compared to 18 ounces (510 grams) for the -13X. DCPro-X may not be as light as headsets that are basically foam ear plugs with speakers but the truly light Pro-X is more user friendly and more durable.
ProX also adds wireless Bluetooth functionality so you can use it with a music player or your smartphone. The lighter DCPro-X sells for $695 with ENC, Bluetooth and a separate carry bag, making it a relative bargain in the age of modern headsets. However, it does not contribute as much in passive noise reduction so might be best used in an aircraft that is somewhat quieter. I think most Light-Sport Aircraft qualify as those — primarily the ones powered by Rotax engines — tend to make less total noise either inside or outside the cockpit.
All David Clark headsets come with a five-year warranty. They are 100% made in the USA at the company's only factory, in Worcester, Massachusetts. The H10-30, H10-13.4, and H10-13X are sold only from distributors. The newest DCPro-X is sold both by dealers and directly from David Clark. Find dealers and more information or purchase the Pro-X at the company website.
Hear more info and see all the products in the following video from the Flying magazine Aviation Expo in Palm Springs, shot in October 2015.