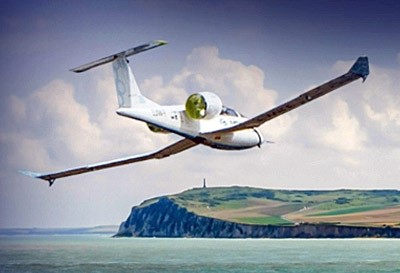 When discussing big versus small, you cannot go much further than comparing a Light-Sport Aircraft company to Airbus. This story speaks to LSA builder Pipistrel, the goal of their French dealer, and nearly identical plans of the giant corporation. In a fascinating development, it turns out that an even smaller entity, a single individual in a miniature flying machine, managed to best the jet airliner producer at its own game. Here's the story as I understand it although I readily admit I am relying solely on second-hand information.
Pipistrel makes the Alpha Electro (formerly known as WattsUp as our video at the end notes). They've already seen some success with this aircraft the factory model of which has been powered by a Siemens motor supplied by the huge Germany company.
As everyone who follows reporting of electric propulsion of either airplanes or electric cars surely knows, "range anxiety" is a consumer problem to be overcome and taking flights demanding courage is one way to assuage those concerns.
Pipistrel likes to market by introducing new products and attempting special flights. Recently, they were foiled in an effort to accomplish another noteworthy flight. That's where corporate intrigue enters the picture.
About this twisted tale, Pipistrel distributor Michael Coates wrote, "The seventh day of July 2015 could have been a very historic day for world aviation with Slovenian light aircraft manufacturer Pipistrel planning to be the first aircraft powered with an electric motor to cross the English Channel in both directions without recharging. This achievement would cement the very real practicality of electric aircraft flight. It pains me to write this but I am so disappointed by the bad sportsmanship displayed by Siemens and Airbus that I have no other alternative than to let you know what is happening behind the scenes to stop the Pipistrel's French dealer Finesse Max's historic attempt and aviation adventure."
Speaking to the safety of such an over water test, Michael added, "Our testing over land demonstrated that we can take off from France, land in England, return to France and still have a remaining 25% battery capacity." Airbus planned and executed a flight in only one direction.
"Airbus' E-Fan project does not use Siemens motors," Michael reported, adding, "[but] it does have Siemens stickers on the side of their aircraft." He believed Airbus wanted to be the first electric powered aircraft to cross the English Channel and receive the notoriety and recognition that comes from this achievement.
Michael's allegation of manipulation appears supported by the response from electric motor supplier, Siemens.
In a letter from Siemens signed by Dr. Frank Anton (Head e-Aircraft) and Tim Grage (Commercial Head e-Aircraft), the big German conglomerate stated, "With this letter we expressly declare … that our Motor in its current version is neither designed nor tested nor approved by us for a flight above water — we explicitly prohibit you to use or let anyone else use our motor for any flight above water." Their explanation was that they cannot allow their reputation to be damaged.
Online journal AutoBlog.com seems to agree about questionable motives, "Now, we are neither electrical engineers nor aviation experts, but it strikes us as odd that an electric motor might function differently depending on the terrain beneath the craft it sits within."
To present both sides of the story, here you can read Airbus' report.
So, while Pipistrel had to respect Siemens' wishes and cancel their flight, a private citizen made the trip in one of the world's smallest aircraft. Pipistrel wrote, "After reading the information that Pipistrel was blocked in flying across the English Channel, Hugues Duwal became the first electric aircraft to cross the English Channel in his Cri-Cri E-Cristaline electric aircraft."
Pipistrel continued, "As Duwal already had the permanent permit to fly his aircraft there was no need to ask for a permit to fly over the English Channel, but only to fill the flight plan. It was possible to keep the flight information secret up to the end. From the available information that we have, shortly after the flight announcement, an order was issued to stop him but he did not respect it and he successfully crossed the channel [on] July 9, 2015 [making] the first flight over the channel with electric powered aircraft in the history."
Corporate intrigue or not, we congratulate Hugues Duwal and Airbus on successful crossings of the English Channel in electric-propelled aircraft. Regardless of any maneuvering for marketing reasons, this is still a positive accomplishment for light aircraft.
We invite you to watch our video interview with James Lawrence in front of the Pipistrel Alpha Electro: