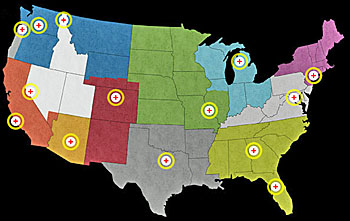 Plenty of aviation companies, certainly in the light end of the industry, are happy to welcome a new dealer. CubCrafters elevates this position to a certified sales center and the Yakima, Washington company recently secured a new one fleshing out their national map more fully (graphic). CubCrafters announced the appointment of Innovation Aircraft Sales (IAS) as their new Certified Sales Center covering the Midwestern United States. IAS is now the exclusive authorized dealer for new and pre-owned CubCrafters aircraft including the Sport Cub S2 and Carbon Cub SS LSA models, as well as the Part 23-certified Top Cub. IAS will serve North & South Dakota, Minnesota, Iowa, Kansas, Missouri, southern Illinois and most of Nebraska from their base at Creve Coeur Airport (1H0) in St. Louis.
The LSA manufacturer announced facts about their newest outlet. As President and CEO of Innovation, Jeff Baber began his association with CubCrafters at SunCountry Aircraft Sales in 2012. SunCountry is CubCrafters' Certified Sales Center in Arizona. "We founded SunCountry in 2001 to provide aircraft services, flight instruction and sales of pre-owned aircraft," Jeff says, "but the business really took off in 2011 when CubCrafters chose us to sell their backcountry airplanes. We quickly realized that, with CubCrafters, we could expand our business model in terms of size and reach." Given his successful foundation and growth in Arizona, Baber reportedly jumped on the opportunity to extend the business in the Midwestern States. "When I learned that CubCrafters was making a change here, I immediately submitted a business plan for our new company, Innovation Aircraft Sales." Both Jeff and his wife, Serene, are from Missouri and have family in that state. Further, Serene is a finance executive at another major aviation manufacturer, and she had a position waiting for her in St. Louis, so the move was an easy one.
"Our priority for the selection of IAS was customer service," said Randy Lervold, General Manager at CubCrafters. "Making a change like this is never easy. Our dealers provide a high level of customer service by virtue of their deep experience with CubCrafters' product line. Innovation delivers an uncommon fusion of familiarity, know-how and professionalism. We feel fortunate that Jeff and company have decided to bring their expertise to the territory." Beside selling new and used CubCrafters aircraft, Innovation also sells aircraft from other brands. SunCountry Aircraft Sales will continue their operations as the exclusive CubCrafters Certified Sales Center in Mesa, Arizona under the direction of Rick Bosshardt,. CubCrafters indicated.