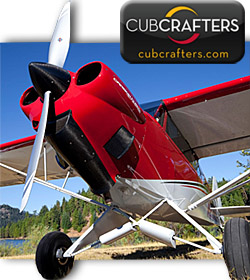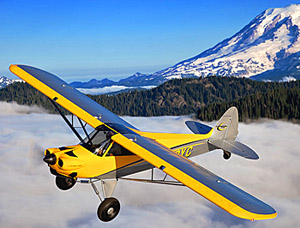 Top selling aircraft models in the LSA space over the last couple years are manufactured by CubCrafters. It's not too strong to say they've done well because the Yakima, Washington company got the formula right: Start with an iconic design; add features the original Piper version never dreamed of having; pump it up with lots more power; add in a finer finish, modern materials, and instruments; upgrade it steadily; and finish by doing it all in the USA. To continue building on the best performance among any LSA producer, the company announced a range of updates for their Carbon Cub SS and Sport Cub S2 Light-Sport Aircraft for 2014.
Soon we'll release the first market share stats of 2013 and through the first nine months of the year CubCrafters has a clear lead. Last year, Cessna registered more aircraft but the Wichita giant has been completely quiet in 2013 giving room for CubCrafters to soar. Our stats based on the first nine months of 2013 will show CubCrafters just behind Cessna for the all-time number two rank, but in fact they've actually already passed them. The company's two LSA entries — Carbon Cub and Sport Cub models — are based on the Company's CC11 airframe, of which they report 291 units have been delivered. (They speak of deliveries in the year where our numbers will address registrations and, as we've always said, these two sets of numbers are not always in perfect sync in a given period of time.)
Upgrades for 2014 announced by CubCrafters include:
CubCrafters' 180 horsepower Titan 340CC engine (built by ECi) will have a new magnesium accessory case for a spin-on oil filter plus thermostatic oil cooler bypass valve; these improvements reduce net engine weight by 1.5 pounds.
Carburetor has a fuel nozzle with a proprietary "perforation pattern" to improve vaporization and distribution of the fuel/air mixture that levels EGT and CHT values so the engine runs more efficiently, smoothly and produces increased power.
At no additional charge, CubCrafters upgraded the standard instrument panel to includes a new CHT Monitor and Garmin GTR 200 Comm Radio connected to a RAMI Antenna relocated to the aircraft turtle deck for superior performance.
Their mid-grade World VFR panel (photo) features Garmin's 796 GPS and Electronics International CGR 30P Engine Monitor, providing full-glass benefits at a lower price; also includes a Trig TT21 Transponder and Trig TY91 Comm Radio with 8.33 and 25 kHz channel spacing that international markets will value.
Other improvements: new non-skid and more durable pilot step that weighs less; new kick-panel at the front of the cabin featuring a cup/bottle holder for the pilot; and, the glare shield is now painted flat black as standard.
According to General Manager Randy Lervold, "CubCrafters is now accepting orders for 2014 Carbon Cub SS and Sport Cub S2 models. Base prices remain unchanged at $172,990 and $134,950 respectively." CubCrafters also offers their Carbon Cub in a kit version, the Carbon Cub EX.
Watch our in-flight video of the 180 horsepower Carbon Cub to sense the excitement of this potent model that CubCrafters says is "the most powerful LSA aircraft in production":