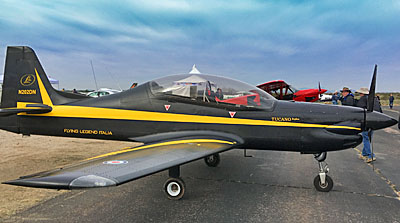 On Day 3 of Copperstate at the Buckeye Air Fair, crowds were again strong and the skies gradually cleared for another day of flying in the smoothest air I've felt in some time.
What made this extra special was a chance to go aloft in the Flying Legend Tucano Replica, a scaled down version of a well-known Brazilian military aircraft.
Indeed, the fighter-like shape and paint job of Tucano beckoned convincingly and I went aloft with Flying Legend USA representative, Giovanni Matichecchia …yeah, I told him I'd just call him Giovanni. He grinned and said his last name was tough even for Italians. This capable 27-year-old pilot is off to the airlines one day but is doing a fine job of demonstration flying Tucano for media types like me and potential buyers of this eye-catching machine.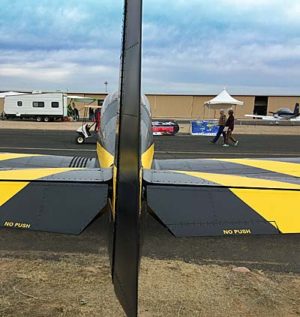 Flying Legend's Tucano is a scale replica of well-regarded original. Embraer's EMB 312 Tucano is "a low-wing, tandem-seat, single-turboprop, basic trainer with counter-insurgency capability developed in Brazil," according to Wikipedia.
Flying Legend's Tucano is one you can consider owning.
The Italian Tucano uses a supercharged (not turbocharged) Rotax engine, a modification of the well-known brand by an Italian company with good results over eight years of sales.
This specialty powerplant produces 140 horsepower and definitely delivered a spirited takeoff. With optional retractable gear and in-flight adjustable prop Tucano is a hot performer.
Throughout our maneuvers, Tucano felt exceptionally sturdy in the air. We did benefit from perfect conditions but it was clear this aircraft is tough enough for basic aerobatics as advertised. (We did not do any.)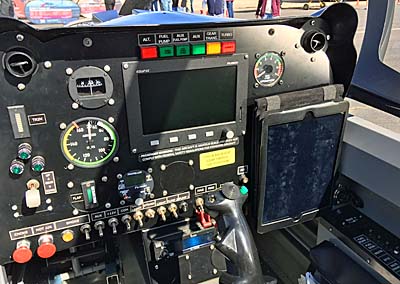 Stalls were surprisingly slow considering how clean the aircraft looks, down into the high 40 knot range. A LSA version should readily meet standards for stall.
Handling was very well behaved. I found the stick a mite heavy in roll but it was exceptionally precise. Again smooth air helps but Tucano held even steeply banked 720 turns with ease and a light touch. Trimming was not necessary to hold altitude, even in 45-degree banks.
Slow flight was easily controllable suggesting landing would be very manageable. It was and my first touchdown showed this Tucano has very good manners.
Throughout all maneuvers, visibility is glorious, a panorama in any direction except straight down. From the aft seat the wing blocked my downward view though it looked better from the front seat where you solo. The downside to that expanse of acrylic is heating in the summer in places like Texas, where Flying Legend USA is based. Additional air inlets are in the works.
Our Video Pilot Report to follow will have more information recorded immediately after flight when the memories of details were the freshest, so watch for that on Light Sport and Ultralight Flyer YouTube channel.
Building Tucano is fastest with their Quick-Build Kit which generously reduces time needed for assembly to "200-250 hours," said Flying Legend USA. More on the kit Tucano is available here.
Flying Legend has kits for fuselage, wing, empennage, flight controls, fixed landing gear, aluminium tank, and canopy plus all the hardware required for assembly. For those who prefer, a builder assist program in Archer Texas can help with the assembly.
Let's go aloft for a short video experience in the Tucano replica.