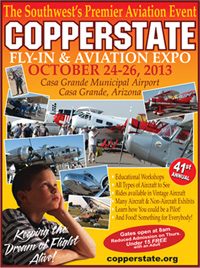 Like many deeply involved with aviation I have long marveled that all the best airshows in America seem to be in the Eastern half of the country. Except for the delightful Arlington Fly-in in Washington state and a worthy effort at Golden West plus some other small regional events, the action appears to be "back East." Given that California has more pilots and airplanes than any other state, how can this be? Especially now that AOPA announced this year's Summit in Dallas, Texas (October 10-11-12) will be their last one ever, we won't any more be trekking to Palm Springs, California for what has been the big member organization's favorite destination. Fortunately, we have the Copperstate Fly-in and Aviation Expo.
On two occasions I've attended this event. It isn't huge like Sun 'n Fun or AirVenture, and it isn't in California where more might attend. However, Copperstate is a credible, well established event that serves the southwestern USA. Weather in southern Arizona is excellent in late October … about the same time Oshkosh begins preparing for snow. Copperstate President, Stephen Bass said, "I am working this year on greater emphasis on education … inviting more flight schools to participate as well as focusing more on youth education. I have raised the kids-get-in-free age from 12 to 15." Stephen also reported that LSA has long had a presence at Copperstate. "During the past three years as vice president, I was also in charge of the Ultralight and Light-Sport areas. This year as President I have appointed separate Ultralight and Light-Sport chairmen in hopes of having more focus to grow these segments."
One more thing: As major events like Sun 'n Fun and AirVenture found, FAA has a new attitude, demanding hundreds of thousands of dollars to operate a control tower for the weeklong events. Both big organizations had to scramble to pay the tab. In contrast, Copperstate is going without a tower, and you know, I think that's fine. The October 2013 AOPA Pilot magazine has a great pro & con article where editor Tom Haines persuasively makes a case for untowered airports. Read it here. I hope those flying in will exercise extra care so FAA doesn't gain the argument that a tower is mandatory at busy aviation events. This is Copperstate's 41st year; it is scheduled for Thursday through Saturday, October 24-25-26, 2013 at the Casa Grande Municipal Airport in Casa Grande, Arizona. Steve noted, "Copperstate has grown by about 10 percent a year since it was established. In 2013 it attracted more than 500 aircraft and 5,100 attendees from 10 countries and 39 states." While I cannot make it this year, I'm putting Copperstate 2014 on my calendar.